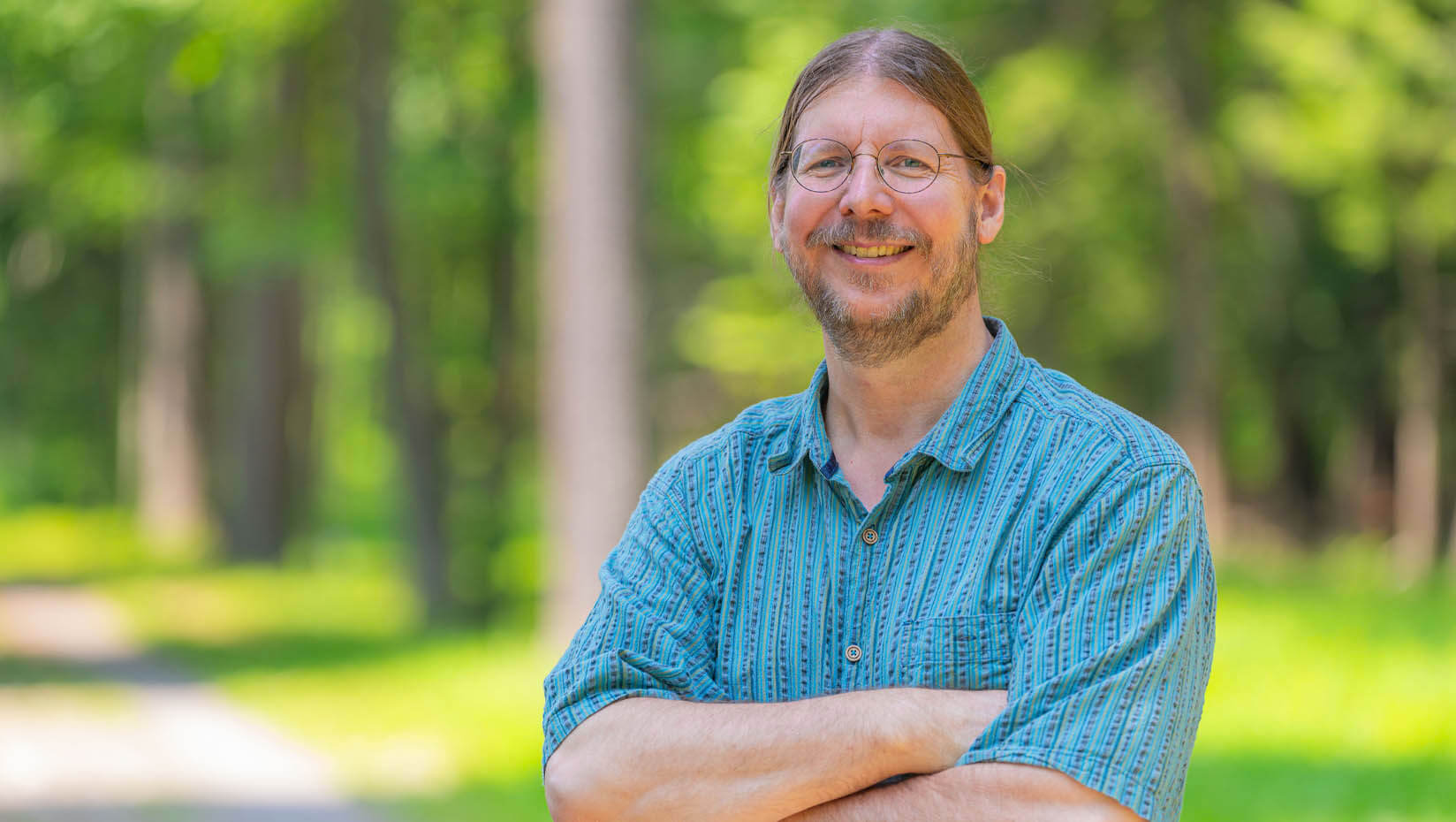 UMaine professor Brian McGill receives top German research award
University of Maine ecology professor Brian McGill was awarded the Humboldt Research Award, one of the most prestigious scientific honors in Germany.
The Alexander von Humboldt Foundation awards the prize annually to internationally-renowned scientists who reside outside of Germany. In addition to the cash award of 60,000 euros, or about $71,000, Humboldt awardees are invited to conduct research in Germany. McGill plans to spend the fall of 2024 in the laboratory of Professor Jonathan Chase at iDiv, the German Center for Integrative Biodiversity Research.
"Understanding biodiversity and how human activity shapes it requires a global perspective. iDiv is one of the premier research centers in the world for these subjects. My past research visits, which usually lasted just one week, proved very productive," McGill says.
"I am excited to be able to spend more time there, engaging in deeper and hopefully more creative research on how to reach a sustainable relationship between biodiversity and humans."
A professor of biological sciences, McGill studies biodiversity at large scales of space and time across many species. His research aims to refine predictions about how species' ranges and community structures respond to climate change and human activity.
McGill's ideas have a wide-ranging impact in his field of macroecology. His work established the importance of prediction in ecology and identified unifying principles in the field. He also pioneered solutions to conceptual issues in his discipline related to the widely-used and vaguely-defined term biodiversity. McGill and his colleagues developed a series of scientifically measurable concepts to resolve this long-standing source of ambiguity in the field of ecology and provided concrete tools to better measure and assess biodiversity in management contexts.

Through the blog "Dynamic Ecology," McGill and two co-authors shape the way research is conducted in labs across the planet and provide mentorship globally on successfully navigating academic cultures. The blog, with 700,000 visits per year, is the most widely read in academic ecology.
In addition to the recent Humboldt Award, McGill was named one of the most cited researchers in the world in 2019, 2020 and 2021 by Web of Science. His research is also featured in textbooks from high school to the graduate level. McGill is a lifetime honorary fellow of the Ecological Society of America, which is bestowed to approximately 250 of the organization's 9,000 members. He also received the 2020 Outstanding Faculty Research Award from UMaine's College of Natural Sciences, Forestry, and Agriculture.
McGill, whose lab is part of the Maine Agricultural and Forest Experiment Station, has been a faculty member in the School of Biology and Ecology since 2010. He also holds a joint appointment in the Mitchell Center for Sustainability Solutions and a cooperating appointment in the Climate Change Institute. He served until recently as editor-in-chief of Global Ecology and Biogeography and formerly as associate editor of Frontiers of Ecology and Environment, American Naturalist, and Global Ecology and Biogeography.
The Alexander von Humboldt Foundation sponsors distinguished international scientists and scholars and maintains an international network of academic cooperation and trust. Humboldt Research Award nominees are evaluated for their lifetime academic achievements. Past recipients include 59 Nobel Prize winners.
Contact: Erin Miller, erin.miller@maine.edu