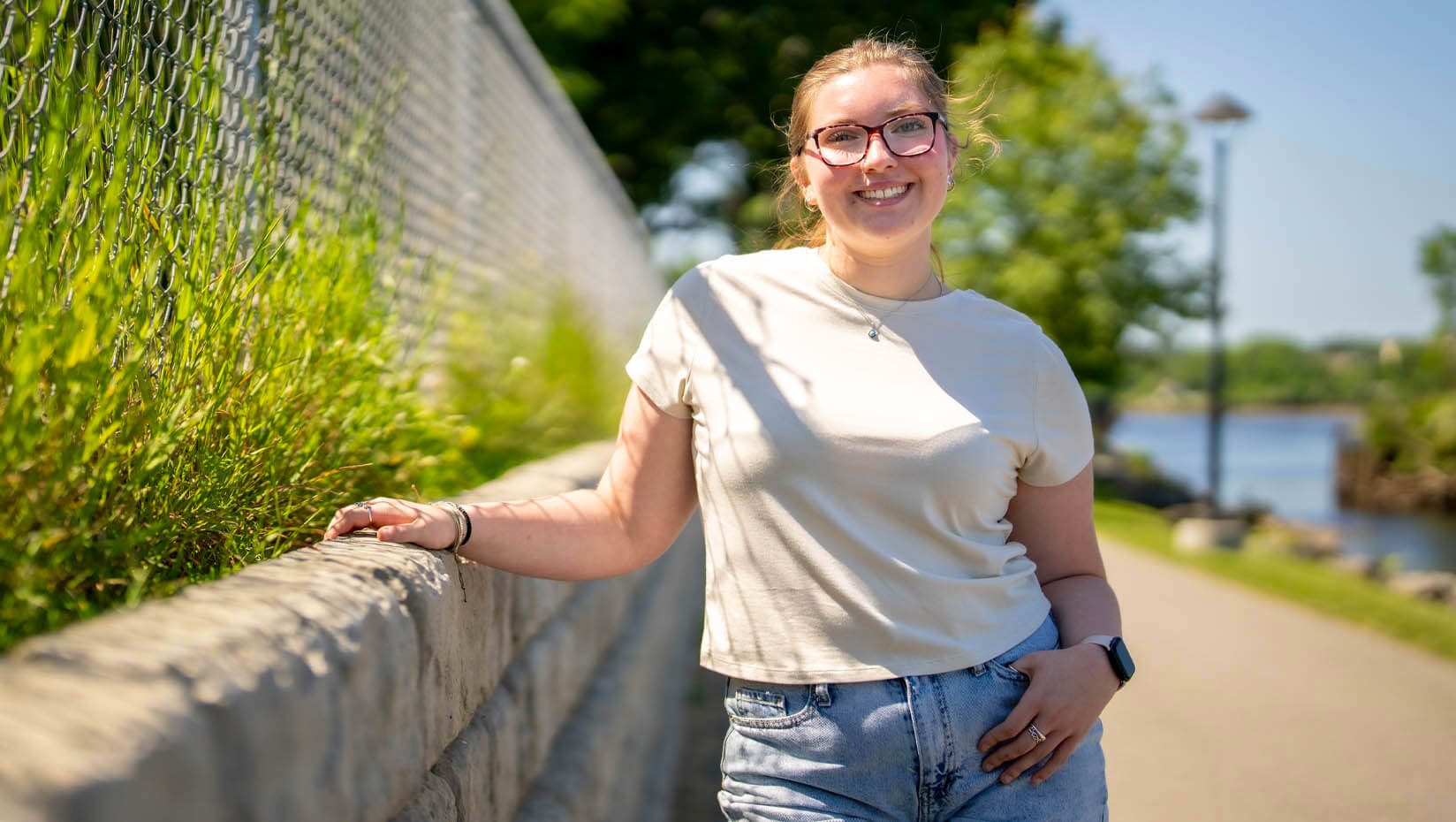 Maggie Lincoln: Building on her associate's degree at UMaine 
One of Maggie Lincoln's cousins earned a bachelor's degree at the University of Southern Maine in three years, but she wants to obtain hers in two.
When she graduated from Brewer High School, Lincoln, an incoming first-year University of Maine student from Brewer, Maine, also earned an associate's degree in career studies with a small business development certificate from Eastern Maine Community College (EMCC). She obtained the degree through a program offered by United Technologies Center (UTC) in Bangor, which allowed her to spend half her school days taking college-level courses in marketing, business law, insurance, management, accounting and customer relations.
"Going into my first year of college, I'll have 60 more college credits than most first-years, which will put me in higher level classes," she says. "I was like 'Wow, I just finished four years of school in two! I just finished my first and second year of college. This is crazy!'"
Lincoln is taking the next step in higher education and pursuing a bachelor's degree in marketing with a minor in business education for additional experience and employment opportunities.
Studying at UMaine will allow Lincoln to continue working as a hostess at Hero's Sports Grill in Bangor, she says. Another selling point for the University of Maine System for Lincoln was the positive experiences shared by several family members, including her cousin Nate Henry, the one who graduated from USM in three years and now works for Bangor Savings Bank.
"We both strive for really great things. I really see him as a role model. He got internships at a very young age and is very driven," Lincoln says.
Lincoln says she is drawn to marketing because she likes the creativity involved in it, whether the work involves designing new products and logos, crafting business plans, revamping market strategies or using social media. While working on the marketing team for Maine Coast Hemp, a company that produces full spectrum hemp oil, Lincoln's aunt, Rebecca Henry, would constantly discuss her work. Listening to her and the passion she had for her job, where she helped to design the packaging for products, inspired Lincoln to consider a future in marketing and social media management.
"Social media and digital media are very much on the rise, and everyone going into business should know how to promote a business on social media," she says. "I grew up in a generation where everything is on social media. It's just one of things I know and I'm good at, and I feel like it's something I could do for businesses."
While taking courses at UTC, Lincoln was able to take field trips to local business offices like the headquarters of Bangor Savings Bank. While there, she learned about how the bank and its employees give back to the community, participating in events and offering tours of the office. As someone who has volunteered at the Bangor YMCA for years, witnessing the bank's outreach inspired Lincoln, and encouraged her to someday work for an employer that gives back.
"I'll definitely continue going and helping out at the YMCA because I think its important to stay connected to your community," she says.
When she graduates, Lincoln says she hopes to work on the marketing team for a major events venue like TD Garden in Boston; she loves attending concerts. She also says she would enjoy teaching at a technical school like UTC.
"While I was there, I definitely realized that the people who worked there not only liked their jobs, but took time outside of work hours to help kids," she says. "I loved every minute there!"
Contact: Marcus Wolf, 207.581.3721; marcus.wolf@maine.edu