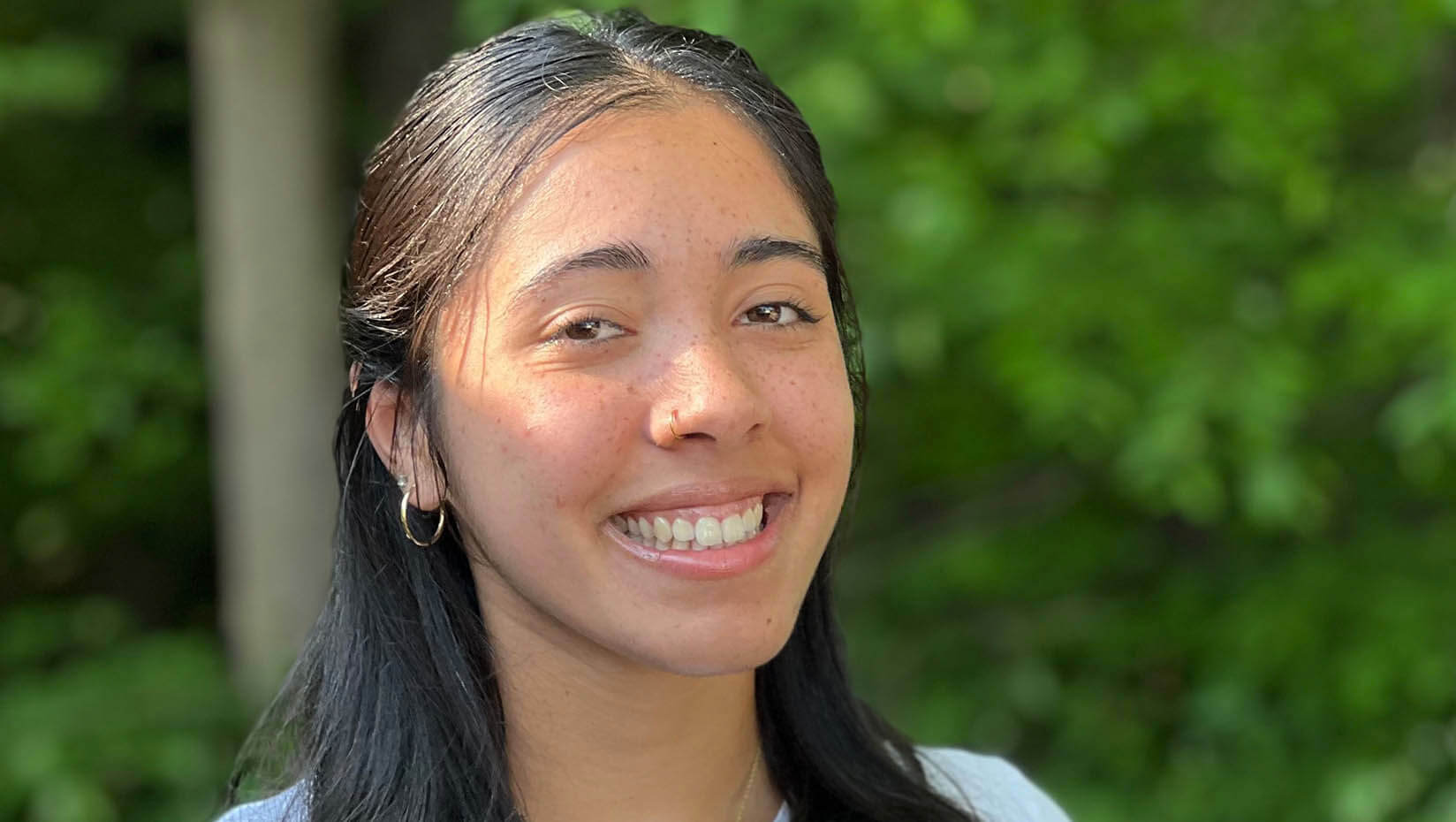 Sophie Dean: Leading on campus and beyond
Sophie Dean may only be a rising junior studying communication sciences and disorders at the University of Maine, but she is already taking on national leadership roles in her field.
Last year, Dean served as Maine's student state officer for the National Student Speech Language Hearing Association (NSSLHA), the only student organization for pre-professionals studying communication sciences and disorders that is recognized by the field's credentialing organization, the American Speech-Language-Hearing Association (ASHA). Established in 1972, NSSLHA supports nearly 11,000 members and over 340 chapters at colleges and universities nationwide. The University of Maine has the only affiliated chapter in the state.
State officers for NSSLHA serve as a liaison between the national organization and the state chapter, connecting the chapters with different programs, scholarships and accolades that they could earn as part of their volunteer work and events.
For Dean, this was a perfect role. She has a natural aptitude for leadership in everything she does at UMaine. Dean heard about the position through one of the chapter meetings at UMaine in the spring 2022 semester. She asked for a letter of recommendation from Cam McDonnell, area coordinator for the Department of Residence Life who Dean worked for as a resident assistant, and by July 2022, she had been selected for the position.
Dean spent the year as a liaison between the national organization at the chapter in Maine, as well as chapters in New Hampshire and Vermont. Dean was also one of the youngest members in a state leadership position.
"I've gotten more vocal in terms of being in leadership, laying down what needs to be done and making sure it gets done and staying on top of things," Dean says. "Organization is key in a lot of these things."
Dean says her degree program is her true passion. Dean decided to attend UMaine in part because it offers the only undergraduate and graduate programs in Communication Sciences and Disorders in the state. Getting into the field was personal for Dean; she was born prematurely and spent time with a speech-language pathologist during her formative years to make sure she was developing correctly. When Dean heard her mother telling stories about the doctor that helped her as a child, she became more interested in the field.
"I have just thoroughly enjoyed my major so much," Dean says. "We have some really good professors in the department who are really great examples of working in the field and are very knowledgeable in aspects of it."
Next year, Dean is stepping down from her leadership role at NSSLHA to focus on getting some research and volunteer experience under belt — and to focus on other elements of her UMaine studies. Dean is also pursuing a minor in Native American studies. She is a member of the Aroostook Band of Micmacs and says she has been interested in learning about her culture since she was a child. Her favorite classes have been with associate professor Micah Pawling and lecturer John Bear Mitchell, the latter of whom she hopes to conduct an independent study with in the fall.
"It's something that you don't learn about in elementary and middle school," Dean says. "If I can someday find a way to mesh the two in terms of serving indigenous populations and other underserved minority groups with speech services someday, that would be great."
Besides her studies, Dean's favorite thing about UMaine is the time that she gets to spend outdoors exploring the trails or participating in group activities through the Backcountry Squatters, a women's and gender-queer outdoors club that focuses on inclusivity in all aspects.
"Even if you're not the most experienced person in the outdoors, you have a spot here," Dean says. "I just think creating that space for people and creating the opportunities to meet people where they're at, like having multiple pace groups [for hikes]. It's been a good experience so far."
Dean is only a rising junior, but she has her eyes set on graduate school at UMaine to study speech-language pathology. Once she enters the field of communication sciences disorders, there are lots of options, from working as a speech therapist in schools, to opening a private practice, to pursuing a Ph.D. to teach and focus on a specific area, like swallowing or articulation.
"What I like about the field is that there's lots of options," Dean says. "You don't have to find a niche, but you could find a niche if you wanted to within it. I'm really open to most things. I think there is something that there will always be a need for."
Contact: Sam Schipani, samantha.schipani@maine.edu