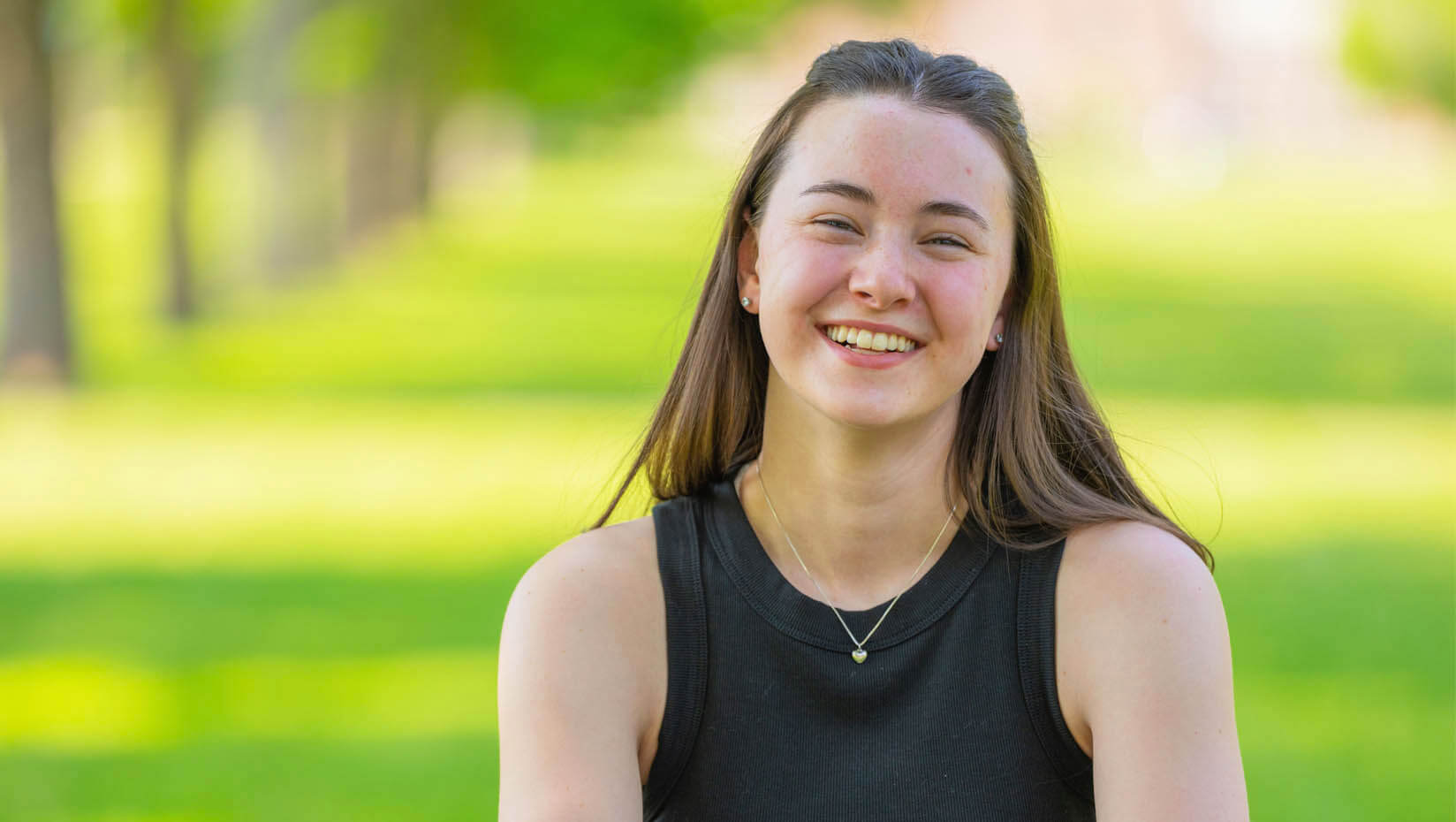 Mackenzie Gillis: 2023 George J. Mitchell Peace Scholar
Mackenzie "Kenzie" Gillis, a University of Maine rising senior from Glenburn, has been awarded the 2023–24 George J. Mitchell Peace Scholarship to study abroad at University College Cork (UCC) in Ireland.
UMaine partnered with UCC to create the scholarship that honors the 1998 Northern Ireland peace accord brokered by then-Senator George Mitchell between Ireland and the United Kingdom. The merit-based scholarship allows recipients to participate in semester-long student exchanges at UCC, with funds for 12–15 credits of study, housing and meal and airfare stipends.
The award is granted annually to a UMaine student with high academic achievement, leadership skills, commitment to community service and the ability to promote the scholarship to the academic and wider community.
"The George Mitchell Peace Scholarship is a signature program for the University of Maine which celebrates the legacy of the senator and educates our students about peace and cross-cultural understanding," says Orlina Botiva, director of the Office of International Programs. "This full scholarship allows any student from Maine to be able to participate in this study abroad experience regardless of their socioeconomic level. Many past participants could not have afforded to study abroad without the support of this special scholarship."
Gillis is majoring in communication with a minor in business. Gillis' application was supported by the Office of International Programs, the Office of Major Scholarships, Erika Clement, assistant director of education abroad, and the selection committee.
"Kenzie has a robust background in community service as a long-time volunteer with Maine National Guard Child and Youth Program. She did an excellent job using this experience to connect with the mission of the George J. Mitchell Peace Scholarship and the legacy of its namesake. We think she'll be a great ambassador for Maine over in Ireland and the community at UCC," Clement says.
Why motivated you to study abroad?
I wanted to experience a new culture, whilst also studying at a foreign university.
How do you feel about earning the George J. Mitchell Peace Scholarship?
I feel honored to have been awarded such an amazing scholarship and get the opportunity to study abroad.
What are you most looking forward to in your time abroad?
I am most looking forward to traveling across Ireland and learning more about the history and culture.
Which classes do you plan to take at UCC?
Mathematical Methods I, Celtic Literature, Modern Ireland: Culture, Politics and Society, Ireland and Scotland: The Gaelic World in the Middle Ages and Introduction to Food Science and Technology.
In which ways do you plan to engage with the local community and to further the peace and collaboration mission of this scholarship?
I plan to participate in their mountaineering club and further explore the city of Cork. I'm particularly interested in the English Market, as well as visiting the Donkey Sanctuary and exploring volunteering there.
Why did you choose to come to UMaine?
I chose to study at UMaine because growing up in the Bangor school system we'd take trips to the UMaine Orono campus and it always seemed like an amazing community. I decided I wanted to be a part of this community.
Is there any particular UMaine initiative, program or set of resources that helped you succeed?
The Office of Major Scholarships was a huge help throughout the process of applying to the George J. Mitchell Peace scholarship.
What advice do you have for incoming students to help them get off to the best start academically?
Use the resources we have on campus!
Describe UMaine in one word. Explain.
Rewarding. It's been a rewarding experience. I've learned a lot and have made many new friends from across the U.S.
Contact: Sam Schipani, samantha.schipani@maine.edu