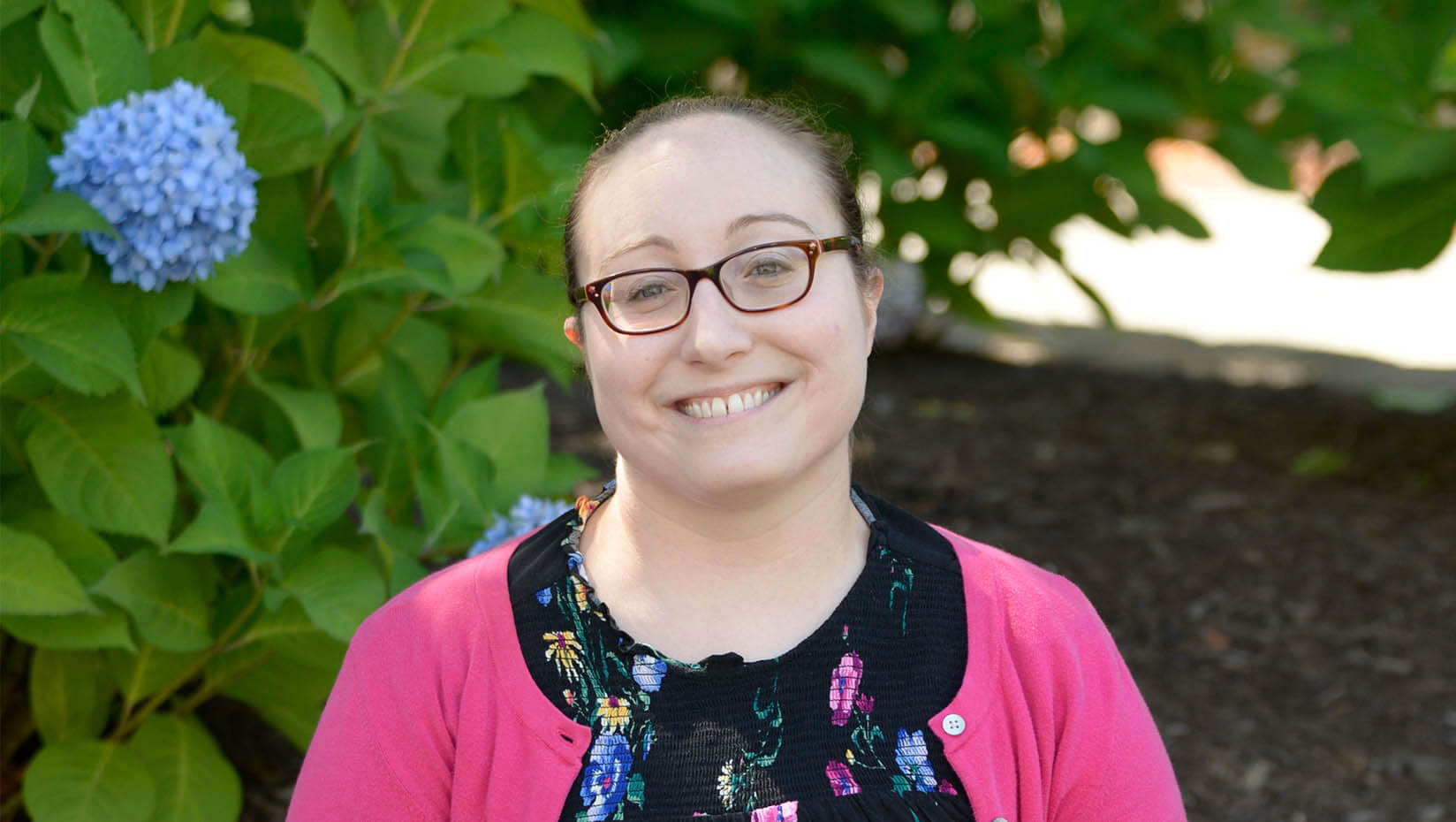 Hope Shore: Building the student experience at UMaine Machias
For Hope Shore, curating the student experience at the University of Maine at Machias is more than just her calling — it's just plain fun. The director of student life has been in the position for a little over a year, but is already making waves in planning activities and community-building on campus, while including students at every step of the process.
Shore grew up in New England and lived in Vermont and New Hampshire before finally landing in Bethel, Maine. She studied sociology for her undergraduate degree at Castleton State College (now Castleton University), but realized that her true passion was in student life.
"In college I was a resident assistant and also an orientation leader, so I worked in student affairs and really loved it," Shore says. "I found out from the people I worked with that you could have it as a job. I really liked being at the school and doing the activities and stuff."

Shore received her graduate degree in student affairs in higher education at Indiana University of Pennsylvania. She worked for seven years at the University of Maine at Farmington as the assistant director of student life. When the director of student life position opened up at UMaine Machias, she immediately applied; she loved working in the University of Maine System, and the tight-knit community at UMaine Machias appealed to her sensibilities.
"I love small institutions," Shore says. "Pretty much every place I've worked has been a small institution. I enjoy the relationships you can build with students and how you can help them grow. The campus community is really engaged and really wants to support and help the students."
Shore was hired in January 2022. Since then, she has taken on a wide variety of roles, managing the Reynolds Murdock Fitness and Aquatics Center, Student Accessibility Services, the Counseling Center, the Career Center, Residence Life, Student Activities, Student Conduct, Campus Safety, Space Reservations, ID Card Services and Parking Services. She scours the internet for prizes for campus bingo games and raffles that the students will really enjoy. She said Squishmallows are especially popular right now, but she also tries to find items that are useful for school and for fun, like AirPods. In addition to regular weekly events like movie nights (which are also free and open the Machias community), bocce ball and karaoke, Shore planned the UMaine Machias' Winter and Spring Fests, with craft tables featuring students and community members selling their wares and bouncy houses for adults and children alike to enjoy.
Shore is most proud, though, of the student experiences she has helped coordinate off-campus that they might not have been able to do otherwise, like the trip she planned for students to go to the New England Aquarium in Boston.
"It was a big deal," Shore says. "We took 53 students with us. We got a big passenger bus and we had to get up really early and come back really late, but it was really fun to see everyone go to the aquarium, go to Quincy Market — it was just a fun opportunity to get out and go someplace different."
Shore says that she works closely with students to make sure that activities (and even the prizes associated with student contests) are what they want. Shore works closely with the student group SAIL, which stands for Student Activities Innovation and Leadership.
"They really help put on all these activities and implement them," Shore says. "It's really a collaboration. Our on-campus students are just really involved. There are 107 students and there are six fraternities and sororities. They want to do these activities, and they want to be a part of it."
Tristin Hubisz is a senior studying creative arts at UMaine Machias and has been the president of SAIL since his sophomore year. Hubisz says that Shore has been instrumental the past year in helping the clubs on campus reach their full potential.
"She has no qualms about us as an organization having free reign over what we decide to do, and works to make sure that our dreams can become a reality," Hubisz says. "She has allowed SAIL as a whole to work on building up their resumes with the versatility of the work that we do alongside her. Already, she has worked on making all of the organizations on campus able to make their feasible goals a reality, and continues to push the limits in order to let us continue to do that."
Megan Walsh, dean and campus director at UMaine Machias, said that even in a short period of time, Shore has made a big impact on the campus community.
"Hope's positive impact on every aspect of student affairs was obvious from the outset," Walsh says. "I look forward to receiving Hope's weekly campus update on Student Affairs events — there is always something fun going on. Hope makes sure every aspect of student life on campus runs smoothly. Her work also impacts the community."
Shore has big plans for the future of student life at UMaine Machias. She wants to work on getting commuter students at UMaine Machias more involved with events, perhaps with online crafting, and set up a shuttle to get students who live on-campus into town for day trips.
Even so, the students already have recognized Shore's impact. This year, Shore was given the Unsung Hero Award, established in 2008 for members of the UMaine Machias senior class to honor staff members.
"I couldn't believe it," Shore says. "I appreciate that they see how much I'm trying to work and do stuff. I appreciate the students how much they work and how much they appreciate others."
Contact: Sam Schipani, samantha.schipani@maine.edu