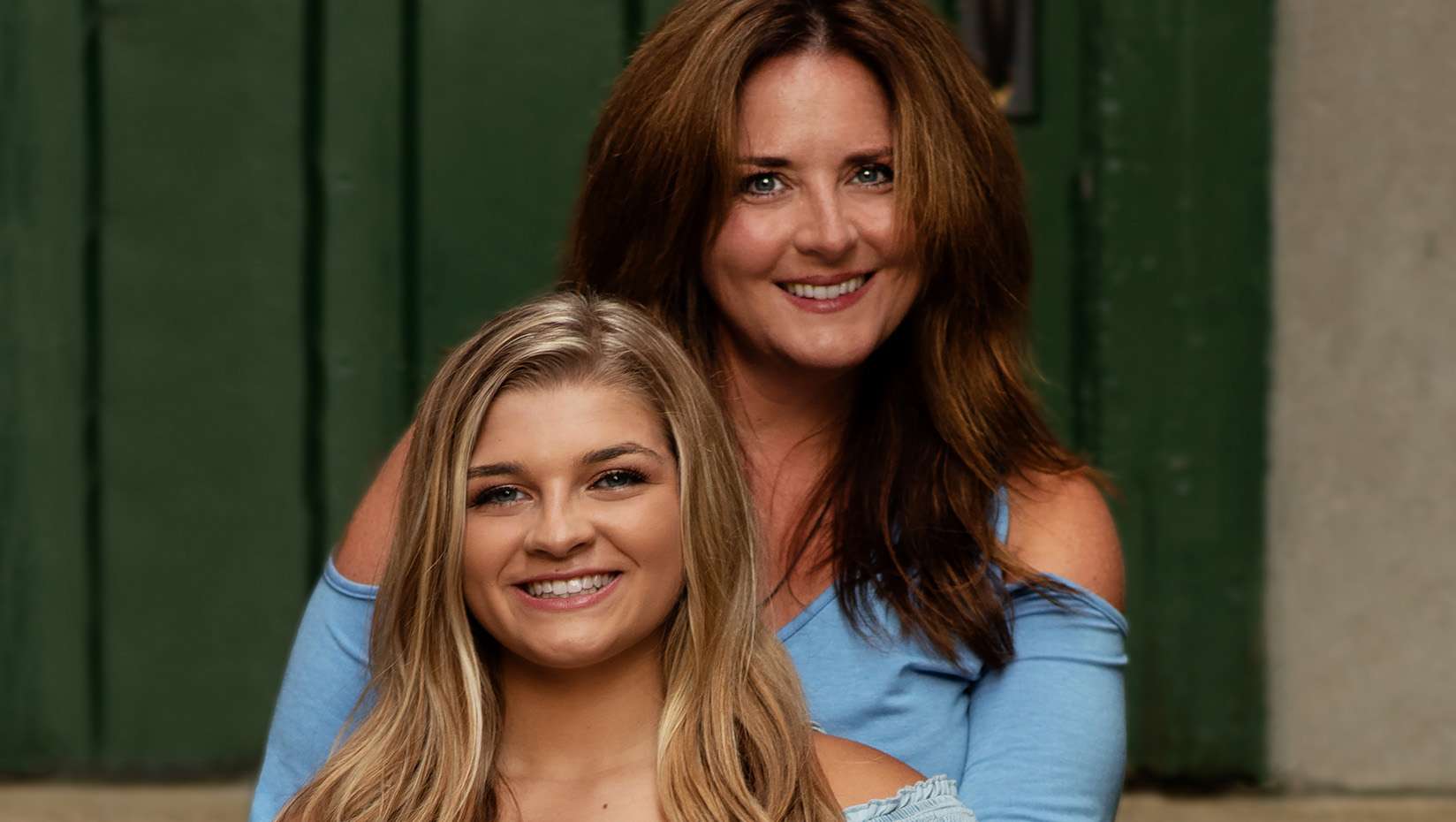 Brooke Camire and Cherylan Demers: Mother and daughter sharing 2023 Commencement
Brooke Camire has always loved spending time with her mother, Cherylan Demers. Now, the mother and daughter duo will have a new memory to share: University of Maine commencement.
In fall 2020, Demers decided that she wanted to pursue a master's degree in social work after working in the field for almost 30 years. She wanted to pursue more advanced opportunities, perhaps by opening her own practice for working professional women in helping professions, or someday teaching at the university level.
UMaine's three-year hybrid program, with its cohort of other working adults and field experience opportunities, was perfect for her. Demers could complete the majority of the program from her home in Sanford, with twice-semesterly visits to the UMaine campus.
"I always wanted to do it and the timing was right," Demers says. "UMaine has really good options for adult learners who are also working full time. It was a good match for my lifestyle and where I'm at."
As an added bonus, her older daughter, Summer Camire, was finishing her engineering degree and youngest, Brooke Camire, was a sophomore at UMaine. Demers' daughters were part of her inspiration to pursue her masters degree in the first place.
"They're so smart and they have a lot of the qualities that I've had inside me that I never had the confidence to do," Demers says. "In social work, you study social justice and policy. That's something that I've seen the girls have a passion for. It's made me want to learn more."
The Camire sisters were thrilled to have their mom on campus, too. Summer graduated in spring 2021, but Brooke got to spend more time with her mom in Orono, going out to lunch, having "sleepovers," trips to Acadia, getting into "shenanigans" — and, of course, helping each other with their coursework.
"I think for me, both being students here has definitely brought us closer," Camire says. "It gives us a shared bond. I'll be like, 'Mom, can you review this essay?' And she'll be like, 'Yeah, can you review mine?' It's been really great seeing my mom in action as a student."
"I've always watched Brooke shine. It's kind of nice to get to shine next to her," Demers says. "She's just amazing."
Camire does have to work to fit her mom into her busy schedule, though. She was social media and marketing chair of Her Campus for two years, and now serves as the treasurer of Women in Economics and a teaching assistant in the School of Economics. Camire is also a research assistant studying water insecurity in rural indigenous communities in the Arctic. This past summer, she traveled to Greenland to study freshwater security for sheep farmers experiencing drought. Camire notes that she grew up with an intrinsic value for education and community service, given her father and brothers careers as teachers, paired with her mothers passion for helping others.
Mother and daughter also share a penchant for academic excellence. Demers is a member of the UMaine chapter of Phi Alpha National honor society. Her degree was supported in part by a $10,000 scholarship from the School of Social Work's Rural Integrated Behavioral Health in Primary Care Project as well as $2,000 from the John M. Romanyshyn Student Support Fund. Camire, a member of the UMaine chapter of Pi Sigma Alpha, her mother notes proudly, will also graduate debt-free because of her academic scholarships.
In May, Camire will graduate with a double major in political science and economics with a minor in climate science with the goal of working in sustainable development and resource management. The day before Camire walks across the stage at the undergraduate ceremony, Demers will graduate with her master's in social work.
"I think it's unique that we're going to graduate together," Demers says. "For me this is just the end of my journey, but it's fun to see where she's at and all the options and the things she dreams about."
Demers will be the first person in their family to receive a postgraduate degree, but Camire will follow in her mom's footsteps once more. In the fall, she will attend graduate school at the University of Southern Maine for a master's in policy, planning and management with a community planning and sustainable development concentration. Her sister Summer is now pursuing an MBA at Rensselaer Polytechnic Institute, too.
"For me, that makes it feel a lot less daunting," Brooke says. "I'm about to start my masters degree, as well as working full time, and to know that my mom has accomplished that while also being a mom, I'm like, 'Oh, I can definitely do this.' I think she's really a trailblazer for our family as both Summer and I continue our journey in academia."
Contact: Sam Schipani, samantha.schipani@maine.edu