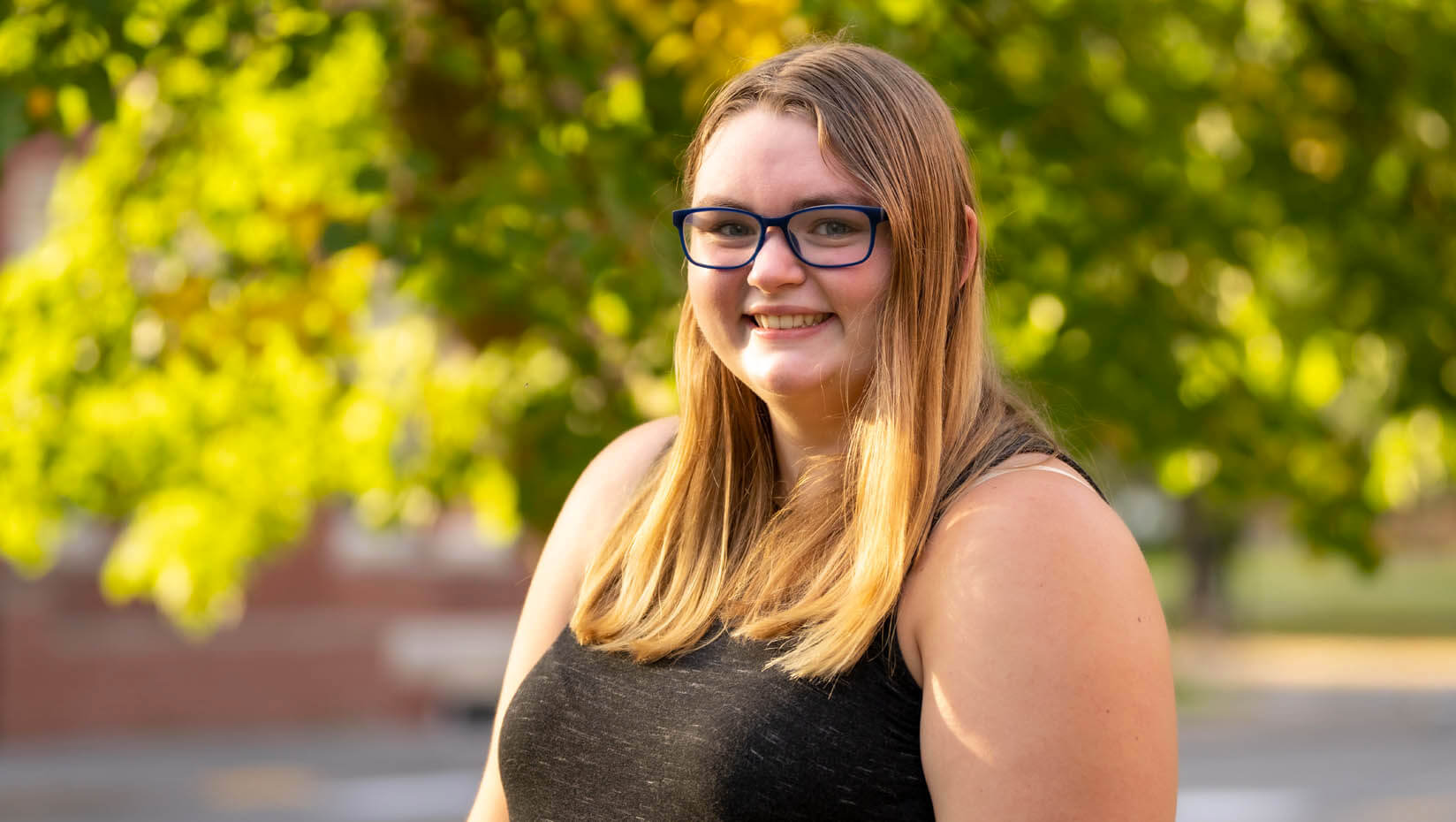 Brenna Jones: UMaine student recontextualizes the housing crisis 
Brenna Jones of Mount Desert, Maine, spent her high school years either unhoused or precariously housed in the greater Bangor area with little to no support from adults. At times, she lived in her car, in which she kept all of her belongings; couch-surfed or slept in dorm rooms at Husson University. She kept food in her locker at school and was almost kicked out for not having a permanent address.
Despite dealing with housing insecurity as a teenager, Jones earned a 3.8 GPA and was accepted into the University of Maine. From there, she obtained student loans, an apartment in Orono with no rental history requirement and a part-time job.
Now as a junior, Jones hopes to use her research to help people who are experiencing housing insecurity like she once did.
For her honors thesis, Jones, a student in the Honors College and College of Liberal Arts and Sciences, is interviewing unhoused and precariously housed individuals in Maine to learn more about their experiences and the socioeconomic barriers they face. Through that and other research, she hopes to ascertain possible solutions to the housing crisis in Bangor and beyond. She is conducting her project under the guidance of Brian Pitman, assistant professor of sociology.
"I just would really like people to think about housing issues differently," she says. "If I could get everyone to stop saying 'the homeless' and thinking about unhoused people as 'the homeless,' that would be my biggest goal. They are people. They are individuals. They all have their own histories and paths and dreams and wants."
In fall 2022, the McGillicuddy Humanities Center (MHC) named Jones an undergraduate research fellow, providing her $8,000 over the course of two semesters to support her research. She will discuss her project during an event hosted by MHC at 4:35 p.m. Wednesday, April 12 in Boudreau Hall.
Jones has so far interviewed 11 people from the greater Bangor area, Waterville, Brunswick and Knox County for her thesis; she plans to interview 20 overall. Some of her interviewees have physical or mental disabilities that prevent them from working, forcing them to rely solely on disability benefits that may not be sufficient enough to cover rent. Others she spoke to were unhoused after their rent increased and they could no longer afford an apartment. She also spoke with precariously housed people who could only find housing with disability benefits solely because they waited long enough to obtain a case manager or received support from family.
Her interviewees told her that credit score requirements, high application fees, an unwillingness from landlords to accept housing vouchers, deposit fees and high rental fees make finding affordable housing "absolutely impossible."
Some people said that they cannot find employment, or at least jobs that pay well enough to afford housing in the greater Bangor area and other expenses, Jones says. At least one person told her that prospective employers turned him away because he listed an encampment as his address.
While food stamps and disability benefits are available, Jones says some people just aren't aware of them. The requirements for identification, a birth certificate, financial information and income restrictions also make them less accessible, according to the people Jones spoke to. For some, these barriers forced unhoused individuals to choose between employment and benefits, she says.
"It's like, do you work more and lose your benefits, or do you just try not to make any more money?" she says. "So it's a lot of things like that where, technically, there are services; technically, there are jobs; and technically, there's housing. But what does it actually look like when you put these things together in reality?"
In addition to conducting her honors thesis, Jones is drafting a policy proposal for the Maine Policy Scholars to address housing issues in the state. She also has spoken to Bangor city councilors and hopes to meet with other policymakers.
Based on her research and interviews, Jones says possible solutions to the housing crisis include rent caps, strong eviction laws, requirements for landlords to accept housing vouchers, tenant unions and more subsidized housing with fewer wait times for access and other barriers. Before implementing these initiatives, however, Jones says she believes a change in perception must occur.
"The main thing that needs to come first is changing the way we think about these people," she says. "That they're not freeloaders. Because I think that's part of the problem of why the policies are not changing."
For Jones, studying the local housing crisis has been validating after going through similar experiences, but also emotionally-draining. She says it also caused her to lament not knowing that there was a community of people like her she could have gone to when she was unhoused.
Her work prompted her to reflect on her own experiences, including times when peers would laugh at her for having a messy car or interpret descriptions of her troubles "as a joke," or how she "told teachers this was happening and they would not do anything."
"These experiences formed a lot of the way I thought about housing and the supports that are actually available to students," she says.
Jones is double majoring in sociology and mathematics, and double minoring in criminal justice and women's, gender and sexuality studies.
In addition to studying at UMaine, Jones works as the co-coordinator of the Peace & Justice Center of Eastern Maine and is on the leadership team for the Greater Bangor Houseless Collective, which provides food and supplies and support to encampments in the city.
"Everyone says that I'm such a great person going out to the encampments every week, but honestly, I love talking to them and knowing why I'm doing this and creating a community," Jones says.
For the first two years at UMaine, Jones says she struggled to relate to her peers since many "were brand new to life" and didn't have the experiences she endured. After that, however, she met more students and faculty who faced housing insecurity and similar struggles to whom she could relate. Some faculty, she says, also "are willing to extend themselves way further than they probably should" to listen to students' troubles and help find support services for them.
"UMaine has also been a really great learning environment," she says, "there's just so many opportunities that allow you to do more than just going to classes. There's faculty who can help you get involved in the community. There's students who do research. It just really allowed me to find out what I wanted to do."

Pitman, Jones' adviser for her sociology degree, has served as a role model for her. She says she admires his research, how attentive and supportive he is toward students and how he spends his free time participating in community organizing.
"He's been a huge inspiration, and he gives great advice as well," she says.
Jones hopes to earn a master's degree and Ph.D. in criminology to become a professor and continue researching housing issues.
Contact: Marcus Wolf, 207.581.3721; marcus.wolf@maine.edu