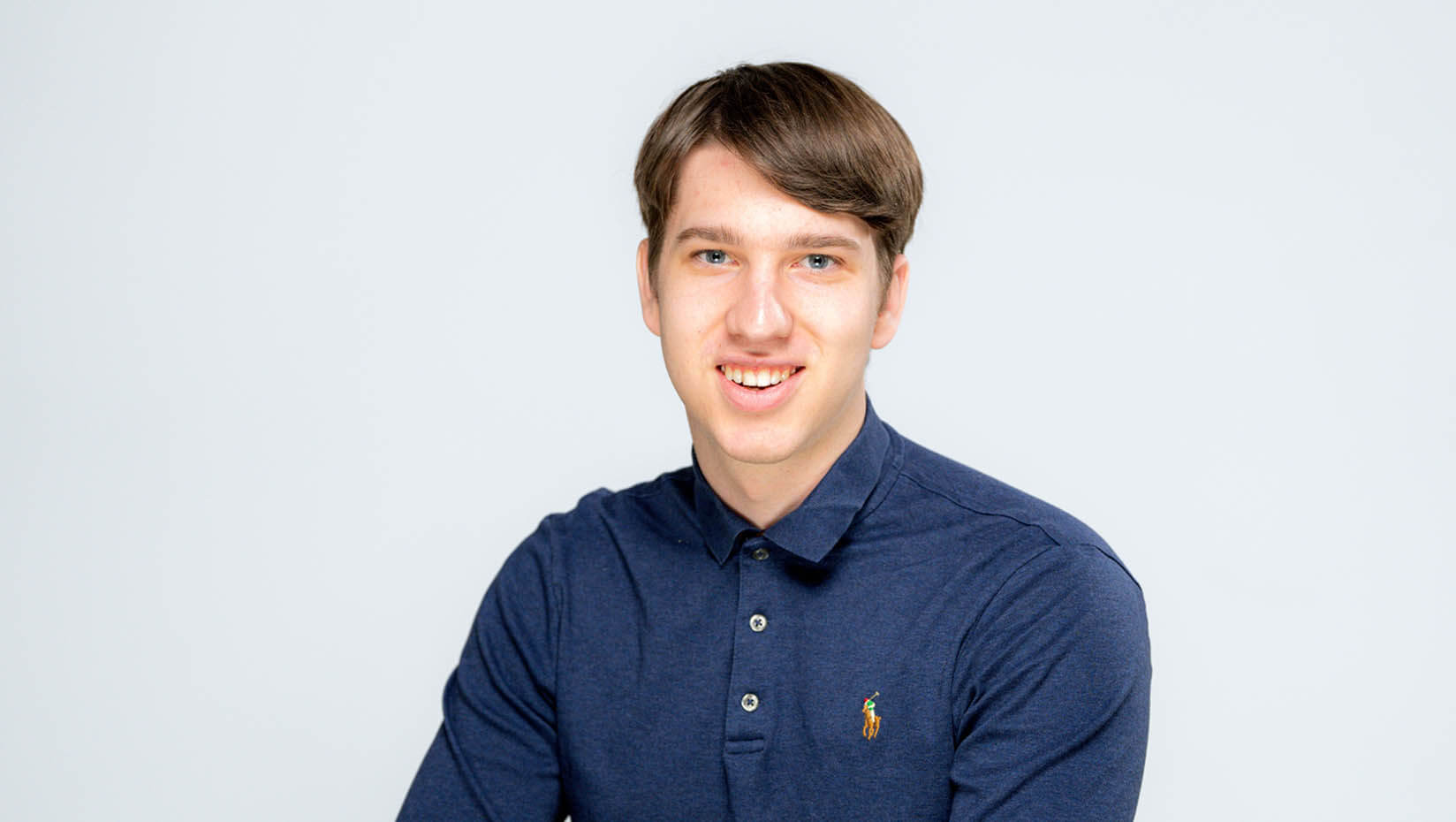 Kell Fremouw: Outstanding Graduating Student
Kell Fremouw of Orono, Maine is the Outstanding Graduating Student in the College of Engineering. The Honors College student is majoring in engineering physics, with a concentration in mechanical engineering and a minor in mathematics. Last summer, he was awarded a National Science Foundation Undergraduate Research Fellowship in Sensor Science and Engineering, and he has worked as a teaching assistant in physics. His honors thesis is: "Thermal Stability of Platinum-Silicon Alloy Films Grown on Langasite Substrates for Use in Microwave Acoustic Sensor Technology." Fremouw has been a student researcher examining optical microscopy data in the laboratory of professor Samuel Hess and modeling graphene transistors in the laboratory of professor Sheila Edalatpour. In addition, Fremouw worked on a materials science project with professor Robert Lad. He also participates in STEM outreach with the Society of Physics Students. Fremouw is a competitive kayaker and canoeist who qualified in the U.S. trials for the Wildwater Canoeing World Championships. He has been awarded a Dean's Fellowship for Excellence at the University of Colorado Boulder where he will pursue a Ph.D. in materials science and engineering. He plans to work in academia or in a lab on improving sustainable energy production and energy efficiency.
Beyond academics, what extracurricular activities occupied your time?
I have been kayaking and canoeing competitively since freshman year of high school. I qualified during U.S. trials for the Wildwater Canoeing World Championships, which were to be held on the Nantahala in North Carolina, but were canceled due to COVID. I also attend many of the kayaking races held throughout Maine every weekend in the spring. Orono Paddlers, an organization I am an officer in, also holds races on summer Thursday nights. In addition to kayaking/canoeing, I enjoy hiking, skiing and skating.
What difference has UMaine made in your life and in helping you reach your goals?
I have had the opportunity over the past year to develop and pursue my own research project. During this process, I had biweekly meetings with a group of professors who looked at my progress and helped me come up with new plans and ideas. This individual project with very good supervision has really helped me become a strong, independent researcher and grow my communication skills. Through this experience, and other research I did on campus, I had the opportunity to learn what it is like to be a graduate student pursuing a research project, which is valuable experience for the coming years.
Have you had an experience at UMaine that has changed or shaped the way you see the world?
During my research project the past year, I actually decided to switch from engineering physics into materials science and engineering (for graduate school). My project involves growing and characterizing thin (<200nm) Pt-Si films and has given me a new perspective on materials. We use materials for everything from semiconductors powering our phones to high-temperature insulators used in turbine engines. Our current world relies on materials to function and I want to be a part of improving our technology while moving toward a more sustainable future.
Why UMaine?
I chose UMaine because I wasn't quite sure if I wanted to major in physics or engineering, and the engineering physics major gave me the opportunity to explore both fields. My time here has led me to pursue a materials science and engineering degree in which I can combine physics with engineering and chemistry in my future career.
How would you define the opportunities for student success at UMaine? Is there any particular initiative, program or set of resources that helped you succeed?
UMaine is a big enough university that there are plenty of opportunities available if students are proactive. I personally was busy outside of academics with kayaking, but finding research opportunities was a great experience at UMaine. All of the professors I reached out to (even the ones I hadn't met in person) were happy to talk with me about doing research with them, generally as a paid position.
Have you worked closely with a professor or mentor who made your UMaine experience better?
At each of the labs I worked at I gained valuable experience as a researcher and as a student. The most valuable and enjoyable experience was working with Dr. Lad this past year. I was part of a larger research team, including people from electrical engineering and chemistry along with physics. Being able to see what other people were working on and having valuable feedback from multiple professors with different perspectives was an incredible experience. I vastly improved my communication skills, my presentation of data, my experimental design, and had fun interacting with everyone involved in the project.
What advice do you have for incoming students to help them get off to the best start academically?
My advice for incoming students is simply to reach out to people. I started all of my research experiences with various professors just by emailing them. I generally reached out after seeing a news release of a grant award or just looking up what kind of research they were interested in on UMaine's website. There are plenty of available projects here at amazing research facilities. Most professors are extremely happy to set up a meeting to discuss joining their group even as a freshman.
Contact: Margaret Nagle, nagle@maine.edu