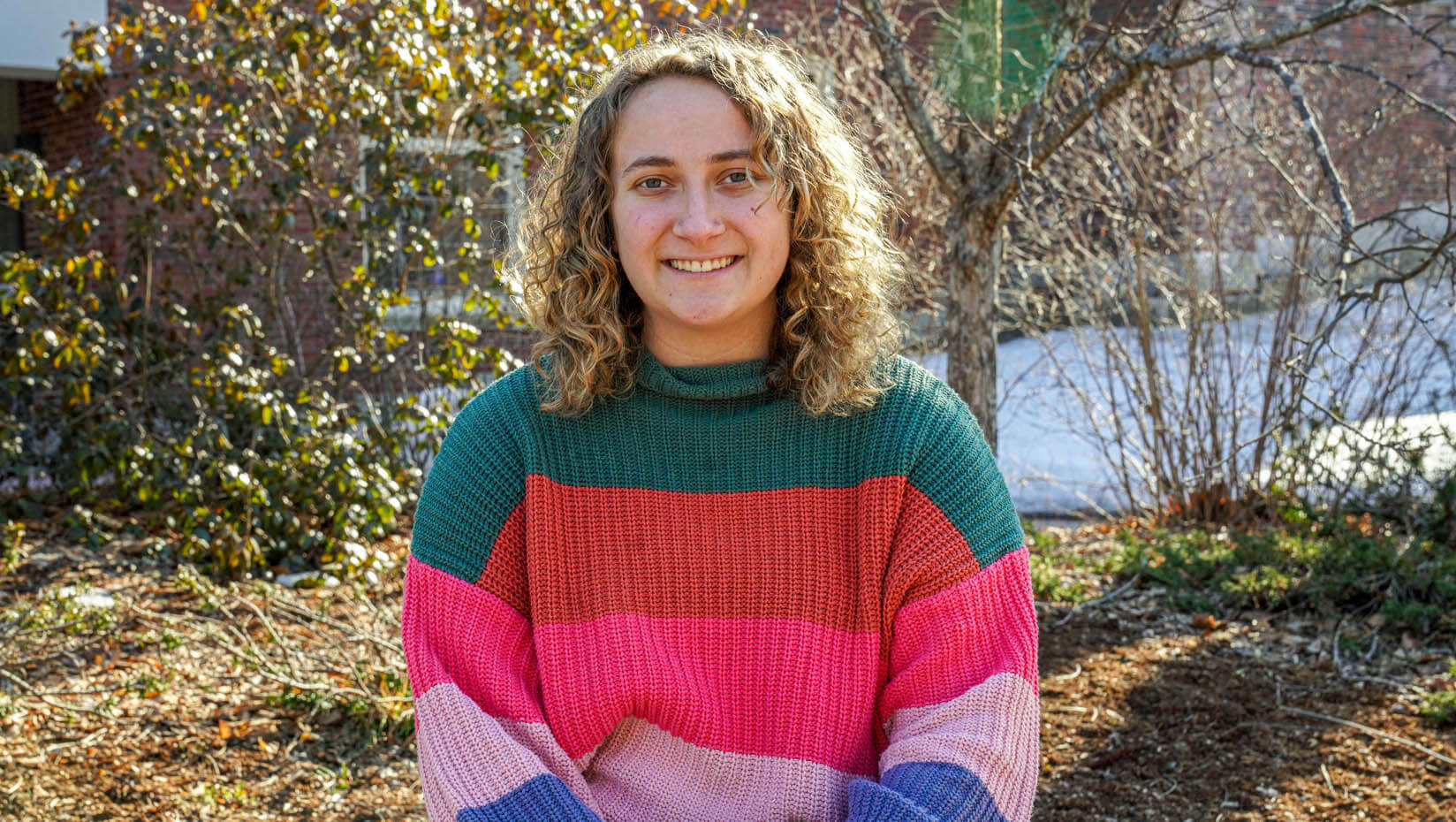 Kaitlin McCullough: Commencement singer shares her passion for music 
Kaitlin McCullough has spent years shaping her own unique singing voice, and she is ready to share it with thousands of people during the 2023 University of Maine commencement ceremonies.
Commencement is not the first event at which McCullough, a UMaine senior from Ellsworth majoring in music education, has sung the "National Anthem." She performed it during the 2022 State of the University Address and at an event in the Advanced Structures and Composites Center. Commencement, however, will have the largest audience for which she has ever performed — three ceremonies for a total traditionally of more than 12,000 graduates and in-person guests, plus countless others viewing the livestreams.
"It's kind of crazy to really think about how I'm actually singing the 'National Anthem' at my own commencement," she says. "I worked really hard, through my degree progress here especially, to find my own voice, and being able to put that forward to the rest of the college community is very surreal."
Growing up, McCullough participated in multiple choirs at school and in church. Once she was in high school, McCullough primarily focused on playing flute in chamber, concert and jazz bands, as well as pit orchestra. It wasn't until her senior year that she returned to the stage as a singer, participating in her school's show choir and Maine All State Music Festival.
At UMaine, McCullough has been a member of UMaine Symphonic Band, Pride of UMaine Marching Band, Screamin' Black Bears Pep Band, Collegiate Chorale, and various jazz groups. She also is currently the assistant conductor and soprano lead for University of Maine Singers, which she joined in her sophomore year.
"I think the biggest thing that I've learned from being a performer is that I don't see stage fright as fright, I see it as excitement," she says. "I think you get the nervous butterflies in your stomach before a performance because you're excited that it's going to happen and you want to put your best foot forward."
When exploring different colleges at which to study, McCullough says she chose UMaine for its affordability; proximity to home; talented and compassionate faculty, a couple of whom she met during her audition into the School of Performing Arts; and acceptance of her desire to specialize in both singing and flute.
"A lot of other schools I looked at were not as open to having someone do a dual concentration of studying flute and voice, and I really wanted to be able to become the most well-rounded educator," she says, "and UMaine is a strong program that allowed me to do what I wanted, how I wanted it and to try everything."
In addition to performing, McCullough has been student teaching at Reeds Brook Middle School and Hampden Academy, both in Hampden, Maine, this semester.
As an educator, McCullough says she ensures that her students receive structured lessons, have fun, and feel welcomed and heard. She also tells her students not to fear performing — saying to them that they're nervous because they're excited — and encourages them to find their own unique voice and playing style, just how she was supported to do so by her past instructors in high school and at UMaine.
McCullough says her teacher inspirations include Ellsworth High School Band teacher Jamie Calandro, who expresses interest in all of his students; UMaine School of Performing Arts director Philip Edelman, a kind and caring educator, and UMaine flute instructor Elizabeth Downing, her "biggest cheerleader."
After graduating, McCullough plans to pursue a full-time teaching career and eventually a master's degree in music education.
"I really love to see a smile on a kid's face when they come into the music room. You can really see a stress relief because it's a place where they feel safe and heard, and also music is fun," she says. "It warms my heart up so much."
Contact: Marcus Wolf, 207.581.3721; marcus.wolf@maine.edu