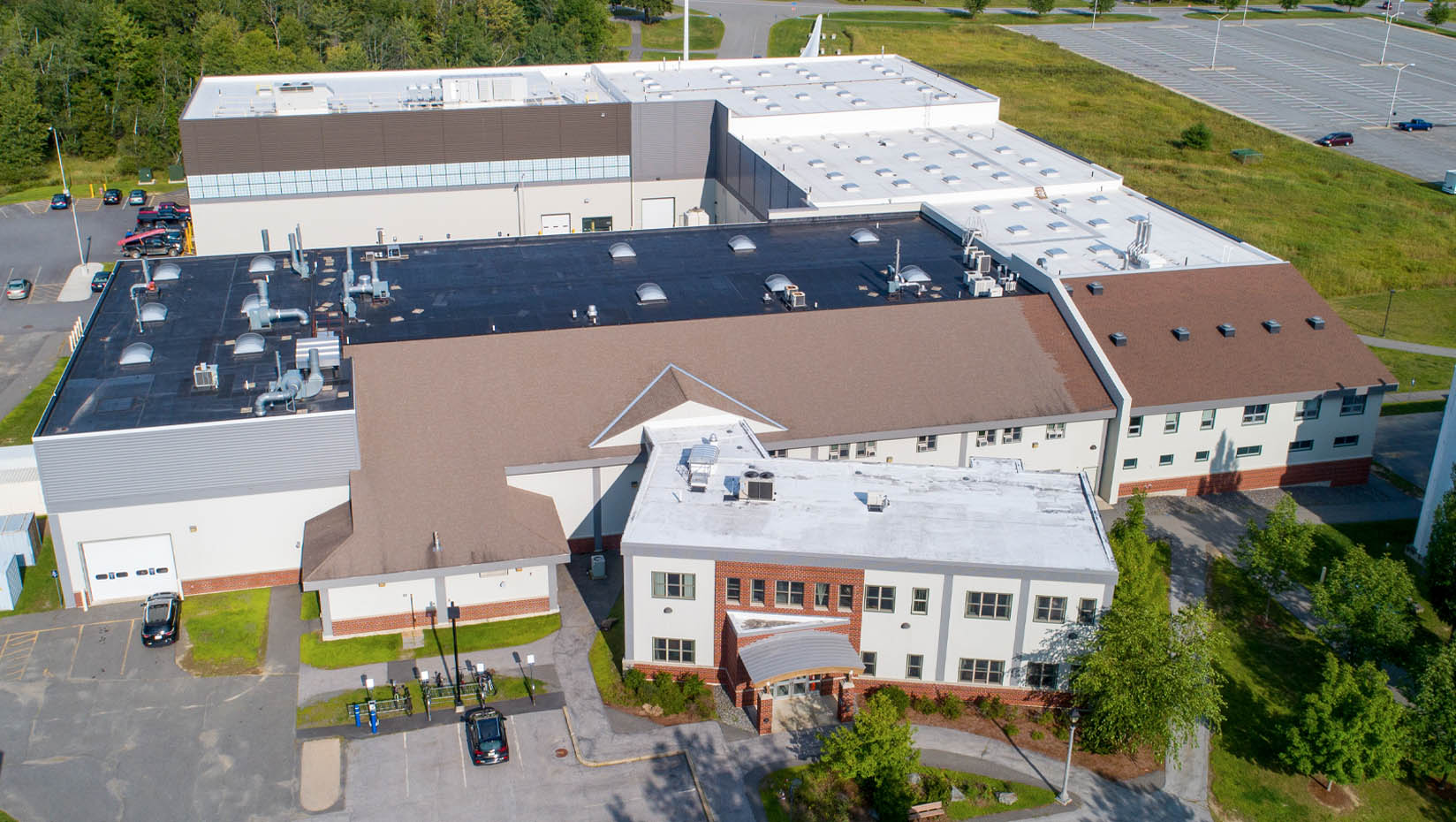 ASCC and the Maine Business School: Bringing students together to solve real-world problems
"None of us are as smart as all of us" and "students first" are two values of the Advanced Structures and Composites Center (ASCC). Indeed, the statements are on the wall in the lobby and conference rooms of the University of Maine research complex, and at the heart of ASCC's internationally recognized work by nearly 350 faculty, staff and students.
Undergraduate and graduate students from multiple academic disciples participate in ASCC internships. In fiscal year 2022, those opportunities included 196 undergraduates and 57 graduate students, amounting to $2.4 million in wages and supporting costs. Students participate in ASCC's mission to solve complex challenges such as energy security and affordable housing, and contribute their talents, creativity and dedication to making a difference, all while gaining hands-on experience in state-of-the-art facilities.
Among the many academic areas that partner with ASCC to provide learning opportunities for students is the Maine Business School. For instance, students in Business Information Systems work on an enterprise resource planning (ERP) system used by ASCC to manage resources across $175 million in active research projects. Accounting and finance students have an opportunity to practice fundamental skills. In addition, students can learn the basics of project management and support active projects working in ASCC's Project Management Office (PMO).
"The Maine Business School is deeply committed to partnering with ASCC, and the incredible opportunities working within the center offers students," says Jason Harkins, interim associate dean of the Maine Business School. "Business students can apply their robust, rigorous, and relevant education into their hands-on experiences at ASCC. The contribution of their expertise in collaborations like this advance the goals of UMaine and the state of Maine as we look to develop the ideas and train the workforce for tomorrow's economy."
ASCC also partners with the Graduate School of Business. Students pursuing the MaineMBA have the option to specialize in one of 13 concentrations, including engineering management.
One of those former MaineMBA students is Peter Drown, who is now the ASCC chief operating officer who oversees financial services, the Project Management Office, laboratory operations and IT/ERP systems.
"As an MaineMBA graduate who interned at the ASCC as a student, I was well prepared to enter the job market in 2013," Drown says. "After spending seven years post-graduation in Washington, D.C. working in government and industry, I concluded that the opportunities at the University of Maine and ASCC were more satisfying and in line with my values. I jumped at the opportunity to bring my family back to Maine and join a team of innovative leaders who are bringing real solutions to some of the toughest problems for society."
Collaborations between ASCC and Maine Business School are paying dividends for students, faculty and the broader campus community. Below are the stories of current MaineMBA students and a recent graduate involved in ASCC projects:
Maggie Healy, BSBA '21, MaineMBA '23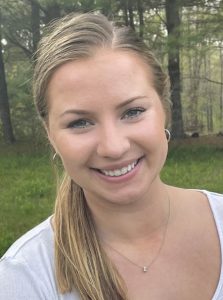 Maggie Healy from Portland, Maine completed her undergraduate degree at UMaine in marketing with a concentration in management information systems. After her MBA, she plans to pursue a career in business analytics.
Healy came to ASCC with a strong recommendation from an MBS faculty member. The center was launching a new enterprise resource planning (ERP) system to track human and financial resources across its project portfolio, and needed assistance providing system administration. In her full-time graduate research assistantship, she leads the ERP support team.
"My work at ASCC allows me to see real-world examples of the topics discussed in my business school studies; it helps me make better sense of the concepts," Healy says. "The hands-on experience has progressed the communication and time management skills that my business studies helped me develop."
At ASCC, Healy says she is encouraged to "take what I've learned in the classroom and apply it to my work. Additionally, I am given the opportunity to explore different areas of business, which allows me to learn more about myself and what I would like to do as a career."
Kirk Larkin, MaineMBA '24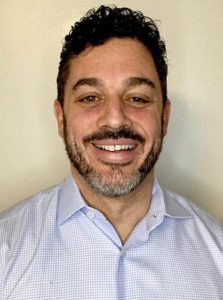 Kirk Larkin came to Maine from Fitchburg, Massachusetts in 2005. His career goals are centered on sustainable communities, including staying at the forefront of innovation to bring sustainable alternative products to consumers. Kirk currently works as a graduate assistant in the ASCC Portland office, supporting a research project of the Office of Naval Research.
"I have learned from competitive sports that preparation and training is critical to success, but nothing can replace the experience you get in a game," Larkin says. "I have already put some skills that I've learned in my business school studies into practice. For example, I found that the intense research required for my capstone project in the fall semester directly translated over to some of the facility planning work I was asked to help with. This work crystalized my research skills that I have been acquiring in my business studies."
The most enjoyable part of working at ASCC is being part of an amazing team, he says. "I have been given the opportunity to work with some brilliant people that have all contributed in some way to my experience so far," says Larkin. "I lean toward people and connection, so team is number one for me, but a close second for most enjoyable part of working at ASCC is the amazing world-class work that's already been done and the unbelievable plans for the future that place ASCC as a world leader in sustainable structures and manufacturing. I can't believe I get to work here!"
Angelina Buzzelli, BSBA '20, MaineMBA '21
Angelina Buzzelli from Charleston, Maine was an ASCC graduate research assistant in her final year of studies. Following graduation in December 2021, Buzzelli joined the ASCC staff with a focus on 3D-printed housing initiatives. Her work included market analyses by conducting interviews with industry stakeholders and combining those findings with secondary research analysis. This research will ultimately be used to guide the business case for biobased 3D printing solutions in the housing construction industry. In addition, she has taken on a communications role, acting as a liaison between the ASCC and Oak Ridge National Laboratory (ORNL), and creating marketing solutions for the program and helping promote the annual conference, Manufacturing Renew3D.
"My business school education has been instrumental in my market research, especially when it comes to interpreting qualitative data collected during my interviews," Buzzelli says. "My work here has been extremely fulfilling because I am participating in cutting-edge research and developing solutions to problems we all face — namely, the rising costs of housing. It is also very enjoyable to be surrounded by people with entirely different educational backgrounds. Coming from a non-science background made it originally challenging to understand the work my colleagues were doing, but it also meant I learned something new every day.
"The collaborative ASCC/ORNL team managing the Hub and Spoke program is also incredible to work alongside, making my day-to-day even more enjoyable."
Contact: Peter Drown, peter.drown@maine.edu