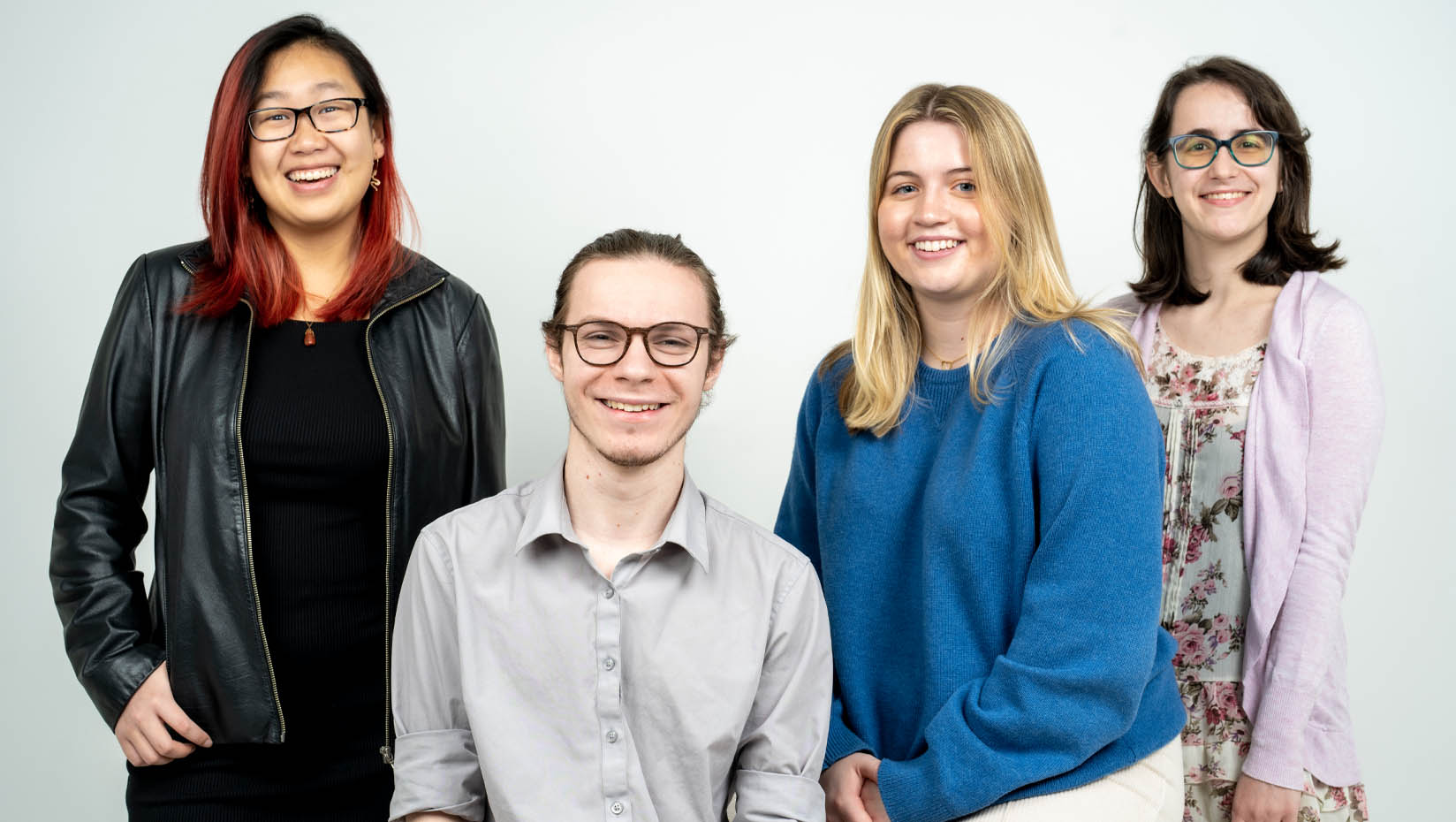 Four students selected to join McGillicuddy Humanities Center as fellows in spring 2023
Editor's note: This story was updated Feb. 6, 2023.
Beginning this spring the Clement and Linda McGillicuddy Humanities Center (MHC) at the University of Maine will welcome four new undergraduate research fellows for the next year: Paige Allen, Sebastien Chamberlain, Abigail Roberts and Willow Wind. This new cohort will join existing fellows Bell Gellis Morais, Brenna Jones, Paige McHatten and Donald Patten, who will see the culmination of their MHC projects in the coming months.
The MHC funds a rotating cohort of eight undergraduate fellows, providing $4,000 each per semester for two semesters to complete the research or creative projects of their choosing. In addition to honing their research skills and building their academic networks, fellows serve as humanities ambassadors to their peers, the campus and beyond. 
Incoming fellow Paige Allen, a sociology major and member of the Honors College from Mendon, Massachusetts is working with assistant professor of family studies Daniel Puhlman on a project that explores "The Intersection of Ambitious Women and Parenting." Drawing on semi-structured qualitative interviews with professionally successful women, Allen intends to study career-driven women in relation to their decisions to have children and their experiences of parenting. Allen's work examines the concept of maternal regret, and asks whether and how maternal regret is present in the lives of ambitious women and what this means for their children and work-life balance.
The inaugural Riordan Fellow and the first international affairs major to be awarded an MHC fellowship, Sebastien Chamberlain of Windsor, Maine will spend two semesters working on a project titled "A Digital Cold War for Legitimacy: Pakistani and Indian Narrative Control Through Social Media." Under the supervision of Asif Nawaz, assistant professor of history and international affairs, Chamberlain will use Twitter's Application Programming Interface (API) to study social media in India and Pakistan; Chamberlain will look at the limits and authority these countries hold over their citizens' social media activity and how these controls affect conflict in the contested territory of Kashmir. 
Abigail Roberts, a senior English major and member of the Honors College from Damariscotta, Maine and this year's Wiggin Fellow is working on "The Otherworld of Morality: Verbal Contracts and Fairies in Medieval Romance." Guided by faculty mentor and associate professor of English Sarah Harlan-Houghey, Roberts will be studying the moral implications of fairy contracts which appear frequently in the literature of Medieval and Middle English, with particular interest in how these contracts might illuminate medieval culture and morality.
Finally, Willow Wind of Orono, a communication major and member of the Honors College, has received her fellowship for a project titled "Conceptualizing and Enacting Gender Euphoria: Exploring Awareness and Action Across Gender Demographics." As part of her honors thesis, Wind will be working with Liliana Herakova of the Department of Communication and Journalism to study how people relate to and experience gender. By conducting interviews with the general population and health care providers, inclusive of an artistic journaling component, Wind will inquire into how gender euphoria is operationalized in routine daily performances and in the more specific contexts of health care.
Students interested in becoming a McGillicuddy Humanities Center undergraduate fellow have two deadlines to apply annually, on March 17 and Oct. 17. Proposals for research and creative work of all types across the humanities will be considered, from academic papers and art gallery shows, to community workshops or films. More information, including application instructions, proposal guidelines, and a rubric, are all available at on the Humanities Center's website or by contacting the MHC's humanities specialist Brian Jansen at brian.jansen@maine.edu.