UMaine alumni Phillip and Susan Morse donate $10M for new athletics arena
University of Maine alumni donors Phillip and Susan Morse have committed $10 million for naming rights to the multipurpose arena that is part of the UMaine Athletics Master Facilities Plan.
The contribution is part of the private fundraising campaign underway to meet the $90 million challenge grant for UMaine athletics as part of UMS TRANSFORMS, funded by the Harold Alfond Foundation.
With the Morse donation, $13.2 million of the $20 million goal has been raised by the University of Maine Foundation.
"We are pleased to support UMaine athletics through The Alfond Fund and this landmark UMS TRANSFORMS project made possible by the Alfond Foundation," says Phillip Morse. "Harold Alfond was an inspiration to me, and it's an honor to contribute to initiatives that advance his vision for advancing Maine and the state's Division I athletics program. He is an example of how one good, generous person can make a big difference for generations."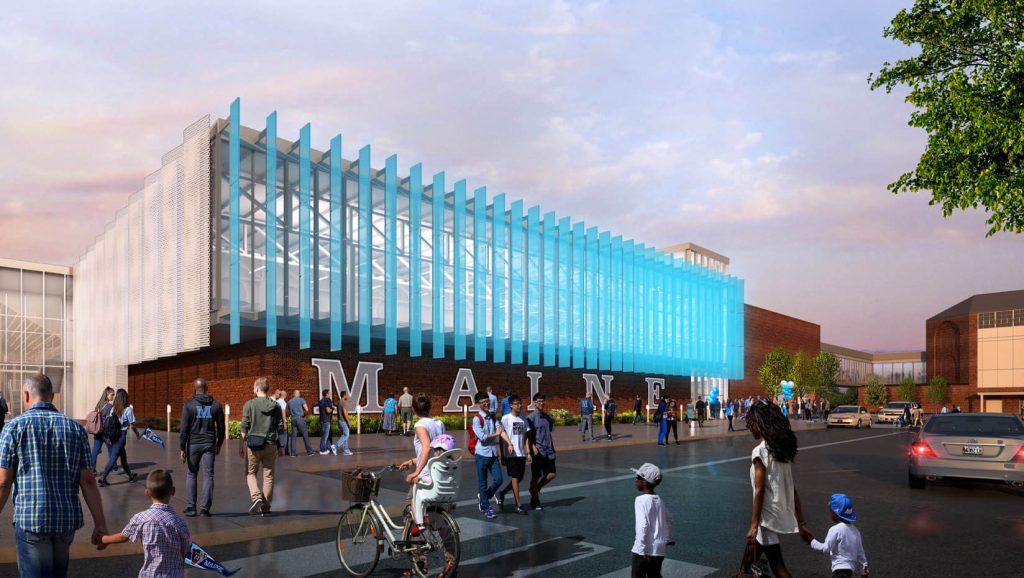 The University of Maine System Board of Trustees authorized the naming of Morse Arena, one of the new signature projects of the master facilities plan. The 3,000-seat facility will be the home court of men's and women's basketball, and provide a venue for large-scale campus and community events. The arena will include a significant interior space that will be named for the Morses' longtime friend Thomas "Skip" Chappelle, UMaine men's basketball student-athlete and coach from 1959–62 and 1971–88, respectively.
This is the second major naming gift by the Morses, members of the UMaine Class of 1964, to the UMaine athletics portion of the $240 million UMS TRANSFORMS initiative, and the family's fourth major gift to support athletics in the past 25 years.
"The generous support of Phillip and Susan Morse has made a lasting difference on the UMaine student experience and what Maine's only Division I athletics program offers communities and fans," says UMaine President Joan Ferrini-Mundy. "We appreciate their leadership and vision that will impact generations at their alma mater."
Last December, Phillip and Susan Morse provided a $1 million gift to support the Athletics Facilities Master Plan. The gift also is part of the private fundraising for the Alfond challenge grant match.
Morse Field at Alfond Sports Stadium, a facility made possible by the generous donation of Harold Alfond and the Morses, opened in 1998. The Morse family pledged $1 million in 2007 to provide a significant upgrade to UMaine's Morse Field playing surface at Harold Alfond Sports Stadium. In 2013, the Morse family presented UMaine Athletics with an $800,000 gift to be used to install the high-definition video scoreboard on Morse Field.
"Phil and Sue have been loyal supporters of the University of Maine for a long time and their gifts have had a lasting impact," says Jeffery Mills, president and CEO of the University of Maine Foundation. "Donors at this level are making a significant investment in UMaine's future and their leading commitment will inspire others. We are grateful for their vision and desire to make a difference."
Phillip, vice chairman of the Boston Red Sox since 2004 and a partner since 2002, and Susan met at UMaine. They live in Lake George, New York and Jupiter, Florida.
At UMaine, Susan majored in education and Philip majored in sociology. Phillip also lettered in baseball and was a member of Sigma Chi fraternity.
Upon her graduation from UMaine, Susan taught school in Darien, Connecticut and in Sudbury, Massachusetts. After she and Phillip married in 1966, they settled in Glens Falls, New York. She put aside teaching to raise their three daughters, Katherine (UMaine '92), Shelley (Middlebury '95) and Lindsey (UVM '98). She served on the Glens Falls School District's Board of Education for several years, and has long been passionate about education.
Phillip's career achievements include founding North American Instrument Corporation in 1969, a company focused on the development, manufacturing and sales of the first transparent fluid delivery system for coronary angiography, the Morse Manifold. By 1994, the firm had grown into NAMIC U.S.A. Corporation, an 800-employee designer and manufacturer of a wide array of medical devices for interventional cardiology and radiology. Morse served as NAMIC's chairman until its sale to Pfizer, Inc. in 1995. After more than 40 years, the Morse Manifold continues to be used in more than half of all cardiac catheterization procedures.
Contact: Margaret Nagle, nagle@maine.edu