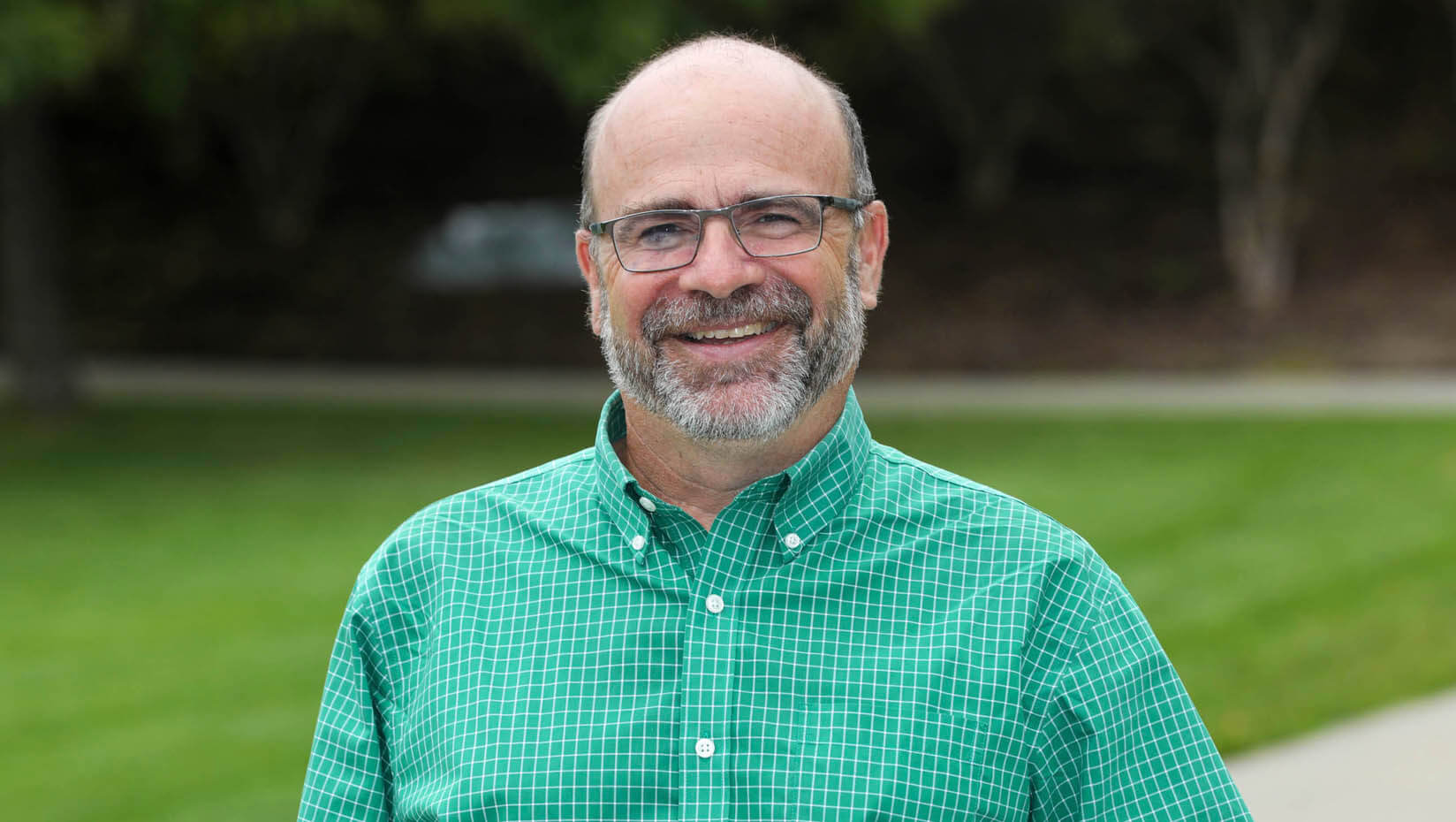 Steve Legge: Back after 40 years to finish his UMaine degree
Steve Legge, director of communication at St. Johnsbury Academy, was photographing a student signing a letter of intent to run cross country at the University of Maine when he was hit with an epiphany.
Legge attended UMaine between 1982 and 1985, leaving after his junior year with a GPA "just under 2." He loved UMaine, but admits that he didn't have "any real goals when [he] got there and no real reason to stay."
Nearly four decades had passed since he left UMaine, and yet, seeing this future Black Bear and his family decked out in UMaine gear, he says he felt something akin to "homesickness" or "nostalgia."
"Whatever it was, I went back to my office and emailed Maine to ask about re-applying," Legge said.
Now, at nearly 58 years old, Legge is back at UMaine — albeit remotely — and is set to graduate with his degree nearly 40 years after he first started it.
After leaving UMaine in the mid-'80s, Legge took a variety of odd jobs. He cut Christmas trees, drove a truck, worked as a bartender and managed a mini mart. In 1991, he settled into photography for a weekly newspaper, the Lyndon Independent.
Legge's photography work gained momentum and pretty soon, he started photographing for more prominent news outlets, including the Associated Press. He started his own photography labs and freelanced taking wedding photographs and portraits for high school seniors. He eventually landed at Vermont's St. Johnsbury Academy, an independent high school with day and boarding students, in August 2016, where he still works as director of communication. Coincidentally, three of his coworkers there are UMaine graduates, one of whom was on campus at the same time that Legge was in the '80s.
Legge said even before that fateful day photographing the UMaine cross country recruit, he had a nagging sense of unfinished business when it came to his education, even after earning an associate degree in graphic design. He looked into finishing his undergraduate degree at Northern Vermont University-Lyndon, just up the road from where he lives, or Southern New Hampshire University, but chose not to because his UMaine credits wouldn't transfer and the cost became prohibitive.
Turns out, he had to go back to the source. When Legge reached out to the UMaine Division of Lifelong Learning (DLL), they set up a Zoom call with director of the bachelor of university studies Barbara Howard, who worked with him to make sure he could use as many of his previous credits as possible.
"Most of the classes I took so long ago have new numbers now, and she had to go through and convert everything to make sure I had everything I needed," Legge says. "Everyone was super helpful. It just made it so much better to come back to Maine."
DLL also helped Legge to figure out how to finish his UMaine degree remotely from his home in Vermont. Legge says he misses being in a classroom, but as a working adult, the online option is perfect for him — though it is a big change from his experience in the '80s, when there were no personal computers, to say nothing about the internet.
Once he reenrolled, Legge needed four courses to complete a degree in University Studies, a program that allowed him to use his wide range of credits, from his associate's in graphic design to his various classes at UMaine. He is currently taking his Core Course in University Studies, and is excited about finishing up with his major's capstone in the spring.
"For the University Studies capstone, we have to identify eight classes that will form the basis of our topic," Legge says. "For me, that includes classes from my associates degree in graphic design, and those I took at UMaine in the '80s — some social studies, military sciences (believe it or not) and English. I'm looking forward to the challenge of it."
This time around, too, Legge is getting much better grades — "straight A's so far."
"The perspective of age is huge," Legge says. "My study habits are much better. I don't have the radio on, I'm not watching TV. It's much easier the second time around. You have to balance your time better, but still, I've enjoyed it."
Contact: Sam Schipani, samantha.schipani@maine.edu