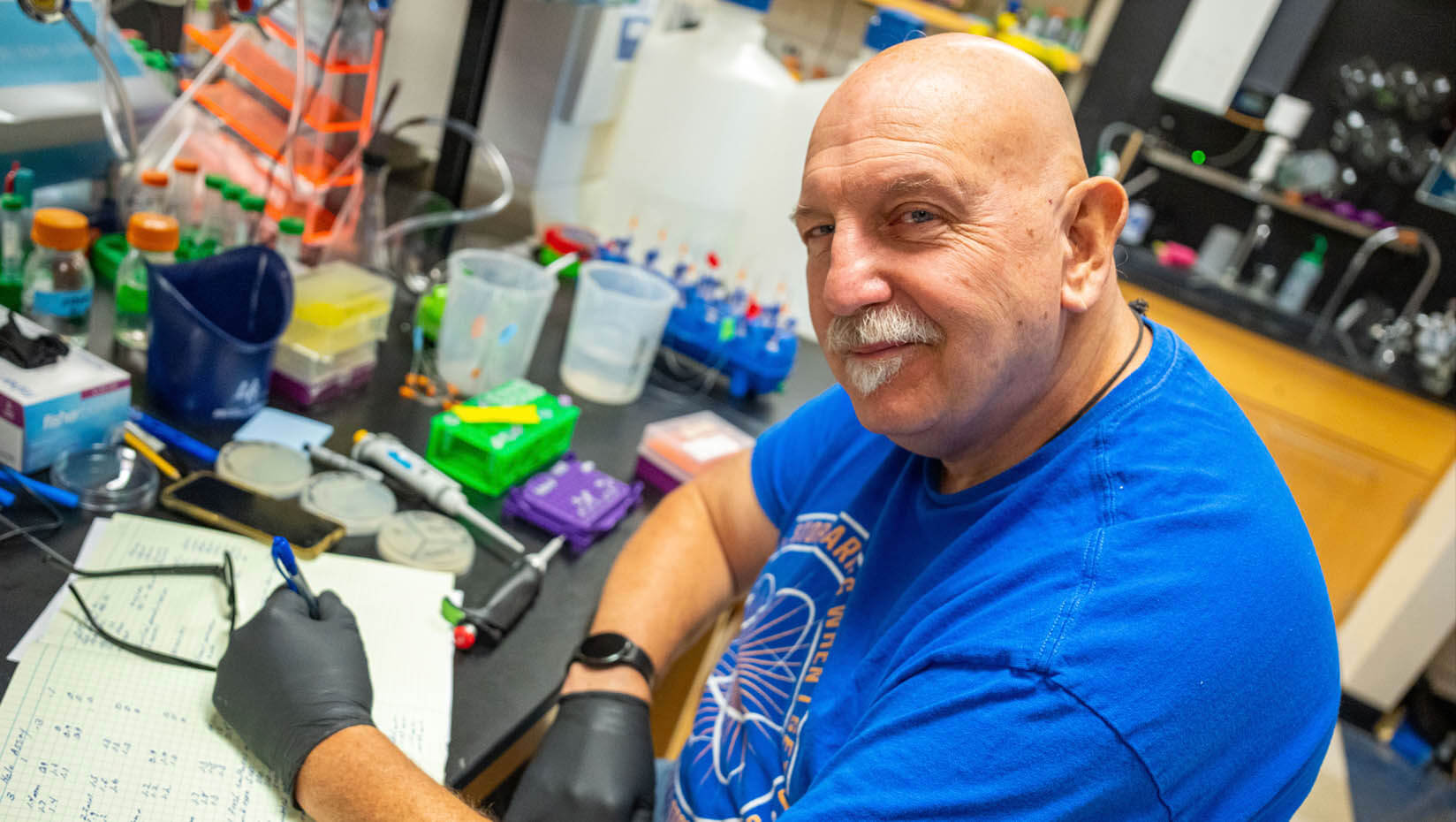 John Cyrus: At 69, finishing the undergraduate degree he always wanted
John Cyrus always said that if he won the lottery, he would start his own research lab to study whatever scientific questions his mind latched onto. He never did land a winning ticket, but Cyrus is finally getting the chance to explore the wonderful world of academic research by returning to the University of Maine to finish his undergraduate degree in microbiology at the age of 69.
Cyrus graduated from high school in 1971 with a scholarship to study biochemistry and organic chemistry at Rutgers University in New Jersey. A near-fatal car accident the night of his graduation delayed his enrollment; once he finally recovered, he was drafted to the Vietnam War.
Cyrus joined the Air Force and was stationed in New Mexico. He and his friends soon figured out that if they volunteered for the night shift, they would be able to take classes at the local community college during the day. Cyrus was taking classes in microbiology when the dean of the school suggested he try a new program for medical laboratory technicians. Soon after, Cyrus was the program's first graduate.
When he got out of the Air Force, Cyrus' family in Waterville suggested that he go back to school. He attended the University of Maine at Augusta starting in 1976 and worked nights as a lab supervisor at the Mid-Maine Medical Center. Only nine credits shy of a degree, he dropped out when a lab accident infected him with mono and kept him from completing his coursework. Instead, he completed a computer service technician certification at the Control Data Institute, worked briefly as a research and development director for Northeast Labs and then landed at the Jay paper mill, where he eventually worked as an instrument electrician for nearly three decades.
"I used to joke, 'Yeah, I can draw your blood, do your lab work and wire and automate your house at the same time,'" Cyrus laughs.
He never stopped learning, though — or teaching, for that matter. Throughout his career, he simultaneously served in the National Guard and the Reserves, taking classes about biological chemical warfare, serving as a construction engineer overseeing projects like building highways in Guatemala and training soldiers preparing for deployment.
Cyrus retired in 2012. After six months of retirement, he was bored. He took temp jobs for several years, before he looked into finishing his undergraduate degree at the University of Maine. Once he committed to going back to school, he was delighted to learn that he could take classes for free because of the University of Maine's senior citizen waiver program.
When he started, he was worried about fitting in with the other undergraduates, but he was quickly embraced by his peers. He has grandchildren around their age, which he thinks has helped in his ability to bond with his classmates (though he says he has resisted their efforts to get him to join TikTok).
"We actually developed a synergy, I think because of my leadership experience, plus my different ways of looking at things and my broad knowledge base," Cyrus says. "They're able to show me things that I never would have known about, like simple things on the computer. I'm very tech savvy — I can tear a computer apart and fix it — but there's just some things that you guys growing up take for granted, but I haven't seen."
Cryus made a connection with one of his classmates that led him to Josh Kelley's lab, where he now studies the G-alpha protein in yeast. G-alpha proteins drive much of cell communication and signaling in humans, but there remain many questions about how exactly they work in the cell. Cyrus is working to figure out how to attach fluorescent markers to the important protein so it can more easily be tracked and observed by microscopy.
Previous attempts to attach a fluorescent marker to the yeast G-alpha were unsuccessful, or compromised the functionality of the protein (normally, such markers are stuck to either end of the protein, but the G-alpha uses both of its ends for its functionality). Through his research, Cyrus thinks he might have found a solution elsewhere on the protein.
Kelley says that even beyond his age, Cyrus isn't like any other undergraduate student researcher he's ever had.
"The wealth of experience he's had sets you up to engage with the lab in a way that maybe an 18 year old is not always ready to do," Kelley says. "Experience really helps in a lab where so much is the willingness to go and try something. What's really great about John [Cyrus] is that he's here because he's intellectually curious and really wants to engage. He doesn't have to be here, he could be at home. He comes in and he wants to push the project forward and learn about how all this stuff works and he's doing it because he's enjoying it and that's the best reason to do science."
Cyrus' experiences also allow him to approach problems in ways that many traditional students do not. He remembers a presentation he created for a research methods class with Jennifer Newell-Caito that connected the way he has built on his knowledge for his research — learning different softwares and assay techniques, for example — to learning different knots and stitches for his embroidery hobby (which he has done for 40 years, primarily to stitch scenes with his nieces', nephews' and grandchildren's favorite cartoon characters).
"They were both learning experiences, basically taking something I didn't know anything about and figuring out how to do these different procedures that I have only read about before," Cyrus says. "There were hurdles that had to be overcome in each case."
Cyrus plans to finish his degree in spring 2023 — he wants to graduate college the same time his granddaughter graduates high school — and his only regret is that he didn't go back to school sooner.
"I wish I had done it years earlier even if it had cost me," Cyrus says. "It's a great environment. Hopefully from this somebody older will see this and think, 'Hey, yeah, maybe I'll go back now.'"
Contact: Sam Schipani, samantha.schipani@maine.edu