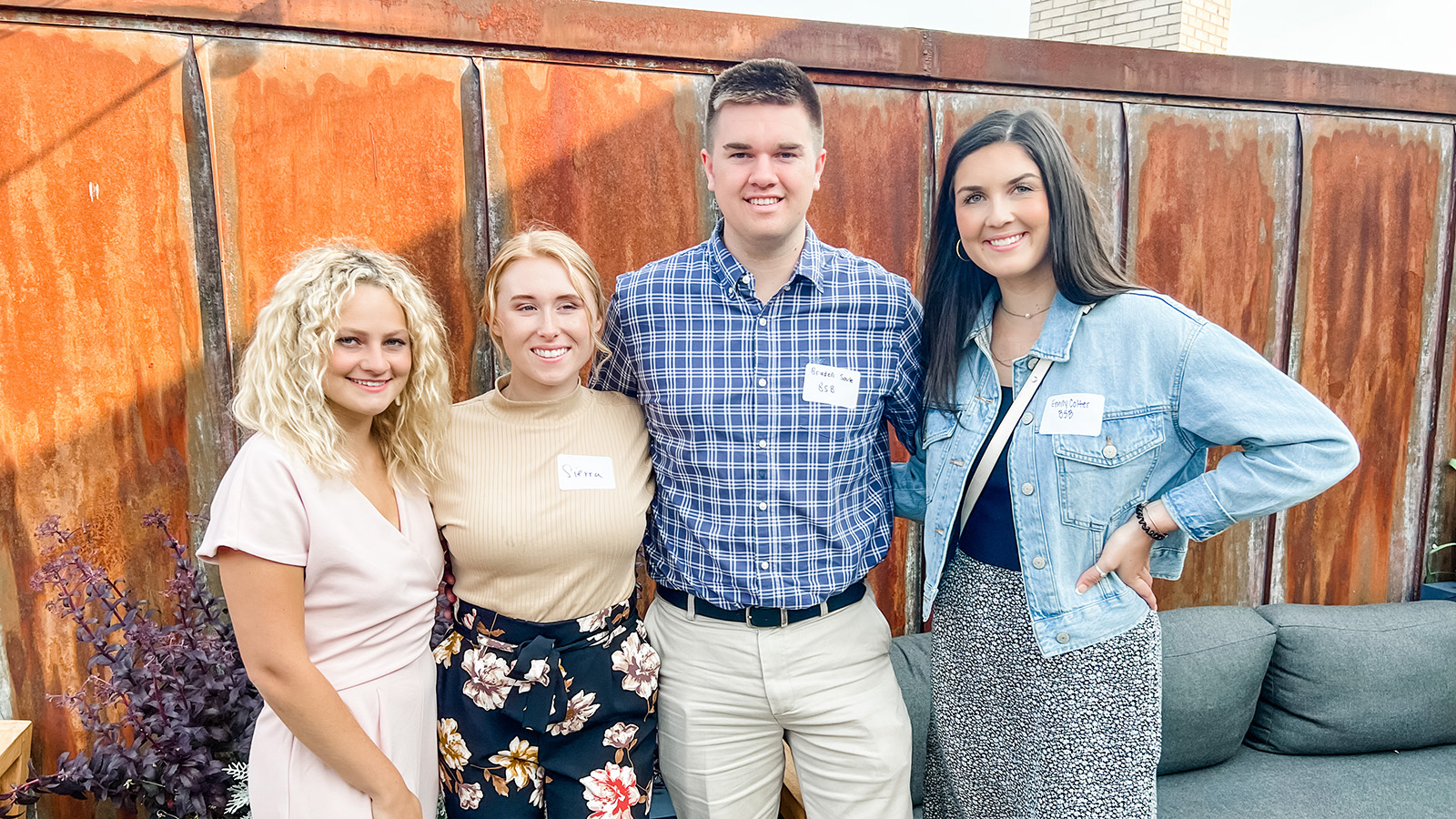 MBS alumni: Bangor Savings management trainees
Four Maine Business School alumni recently started as management trainees at Bangor Savings Bank. In this program, they will spend the first six months rotating through all BSB departments, implementing bank projects, working on creating a professional brand and leadership and developing leadership skills. Management trainees also work with David Pease, senior vice president and director of talent, diversity and inclusion, to determine roles in the bank that best match their strengths, interests and passions. Starting in January, these individuals begin technical training in their chosen field. Between March and June, they will be promoted as a professional manager or individual contributor at Bangor Savings Bank.
We asked each of them why they chose to study business and why they chose UMaine as the springboard for their career goals:
Allison Treat
UMaine Class of 2022
Hometown: Carmel, Maine
Majors: accounting and marketing
"I took a business course in high school and realized it was something I wanted to learn more about and pursue. Business is an essential part of our everyday lives. I decided to double major at the Maine Business School to learn more about the business environment.
"The University of Maine has a reputable business school, and I found that Maine Business School alumni ran many businesses in the local area. UMaine is also close to home for me. It has been the school my family has attended for many generations."
Sierra Dorney
UMaine Class of 2020; G'22
Hometown: Kennebunk, Maine
Major: management; MaineMBA with a concentration in business analytics
"I wasn't entirely sure what I wanted to study as an undergrad. Pressured to choose a major, I picked nutrition. After a few weeks, I realized this was not my path. I had always wanted to start a business, so I quickly changed my major and joined the Maine Business School. I immediately knew I had made the right decision.
"I didn't want to be too far from home. I knew other individuals who had attended UMaine and had great things to say about their experiences. Once I was accepted to be part of the UMaine community, I knew this was where I wanted to go. It was the best decision I've ever made!"
Braden Soule
UMaine Class of 2022
Hometown: Fairfield, Maine
Majors: finance and management
"I've always loved leading and mentoring and knew business was my calling. One of my goals was to lead and manage a team, and the Maine Business School gave me the best opportunity to do that. There are so many jobs that I can obtain with a business degree, and I like the flexibility of being able to choose a career that aligns with my mindset and values.
"I grew up in central Maine and liked the idea of going away from home, but I didn't want it to be too far. When I first toured the campus, I fell in love. I've been invested in sports all my life, and I liked the idea of attending a university with a Division I athletics program. When I toured the Maine Business School, I was intrigued that the program didn't have huge class sizes. I knew that I'd have the opportunity to connect with my professors. My dad is also a UMaine alum, so the chance to attend was too good to pass up."
Emily Colter
UMaine Class of 2022
Hometown: Hampden, Maine
Majors: management and marketing
Minor: leadership
"As an undergraduate who was indecisive about exactly what I wanted to do, the career flexibility of a business degree was right for me.
"I wanted to go to a school where I could quickly get involved and create a community for myself. The University of Maine was an obvious choice. During my senior year of high school, I took classes at UMaine. Through this experience, I knew the University of Maine was right for me. By the time I started college as a first-year, I had already completed a semester of courses."