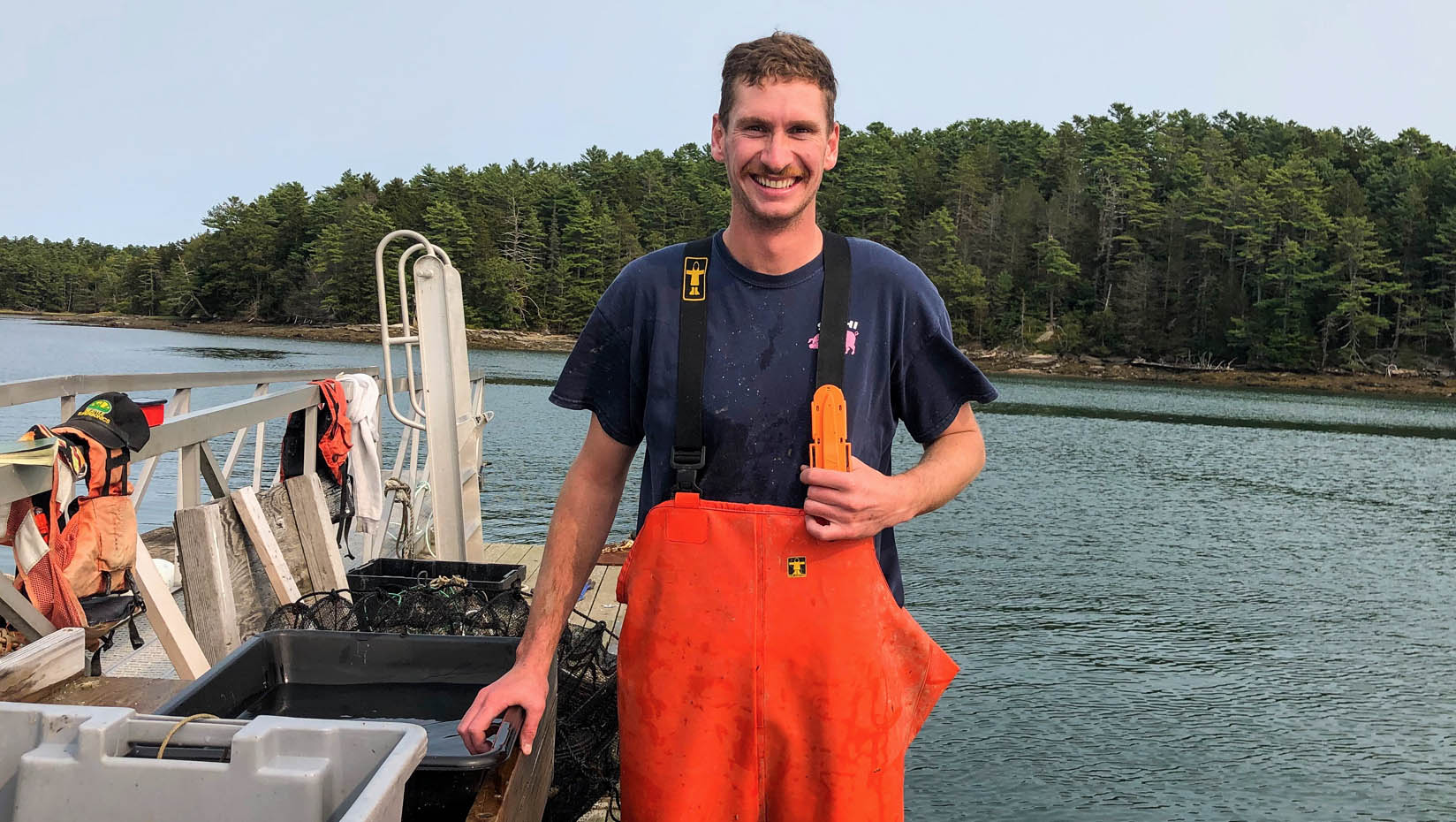 Darling Marine Center graduate students make their homes and futures in Maine
When he arrived at the University of Maine Darling Marine Center in the summer of 2018, Struan Coleman did not expect to spend several years living in rural Maine. Coleman was recruited to Damian Brady's research group and tasked with investigating the growth rates of oysters living in different parts of the Damariscotta River. The work, however, took an unexpected turn when Coleman broke his leg before beginning his internship, and he was delayed in arriving at the Walpole campus.
"Why don't you work on the scallop project?" Brady, an associate professor of marine sciences, said to Coleman.
That discussion began a two-year odyssey to document the economics of scallop farming in Maine, which led to Coleman working for an environmental research nonprofit studying carbon storage and other co-benefits created by kelp farming in the state and beyond.
Coleman is one of six UMaine graduate students who completed their work at the DMC during the last two years of the COVID-19 pandemic. These students, who worked on projects ranging from oyster aquaculture to coastal community resilience, made their homes and lives in Maine during their studies. Several of them have been able to find ways to stay in Maine after graduation.
Coleman is originally from New York, and moved to midcoast Maine from rural New Hampshire soon after earning his undergraduate degree from Dartmouth College. Similarly, Melissa Britsch, a resident of Brunswick, Maine, and now a senior marine planner with the Maine Coastal Program at the Maine Department of Marine Resources, joined the DMC community from Oregon State University following her undergraduate work on the Pacific coast.
"I was looking for more field experience," Britsch says. "I'd been able to do quite a lot of fieldwork in Oregon, but it was focused on questions where I worked primarily with other scientists. In Maine, I was excited to work with shellfish farmers and learn more about aquaculture."
Britsch's graduate work culminated in dual masters degrees in marine biology and marine policy, which she received in May 2021. Together with another graduate student, Sarah Risley who resides in Wiscasset, Maine, Britsch documented local knowledge related to wild shellfisheries, aquaculture and other activities in the Damariscotta and Medomak River estuaries.
This social science research complemented two other projects she led during her three years at UMaine, both related to the science and practice of aquaculture and its interactions with other uses of the Maine coast.
Risley earned dual masters degrees in marine biology and marine policy earlier this month for her social-ecological research connecting local and scientific knowledge in support of shellfish and estuarine management. Advised by Heather Leslie, DMC director and professor of marine sciences, and Joshua Stoll, an assistant professor of marine policy, Risley developed a community science program focused on the upper Damariscotta River Estuary in partnership with members of the joint shellfish committee of Damariscotta and Newcastle and teachers and students at Lincoln Academy. Risley will be continuing her research at the DMC as a UMaine Ph.D. student, thanks to local supporters of the DMC and UMaine and federal grants.
While many students are drawn to the DMC because of its decades-long focus on shellfish aquaculture, others find the marine laboratory for other reasons.
Julia Johnstone, an invertebrate biologist who is now a postdoctoral research associate with the National Oceanic and Atmospheric Administration based at the Holling Marine Laboratory in Charleston, South Carolina, conducted her doctoral research at the DMC. She studied the reproductive ecology of cold-water corals, based on field expeditions to Alaska that she participated in under the guidance of Rhian Waller, an associate professor with the UMaine School of Marine Sciences. While in Walpole, Johnstone also had the opportunity to gain experience as a teacher. She supported one of the core courses taught as part of Semester by the Sea, the immersive marine science experience offered to undergraduates every fall at the DMC in partnership with the School of Marine Sciences.
Andrew Goode of Boothbay, Maine was among the hundreds of students who have learned about marine invertebrates at the DMC over the last 30 years. In 2019, he served as a graduate teaching assistant for the Marine Invertebrate Zoology course that is taught every fall as part of Semester by the Sea. As an undergraduate and then graduate student studying marine sciences at UMaine, Goode has leveraged not only his academic studies, but also his experience as a commercial fisherman. While working out of the DMC, he brought together field observations and models of the American lobster fishery to help forecast how the fishery is likely to respond to climate-related impacts. Since becoming a National Sea Grant postdoctoral researcher at the DMC after graduating in December 2021, Goode has continued to work with collaborators at UMaine and the Department of Marine Resources.
Jessica Reilly-Moman, who resides in Round Pond with her family, first came to the DMC as a visiting researcher for an international scientific workshop funded by the National Science Foundation that focused on Mexican small-scale fisheries. Once in Maine, she realized that it would be the perfect place to continue her interdisciplinary studies of coastal community resilience. As a doctoral student in UMaine's Graduate Program in Ecology and Environmental Sciences, she conducted research on community resilience in both Maine and Mexico. This interdisciplinary research and the community engagement that it required prepared her well to serve as technical staff for the Maine Climate Council's Coastal and Marine Working Group during the last part of her program. Reilly-Moman now serves as a postdoctoral research associate with the Aspen Global Change Institute. In collaboration with colleagues at UMaine and other institutions around the state, she is about to begin a new project funded by NOAA that focuses on community planning and perspectives in the context of ocean renewable energy in the Gulf of Maine.
"While the achievements of these six young scientists are impressive, what is equally notable is that many of them still live in midcoast Maine and contribute to our local community," Leslie says. "Far too many young professionals have had to leave Maine to find professional opportunities. These DMC graduates are great examples of how Maine not only is a great place to study and learn, but also to make a life."
Contacts: Matthew Norwood, 207.563.8220; matthew.norwood@maine.edu