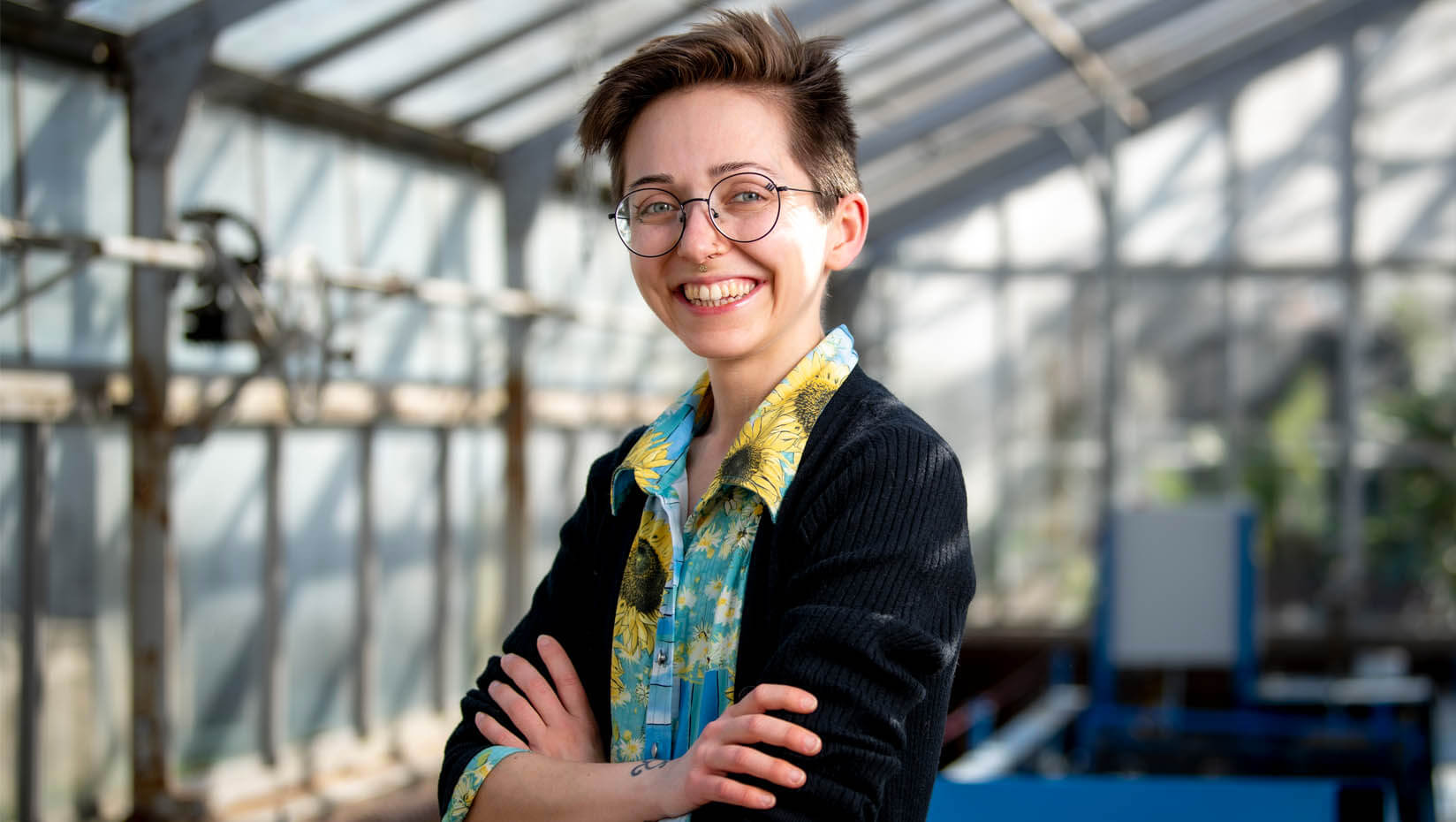 Sonora Ortiz: Using physics to pull weeds
3D printing, nanotechnology and weeds might not seem like a natural combination. For Sonora Ortiz, though, solving practical farm tasks with advanced technology might just be the key to making agriculture more sustainable.
Ortiz is an undergraduate at the University of Maine whose research focuses on developing artificial weeds using 3D printing and nanocoating technology with the goal of improving physical weed removal and reducing the need for pesticides. They were recently awarded the ​​2022 John Jachetta Undergraduate Research Award from the Weed Science Society of America for their research.
Before coming to the University of Maine, Ortiz worked on farms throughout Europe and their native southern California. Through their experience, they developed a passion for sustainable agriculture and soil remediation, which attracted them to the undergraduate programs at the University of Maine.
Once Ortiz arrived in Orono, they decided to study physics, but their passion for agriculture remained. They took a weed science class with Eric Gallandt, professor of weed ecology at the School of Food and Agriculture. When Gallandt asked if Ortiz would like to work with him on his research about physical weed control — pulling weeds rather than killing them with herbicides, say — they jumped at the opportunity.
"If we figure out ways of doing that people won't have to use chemicals and things that are terrible for the environment," Ortiz said. "I see it as an opportunity to improve sustainable agriculture."
3D printing is a useful tool for studying weeds because in nature, individual plants are so variable that it is hard to test them in a controlled way, which makes it difficult to draw conclusions about the effectiveness of physical weed removal methods.
"If we're doing testing to standardize these types of things, we have to have a model that has less variability so there's less noise in the data," Ortiz said.
The models have other advantages over their natural counterparts. They are not only less variable and provide more control in the studies, but they are reusable and do not require the time and labor to grow the weeds in the soil bins at the testing facilities only to pull them out and have to start the process of growing them again. Past studies have used golf tees or wooden dowels to try and model physical weed control, but Ortiz said those are "just not a good enough model."
"Basically, they don't resemble weeds very well," Ortiz said. "They're in the ground but that's about it. The uniqueness of 3D printing is that we can do so much more modeling with it to make it resemble that root structure."
Galladnt's lab tested some of the most common weeds in Maine to gauge the force it usually takes to pull the plant out of the ground with all its branching roots clinging to the soil. Then, they looked at the "force curves" and designed 3D printed "roots" that behave similarly when pulled out of the ground (though they admitted that the artificial curves are often smoother than their natural counterparts).
With their recently awarded grant, Ortiz will also be able to deepen their research, working with Bashir Khoda, assistant professor of mechanical engineering, to develop nanocoatings that control the orientation of molecules on the surface of the 3D printed roots in such a way that it mimics the force of tiny root hairs.
"It's very exciting and super easy to apply," Ortiz said. "You just dip roots into liquid mixture to apply it and that's it. It feels very magical because it's on this nanoscale."
Ortiz will also use the grant award to attend the Weed Society of America annual conference and present their findings.
Ortiz will complete their undergraduate degree in December 2022, though they hope to continue their research at the University of Maine and pursue a graduate degree focusing on soil science. Ortiz said that the long-term goal of their research is to develop a similar 3D printing process for various crops, so methods of physical weed control can be tested so that they do not damage crops while pulling up weeds.
Contact: Sam Schipani, samantha.schipani@maine.edu