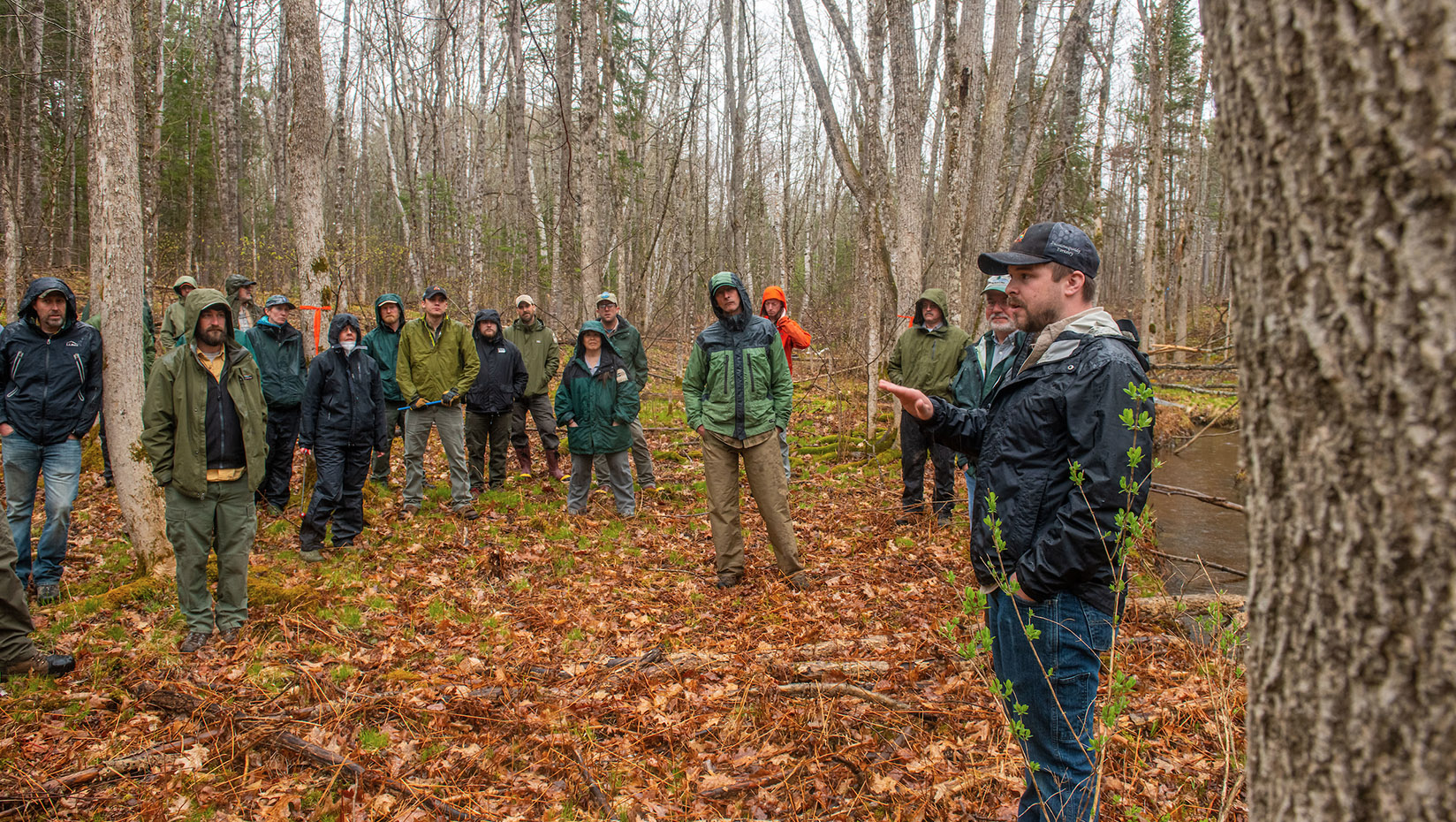 UMaine workshop highlights cultural importance of brown ash to Wabanaki tribes, management strategies for emerald ash borer  
A devastating threat is bearing down on New England's oldest documented artistic tradition.
Emerald ash borer, an insect native to Asia, has barreled through ash stands in at least 35 states and three Canadian provinces since it was first documented in Michigan and Ontario in 2002. Brown ash (Fraxinus nigra), the species Wabanaki basket-tree harvesters target, is especially susceptible to the invasive insect that has already decimated millions of North American ash trees, and recently arrived in Maine.
In response, staff at the Maine Bureau of Parks and Lands reached out to the University of Maine for guidance. John Daigle, a citizen member of the Penobscot Nation and professor in the School of Forest Resources at UMaine, and a team of graduate students hosted a workshop for more than 35 agency staff on May 4.
The workshop featured work UMaine researchers have conducted over the past decade with Tribal Nations in Maine, New York and Michigan, and agencies including the U.S. Forest Service, Animal, Plant, Health, Inspection Service (APHIS), and Maine Forest Service.
Daigle and Ph.D. students Emily Francis and Tyler Everett, who is a citizen member of the Mi'kmaq Nation, shared ongoing research and strategies that may enable Maine's three native ash species — white, green and black/brown — to co-exist with the emerald ash borer in Maine's forest landscape.
Francis talked about future seed collection efforts and her survey work with Maine forest landowners about awareness and management of emerald ash borer. Everett discussed his work surveying foresters and loggers and his efforts to create a detailed ash tree inventory system to help implement timely management strategies for the pest. Maine Forest Service staff demonstrated inventory methods of ash trees that are critical for monitoring emerald ash borer's spread, and management strategies for the invasive insect.
Members of the Wabanaki Youth in Science program, as well as Passamaquoddy and Mi'kmaq forestry staff, basket tree harvesters, and basket makers shared the ecological and continued cultural significance of brown ash to Wabanaki tribes in Maine and other tribes in the Northeast. Richard Silliboy, a master basket maker and current vice chief of Mi'kmaq Nation, explained the strong cultural ties to this species for the Wabanaki, including the creation story for the confederacy which revolves around the basket, or brown ash tree.
"It was so valuable and such an honor to learn firsthand from basket maker Richard Silliboy, basket-tree harvester Tom Newell, and UMaine graduate students Tyler Everett and Emily Francis through both the presentations and in-field sessions," says Jocelyn Hubbell, an interpretive specialist at Maine's Bureau of Parks and Lands. "The gathering fostered a sharing of knowledge and ideas, relationship building, and development of actionable priorities. We will build on this as we move forward together."
The bureau manages more than 635,000 acres of public lands in Maine which, according to a recent UMaine-led study, will be vulnerable to the spread of invasive forest pests.
"The staff at the bureau are eager to develop more collaborations to respond to emerald ash borer with the University of Maine, the Maine Forest Service and tribal communities," says Bill Patterson, deputy director at Maine's Bureau of Parks and Lands.
Contact: John Daigle, 207.581.2850; jdaigle@maine.edu