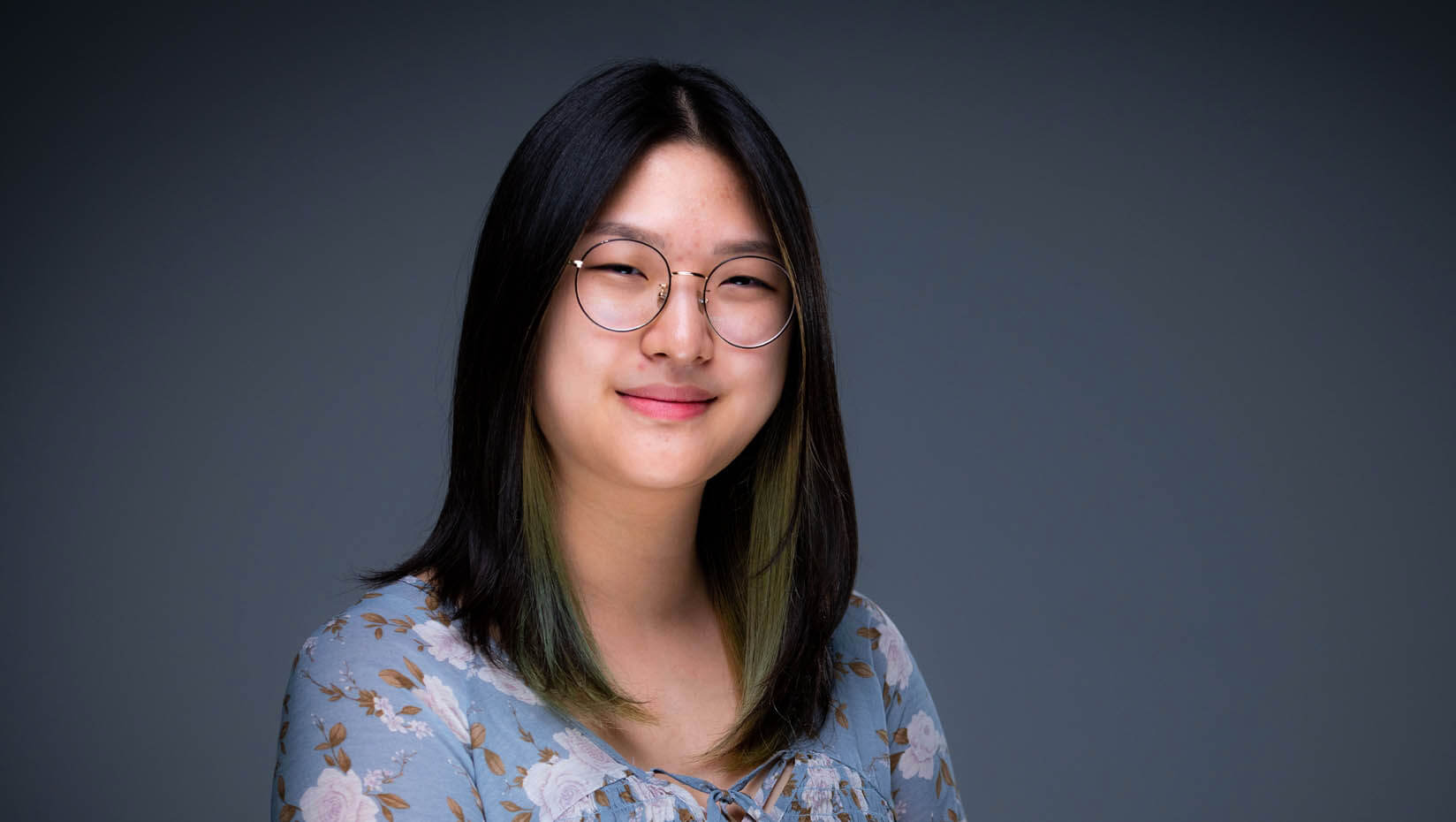 Jinyoung Park: Outstanding Graduating International Student
Jinyoung Park of Seongnam-si, South Korea is the Outstanding Graduating International Student in the College of Liberal Arts and Sciences. Park, a chemistry major, has received International Presidential Scholarships and the Charles A. Brautlecht Scholarship, and a Center for Undergraduate Research Fellowship. For the past three semesters, Park has been collaborating with professor Matthew Brichacek on research to isolate and analyze large carbohydrate molecules called glycosaminoglycans (GAGs) using TEAB auxiliary. She is president of the International Student Association and a leader in Operation H.E.A.R.T.S., and has served as a Maine learning assistant in three chemistry courses. Park will attend Dalhousie University Dental School.
What difference has UMaine made in your life and in helping you reach your goals?
UMaine has allowed me to network and build valuable relationships with various individuals — from professors and upperclassmen mentors to friends. The various resources provided by the university have given me opportunities to strengthen my academic and life experiences as an undergraduate student. For example, during my sophomore year, the Career Center hosted an event where they invited speakers from Dalhousie University Dental School to come and talk about their dentistry program. If it weren't for that event, I would have not known about Dalhousie University and I may have not been able to pursue dentistry after graduation.
Have you had an experience at UMaine that has changed or shaped the way you see the world?
When I first moved to Maine and started attending UMaine, I was surprised by the lack of diversity on campus. I was often the one of the few or only Asian student in my classes. At first, I became very self-conscious and felt isolated. However, through my involvement with various programs on campus (MLA, ISA and Student Government), I realized that I can be the one to set the example and be the representation of my culture and race. I realized how valuable and fulfilling it was for me to be able to educate my peers and share my culture, and identity with other students and different groups on campus. Through this experience, I was able to be more confident of my cultural background and of myself, which ultimately changed the way I saw the world around me.
Why UMaine?
I believe that one of the most valuable aspects of UMaine is the small faculty-to-student ratio. I think this gives students more opportunity to network and build connections with faculty on campus. Another great aspect of UMaine is the various resources available for students. Some of the most valuable resources available are the MLA program, career center, writing center, counseling center, and many more that can assist in improving the students' academic success and general well-being. There are also a huge variety of student organizations where students can meet other students with similar interests and values increasing their sense of belonging on campus.
How would you define the opportunities for student success at UMaine? Is there any particular initiative, program or set of resources that helped you succeed?
I think that UMaine has a number of resources to help students out, whether it be academically or personally. One of the most helpful resources I have utilized was the Maine Learning Assistant (MLA) program and the Career Center. I have had several MLAs in my STEM classes that helped me succeed in class. I think having other undergraduates to help out in class makes it less intimidating to ask questions and receive help. My positive interactions with MLAs have also inspired me to work as general chemistry/organic chemistry MLAs for the past few semesters. Like mentioned earlier, the Career Center has helped broaden my chances of success by introducing me to a dental program that I was not familiar with.
Have you worked closely with a professor or mentor who made your UMaine experience better?
I have worked closely with professor Matthew Brichacek for my research. On top of being my research advisor, professor Brichacek has given valuable advice regarding classes, graduate school application, and other advice to help me succeed. Another valuable mentor I worked with is Sarah Joughin at the Office of International Programs. I worked closely with Sarah for the past two years for ISA. Sarah has also given me valuable advice and resources helpful for international students studying at UMaine.
What advice do you have for incoming students to help them get off to the best start academically?
My advice for the upcoming students would be to get involved in extracurricular activities where they can meet like-minded students. When I joined Operation H.E.A.R.T.S. my sophomore year, I was able to meet various upperclassmen students who gave me valuable advice on which professors to take classes with, when it is helpful to take certain prerequisite classes and tips to be successful in those prerequisite classes. It was extremely helpful to meet other pre-med students through this organization, and I believe it played a crucial role in the success during my time at UMaine. My other advice would be to get to know professors well. Having one or two professors that you are very close with is important for academic success. Oftentimes, professors have experience with former students who may have gone through a similar academic path as you, and they will be able to give you guidance.
Contact: Margaret Nagle, nagle@maine.edu