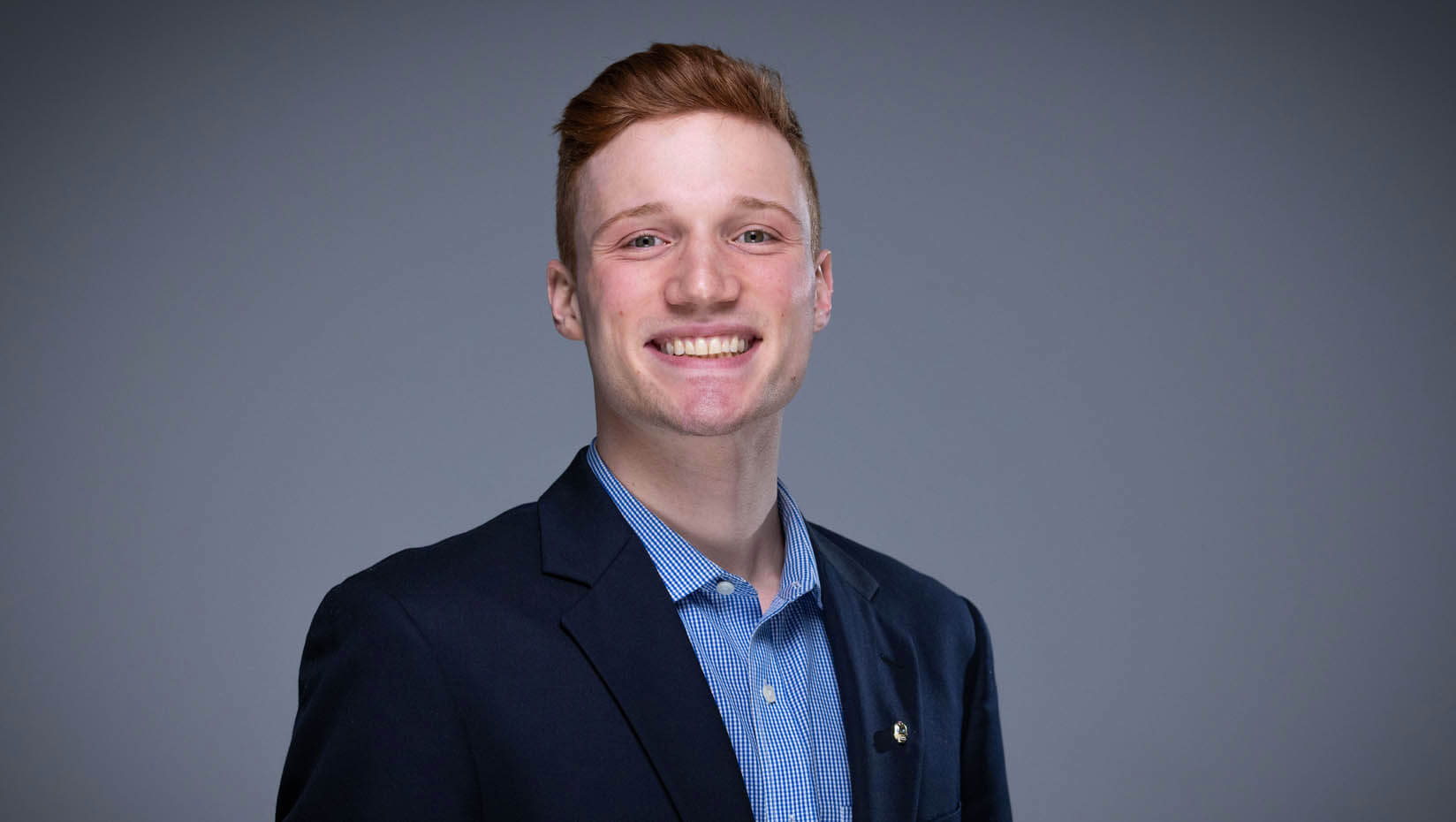 Maxwell Burtis: UMaine 2022 salutatorian
Maxwell Burtis of Brunswick, Maine is the 2022 University of Maine Salutatorian. Burtis is a mechanical engineering major with a neuroscience minor, and an Honors College student. His numerous academic honors include the Thomas P. Hosmer Scholarship in Mechanical Engineering and the J&M Gorman Mechanical Engineering Scholarship.
Since 2018, Burtis has been the co-founder and chief technology officer of Ferda Farms LLC oyster farm on New Meadows River. He started the company with help from UMaine's Foster Center for Innovation to experiment with the husbandry techniques of emerging viable species, and to create the machinery needed to make the raising of farmed seafood more efficient and accessible. Burtis is responsible for most of the farm's daily operations management and long-term development strategy. At the 2019 Maine Business Challenge, he won the $10,000 first place and $5,000 innovation prize for his work in developing this cutting-edge company.
On campus, Burtis has been a member of the Maine Bound Adventure Center trip staff and a member of the UMaine chapter of Engineers Without Borders. He is a member of Sigma Phi Epsilon fraternity and president of the UMaine chapter of Pi Tau Sigma Honor Society, and has had leadership roles on the Class of 2022 Council, Student Alumni Ambassadors and Maine Effective Altruism. In summer 2018, Burtis was a mechanical engineering intern with Starc Systems.
As a student researcher, he designed a small-scale solar-powered oyster upweller, and in the Juneau Icefield Research Program, an eight-week Earth science field research expedition into the Alaskan backcountry, he investigated the use of drones for Arctic research and examined bedrock fracture density and orientation using photogrammetry models. His research received multiple funding awards, including two Center for Undergraduate Research (CUGR) Fellowships, a College of Engineering Research Award and a Thomas E. Lynch Honors Thesis Scholarship. Burtis' Honors thesis is "The Performance Assessment of a Small Lighter-than-Air Vehicle for Earth Science Remote Sensing Missions."
In addition to leading Ferda Farms, Burtis plans to pursue graduate school to study data science.
What difference has UMaine made in your life and in helping you reach your goals?
My time at UMaine has taught me that my dreams can become my reality. UMaine has enabled me to explore the polar regions, start a business, build artificial intelligence, fall in love with the outdoors and hopefully publish my own research. At UMaine, I have cultivated my passions, found inspiration and have been supported by excellent mentors throughout.
Have you had an experience at UMaine that has changed or shaped the way you see the world?
While participating in UMaine's Juneau Icefield Research Program, I was disconnected from the rest of the world for six weeks while I conducted field research deep in the Alaskan backcountry. I was completely removed from my family, friends, way of life and former responsibilities. In this novel environment, and without the familiar context of my life back in Maine, I had the opportunity to clearly evaluate my identity. Despite the beauty of the Alaskan backcountry, I feel like I belong on Maine's coast working to better the community that I grew up in.
Why UMaine?
I have found that UMaine fosters an environment where people care for their communities, appreciate hard work, value tradition and uphold integrity of character in both students and faculty. UMaine supports world-class research, allowing all students to be on the cutting edge of multiple fields from additive manufacturing to glaciology.
How would you define the opportunities for student success at UMaine? Is there any particular initiative, program, or set of resources that helped you succeed?
UMaine has a place for everyone to succeed. Between research opportunities, clubs, organizations, intramural sports and entrepreneurial support, most students can find a role to excel in. The Foster Center for Innovation offered free business coaching to my startup company, which was critical to winning the UMaine Business Challenge in 2019 and the continued growth of the business.
Have you worked closely with a professor or mentor who made your UMaine experience better?
My honors thesis adviser, professor Wilhelm Friess, has consistently pushed me, allowing me to accomplish more than I ever thought I was capable of.
What advice do you have for incoming students to help them get off to the best start academically?
Talk to all the professors you can about their research and your interests. You never know who may be able to find a perfect role for you to grow academically. Also, find upperclassmen whom you look up to through extracurriculars, and ask them how they made the most out of their time at UMaine. By the time many students reach their junior or senior year, they have found their niche and have found their way at excelling in it, and much can be learned from their successes and failures.
Contact: Margaret Nagle, nagle@maine.edu