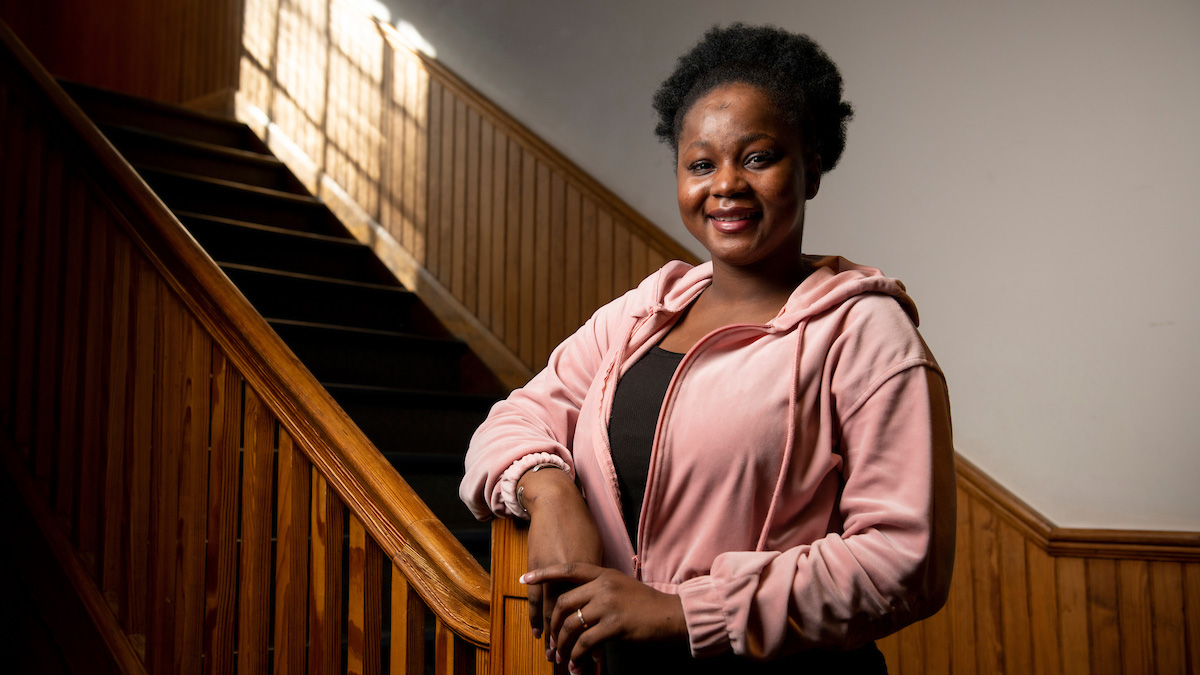 Aminata Sissoko: From Mali to the Mall
Aminata Sissoko loves doing paperwork. With her job in the University of Maine President's Office, the global policy graduate student is not only perfecting her English, but she also is learning about the day-to-day work that makes organizations tick — work that she sees as vital to her future career in global organizations.
Sissoko was born in Bamako, Mali, and attended college at Penza State University in western Russia, where she studied linguistics. Over the course of her studies, she fell in love with languages. She was the first in the world to translate the Russian novel "Evgene Onegin" by A.S. Pushkin into the native Bambara language. Once she was already fluent in her native French and Russian, Sissoko decided that English was the next language on her list.
To achieve that, Sissoko applied to graduate programs in the United States. She chose the University of Maine for its natural beauty and tranquility.
"Nature is exactly what I really need for my own spirituality, to focus on the university and my studies," Sissoko says. "Maine is very, very peaceful."
When Sissoko arrived on campus, she was pleasantly surprised at how welcoming students were of her and her culture. She participated in UMaine's 2021 Culturefest, where she showed off the traditional clothes of her home country.
"I feel like everybody was up for sharing," Sissoko says. "People have open minds here and they're willing to help you. The University of Maine is such a huge opportunity for international students."
Sissoko is majoring in international relations with a concentration in security and foreign policy. Her graduate research study is in peacebuilding efforts in frozen conflict zones, in regions like Abkhazia, Cyprus, South Ossetia and Transnistria.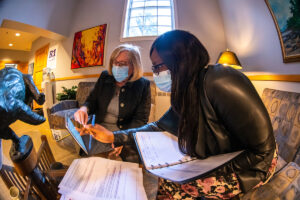 Perhaps the highlight of Sissoko's UMaine experience, though, has been her job in the President's Office. She started as a student aide and eventually applied and was awarded a graduate assistantship.
"This opened my mind," Sissoko says. "I'm getting familiar with the administration, with the office, with documents, how to organize meetings. It's really helpful because I know how to do a lot of new things now."
UMaine President Joan Ferrini-Mundy has made opportunities for international students in the President's Office a priority.
"Aminata and our many other international students add so much to our university community," says Ferrini-Mundy. "As we do with all our undergraduate and graduate students, and, particularly, our international students, we appreciate the talents, perspectives and experiences that they share."
Sissoko sees ties between her on-campus job and her graduate studies, too. For example, she has noticed similarities between mediating the relationships between nation states and coordinating partnerships between UMaine and other universities.
"This is like the communication between countries on how to create and organize meetings," Sissoko says. "This is giving me some ideas for my future project."
Sissoko is on track to graduate at the end of next year. She is cognizant of the fact that the world may change drastically between now and then, but for now, she hopes to use what she's learned at UMaine to work for an organization that provides medical supplies to countries in need. She hopes that, someday, she will have an opportunity to become an ambassador.
Until then, Sissoko will continue studying, working and developing the skills she needs to make a difference.
Contact: Sam Schipani, samantha.schipani@maine.edu