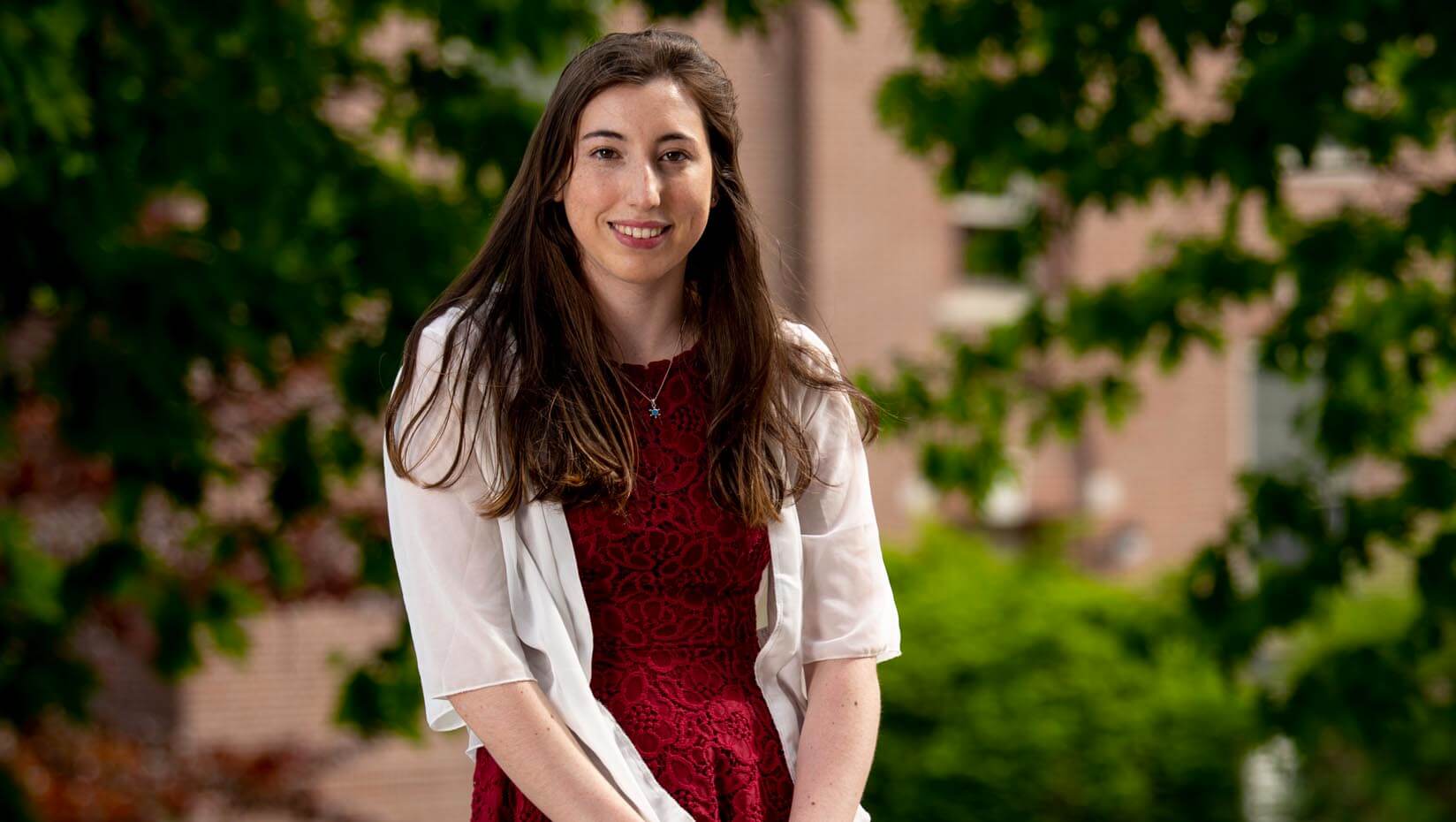 Tiffany Tanner: Boren Fellowship recipient to study Russian in Belarus
University of Maine graduate student Tiffany Tanner of Brunswick, Maine will study Russian in Belarus after earning a Boren Fellowship.
The Institute of International Education (IIE), on behalf of the National Security Education Program (NSEP), grants Boren Fellowships to graduate students pursuing public service careers so they can study a language abroad. Each fellowship provides up to $25,000 for up to 52 weeks of study, according to the Boren Awards website. Tanner is one of 124 fellowship recipients from a pool of 334 applicants, according to the institute.
Tanner, a global policy student enrolled in the 4+1 program from the School of Policy and International Affairs (SPIA), says she plans to participate in the Russian language program at Minsk State Linguistic University for 10 months.
After studying Russian at UMaine since her first year, Tanner says further training in the language abroad will help her become more proficient in it and earn a career in the fields of public service and international affairs. Studying in Belarus will provide a unique experience for Tanner "because I believe it will be a way to experience remnants of Soviet culture (in the) modern day," she says.
"I feel honored to have been awarded the fellowship, and really thankful to everyone who helped me throughout the long application processes," Tanner says. "I'm confident that I'll be able to make the most of the opportunity."
Tanner's application was supported by the UMaine Office of Major Scholarships, the Office of International Programs and SPIA Executive Director Capt. James Settele. Several UMaine faculty members contributed to the success of her application by writing recommendation letters and by sharing their expertise in world politics.
"Tiffany's outstanding intellect, passion for cultural exchange and intense work ethic make her an ideal candidate for the Boren Fellowship," Settele says. "She has distinguished herself as an intelligent, inquisitive, mature and motivated student equipped both intellectually and temperamentally to handle the rigors of an immersion program in Belarus."
We spoke to her more about her goals and experiences at UMaine:
What motivated you to study abroad?
I believe studying abroad is a great opportunity to invest not only in skills pertinent to a career, but also in personal growth. The value of learning languages and learning about other cultures is something that lasts for a lifetime, and this is why I am interested in studying abroad — not just for the career implications, but also because I would be gaining lifelong skills and experiences.
How will learning Russian abroad assist you with your academic or professional goals?
The Russian language is a critical language, so obtaining proficiency will be valuable for a future career in public service. I think I will also gain valuable skills in adaptability and resilience, as I know the experience will be just as challenging as it is rewarding.
Why did you choose to come to UMaine?
I came to UMaine because it offered classes in critical languages as well as degree programs relevant to my interests, all while being affordable and close to home.
Describe any research, internships or scholarly pursuits in which you have participated.
One of my research pursuits includes my honors thesis, "Explaining the Resilience of the Balochistan Insurgency," which I received a CUGR (Center for Undergraduate Research) Fellowship award for and had the opportunity to present at the International Studies Association conference in Toronto. During this past semester, I was also part of a graduate research team conducting research on policy recommendations for the incoming USAID (U.S. Agency for International Development) administration, with an internship component conducting survey-based research with Swordfish Consulting International LLC. During 2019–2020, I did a yearlong internship in Leipzig, Germany at a nonprofit, the German American Chamber of Commerce California, where I worked in connecting international students to American businesses and U.S. visa sponsorship, all while living abroad and experiencing German culture.
What extracurricular activities have occupied your time?
Throughout my undergrad, I competed in track and field at UMaine, and was also a student senator for the University of Maine Student Government Inc. As a graduate student this past year, though not really an extracurricular, I worked as a graduate assistant at the University of Maine Career Center and a teaching assistant for a world politics class.
Have you worked closely with a mentor, professor or role model who made your time at UMaine better, and if so, how?
I would say there are many! During my undergrad, my honors thesis advisor, professor Asif Nawaz, and for my graduate studies, all of my professors from the School of Policy and International Affairs have been fantastic mentors and professors, especially professor Kenneth Hillas, Capt. James Settele, professor Kristin Vekasi, and professor William Farrell. All of my professors have really made my time at UMaine engaging and valuable. I have thoroughly enjoyed all of my classes at SPIA, and the strong sense of community from being part of such a great program.
Did you have an experience at UMaine that shaped or changed how you see the world?
I don't know if I'd say one experience … I learned about the world at the University of Maine; it's what I studied. I'd probably say my time at SPIA has been what has really impacted my views of the world, as I am always challenged with my ideas and understanding, and having a robust international student body as part of SPIA has facilitated so many valuable viewpoints during seminars from students who have lived vastly different experiences. It really makes every class valuable, as students really impact the value of discussions.
Describe UMaine in one word.
If I could describe UMaine in one word, it would be growth.
Explain.
I think there are many opportunities to pursue interests at UMaine, whether it be in academics or extracurriculars, and investing in them always ends up being a rewarding experience that contributes to personal and professional growth.
What are your plans for after you graduate? How has UMaine prepared you for them?
After I graduate, my ultimate goal is to work in public service. The Boren Fellowship actually has a one-year public service requirement, so it aligns perfectly with my career goals. I am also considering pursuing further studies in international affairs and law. UMaine has helped me develop the necessary skills and tools to pursue these goals, as well as a strong network of support.
UMaine students interested in applying for the Boren Fellowship student programs can contact the Office of Major Scholarships at nives.dalbowheeler@maine.edu. The internal application deadline for a fellowship is in the late fall and the national deadline is at the end of January 2022.
Contact: Marcus Wolf, 207.581.3721; marcus.wolf@maine.edu