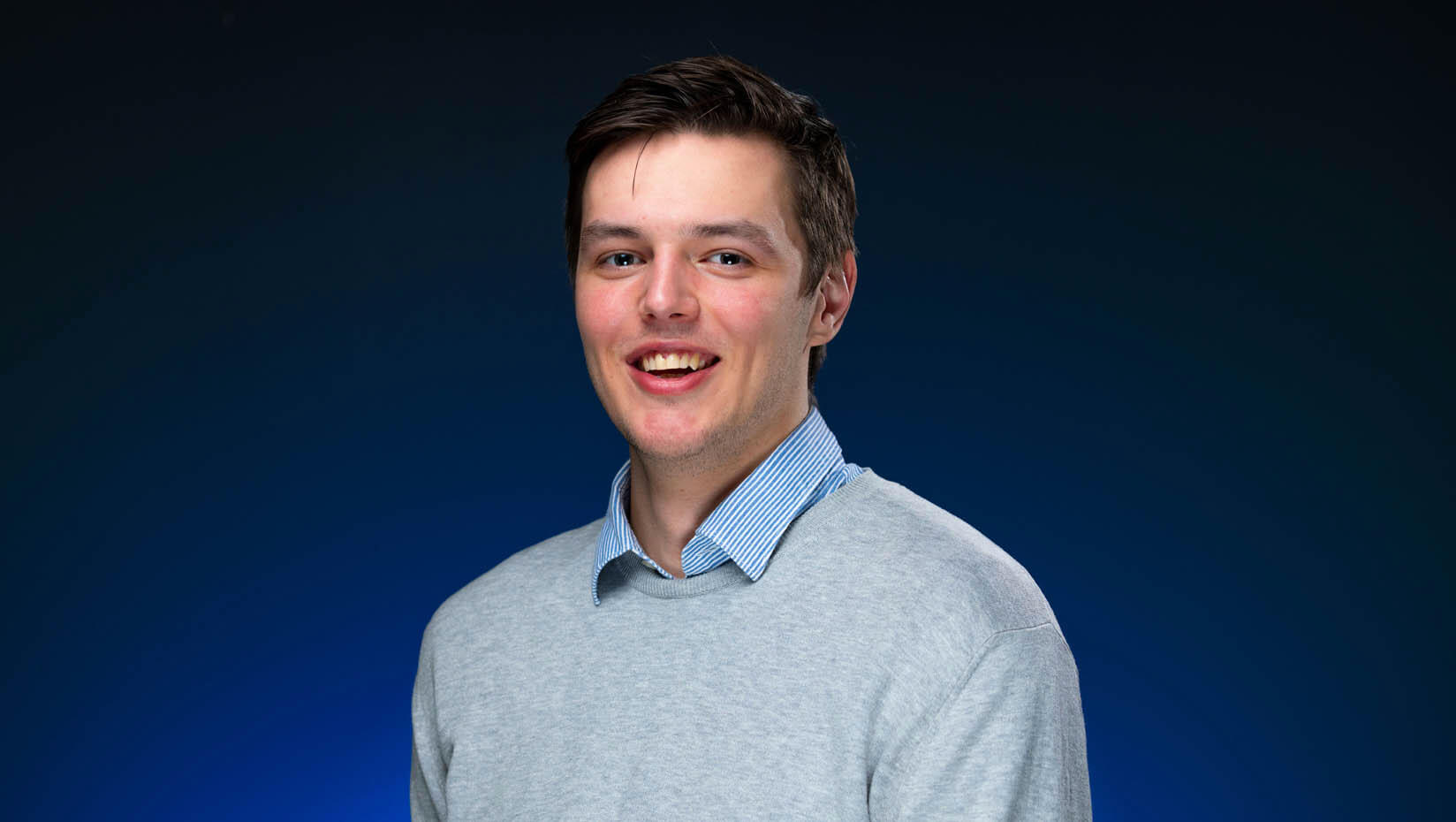 Vilgot Larsson: Outstanding Graduating International Student
Vilgot Larsson of Stockholm, Sweden is an Outstanding Graduating International Student in the College of Engineering. The civil engineering major has a concentration in environmental engineering. The scholar-athlete is a member of the men's basketball team. He was a member of the Swedith National Team in the summers through 2019 and at UMaine was involved in community volunteering initiatives. Larsson plans to pursue a career in environmental engineering.
What difference has UMaine made in your life and in helping you reach your goals?
UMaine has helped me achieve both my academic and athletic dreams simultaneously. I attended a junior college in Texas for one year that only provided me with a few elective credits, so coming to UMaine I was unsure if I would be able to take all my engineering classes within the three year that my scholarship covered. It was only with the help of my advisers, coaches, teammates, professors and through hard work that I managed to achieve my goals, so I am forever grateful to those who helped me fulfill some of my dreams.
Have you had an experience at UMaine that has changed or shaped the way you see the world?
Through athletics I have had the opportunity to partake in many volunteering opportunities. Before coming to Maine, I had limited experience working within my community, but I have seen the positive impact that it has on people as well allowing me to better understand and connect with others. It is certainly something that I would like to continue going forward.
Why UMaine?
On my recruitment visit I quickly fell in love with Maine and the people here. Everyone seemed so genuine and willing to help each other out, making it an easy decision for me. I have certainly benefited from this experience and I hope that I have helped others feel the same way about UMaine.
How would you define the opportunities for student success at UMaine?
In the words of Albus Dumbledore, "help will always be given at Hogwarts to those who ask for it," the same goes for UMaine. Professors, other students, and many tutoring programs are there to help you along the way if you ask. It is crucial that you stay on top of your work and ask questions early so that your work does not start to snowball. For me, the math lab in Neville Hall was extremely helpful, as there is a lot of math in the engineering courses.
Have you worked closely with a professor or mentor who made your UMaine experience better?
Throughout my experience as not only an engineering major, but a student-athlete, Ann Maxim, my athletic academic counselor has been particularly helpful to me. She was available almost always, helping me with last minute changes and making sure I was set up for success. My experience has shown me that if you are respectful with your professor's or mentor's time, they will be willing to give you more help than you asked for.
What advice do you have for incoming students to help them get off to the best start academically?
Stay on top of your work and ask if there is something you do not understand, chances are someone else is thinking about the same thing. Also, don't be afraid to try some new activities in college, it might end up being one of your passions in life.
Contact: Margaret Nagle, nagle@maine.edu