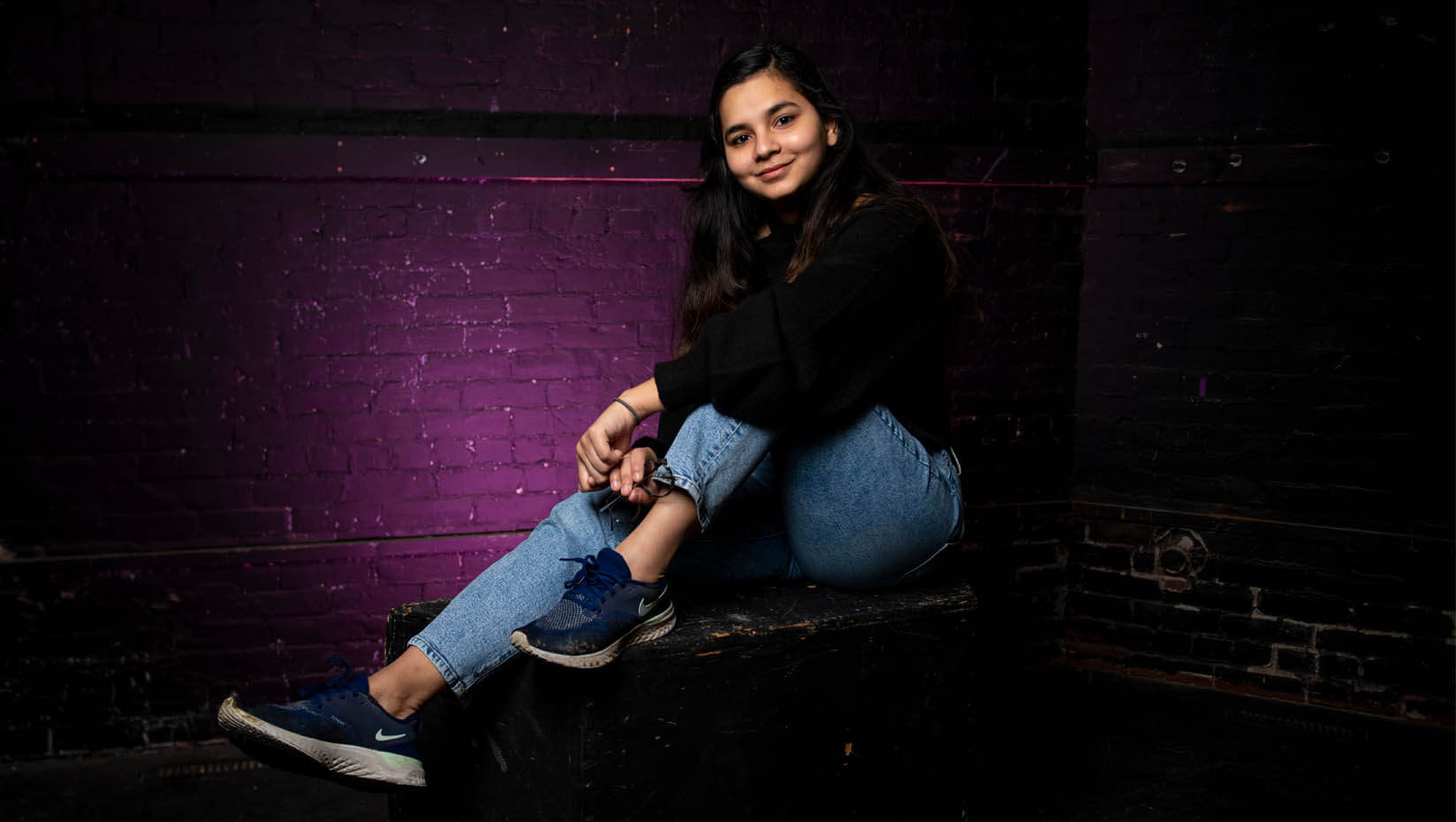 Pooja Rawat: Community connections in a virtual world
Like many students attending college during the pandemic, University of Maine senior Pooja Rawat has spent the last year in lock-down mode. Thinking about academic pursuits and professional goals in a time where nothing is guaranteed has been tough says Rawat.
Luckily, the Dean's List student from Mumbai, India, says she has always felt at home at UMaine.
"UMaine is comforting," she says. "When I think of UMaine, I am reminded of the beautiful experiences I've had, the sunsets I've seen, the plays I've read, the people I've known, the memories I've made. It is my comfort zone, like a safe haven."
A theater major, Rawat craves the relationships that develop while interacting with cast members and directors collaborating on a production. In spite of social distancing mandates and virtual classes, she has sustained her connections to UMaine faculty, staff and students during the pandemic.
"With the community-focused feeling that runs through the veins of every Black Bear, I know I have a family that I can fall back on here at UMaine," says Rawat. "It really is comforting to know that I am, and always will be, a Black Bear."
It's that strong sense of connection that convinced Rawat to transfer to UMaine, and that has kept her on track during the pandemic.
Why UMaine for you?
I chose UMaine for its vibrant international community and the community at the School of Performing Arts. After my freshman year at Rhode Island, I was looking for a place where the community speaks for the university's values, and I got it. The hearty welcome at UMaine allowed me to meet beautiful people from around the world. It is almost like we're all part of a big family and if we look, there's a place where every student belongs.

How does UMaine support international students?
It is not an overstatement when I say I wouldn't have succeeded in my college journey without the support of the Office of International Programs (OIP). The assistance I've received over the past three years has been invaluable; OIP provides never-ending resources and guidance. Not only do we get a healthy community built by OIP and the international students, but the hard work and passion of OIP staff help us cherish our time at UMaine. I've been part of numerous cultural events that make international students believe that they belong to this place where they are celebrated for their culture and individuality.
What is the most interesting or engaging class you've taken at UMaine?
I took THE 216 — Play Production, in the fall of 2019. In this introductory course I learned about the importance of a director in storytelling. The most engaging part of the course was applying the theory and knowledge learned in class and my practical skills to direct a 10-minute scene for a showcase called "underdog productions." Directing is alive, transformational, filled with creative energy, and goes hand in hand with acting. I couldn't believe that a single class could give me so much creative passion.
Is there a faculty member who has made your UMaine experience special?
I have so many mentors that deserve mention, but one of them stands out in my personal life too. Julie Lisnet, an instructor in the School of Performing Arts, has been my backbone throughout my UMaine journey. My first on-stage experience, in "The Curious Savage," was under Julie's direction. With that production I learned to channel all the passion I have for acting into learning the nitty-gritty of the craft. I have worked with Julie in classrooms, on stage, and sitting beside her at joint auditions. It humbles me deeply to realize how she has transformed me as an artist, a student, and a human being. I regard her as my mother-away-from-home and feel so grateful to enjoy the privilege of having her mentorship in my life.
What do you hope to do after graduation, and how has your time at UMaine prepared you for that?
After graduation I plan to work toward a Master of Fine Arts in acting or start a job in the theater/film industry. Both options look invigorating. When I first came to UMaine, I didn't think I had enough experience to be cast in shows produced by the School of Performing Arts, which pushed me to try harder. Minoring in business management and business administration has prepared me to analyze the business aspects of the industry. Although it can be scary to plan for the future, I am confident that I have an extraordinary journey to undertake after UMaine. It is at UMaine that people made me understand that I have something greater than my fears in me — something indestructible. I have the power to make my biggest dreams come true in life.
Have you had an experience at UMaine that has shaped the way you see the world?
It's the little things that have happened here that have made an impact on my life. One of them is how open and polite the people at this university are. Before UMaine, I hadn't experienced the mere kindness of having been asked, "How is your day going?" Now, I take that practice with me everywhere I go. Sometimes just a smile and genuine concern from someone can make your day. The UMaine community has strengthened my belief in working to become a better human being every day.
Contact: Joan Perkins, joan.perkins@maine.edu