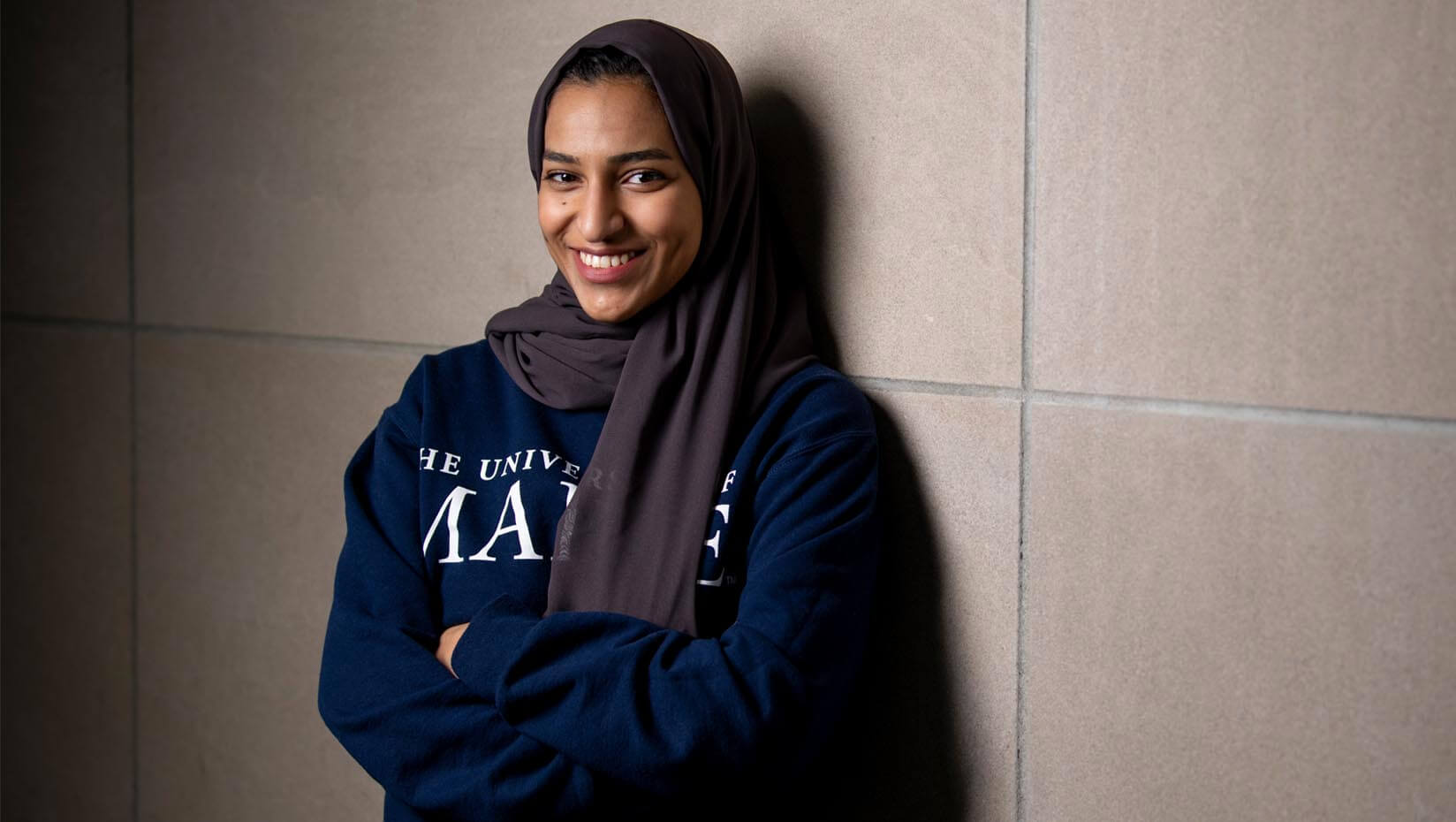 Malak Helal: Revelations during the pandemic
While the coronavirus pandemic has captured international attention for more than a year, it is clear that the global impacts of COVID-19 have not been fully documented. For undergraduate student Malak Helal, the pandemic has clarified her professional goals and revealed her need to engage with others.
"I am hoping my skills as a biomedical engineer would help to prevent future pandemics, and to control the one we are currently dealing with," Helal says. "I would like to put my knowledge, which I am constantly building and improving, into use."
She came to the University of Maine in 2019 to study biomedical engineering with academic and financial support from the Saudi Arabian Cultural Mission to the United States, an agency committed to providing Saudi students with outstanding educational opportunities.
According to Helal, UMaine was the perfect fit.
"I was looking for an environment where I could thrive," Helal says. "The program and the campus were what I was mostly concerned about. I liked the UMaine program because I knew I would be able to connect better with the faculty."
A Dean's List student, she has connected at UMaine in important ways.
After spending the first few months of the pandemic alone in Orono, she is excited to be back on campus and engaging with her fellow students as a teaching assistant in the engineering department.
"It is a very nurturing experience to give back what I learned to guide others and help them because I have been in their situation before," she says.
And she succeeded in connecting with UMaine faculty.
"Almost all of the professors who taught the biomedical engineering courses have given me a chance to actually learn," Helal says, noting that she has appreciated their availability for one-on-one discussions. "It's a great method for learning."
When asked to summarize her UMaine experience in one word, Helal replied "support." She says UMaine, the biomedical engineering department, and the Office of International Programs (OIP) have provided her with opportunities to improve and grow personally, academically and socially.
"OIP is great. I have been on other campuses and my experience as an international student was completely different." Helal says. "OIP helps international students cope and navigate through life, especially in this pandemic. They provide opportunities for students to interact more, explore the area, and to stay connected."
Helal knows that her confidence, developed at UMaine particularly over the last year, has enabled her growth and academic success.
Perhaps the most important thing she learned is that in spite of cultural differences and geographic separation, there are similarities between Maine and Saudi Arabia.
"People are out there willing to help."
Contact: Joan Perkins, joan.perkins@maine.edu