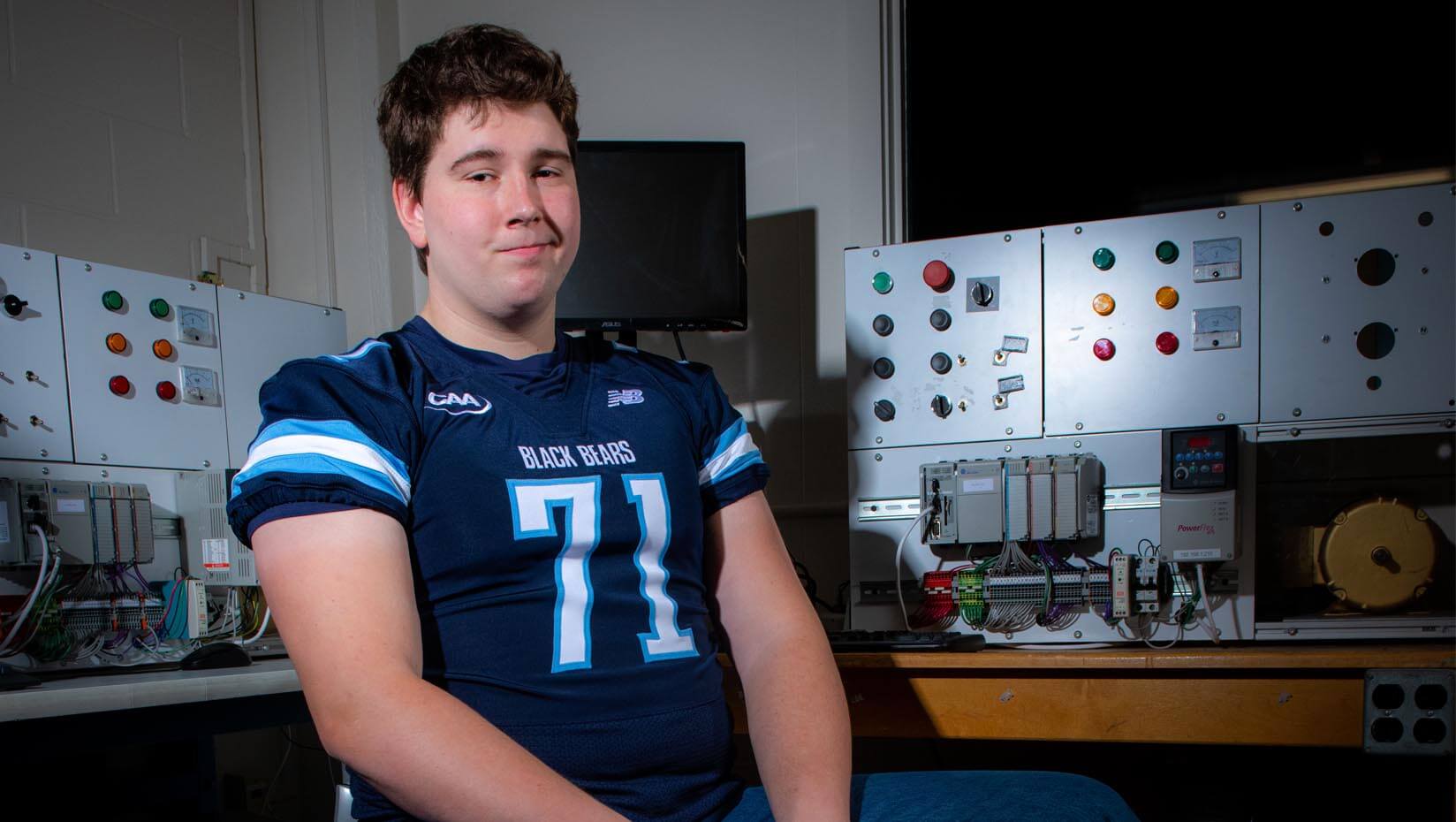 Gunnar Docos: Diligence, perseverance in the lab and on the field
Excelling at college, whether in the lab or on the football field, requires hard work and time management, according to Gunnar Docos. Adhering to both helped the electrical engineering technology undergraduate student and offensive lineman thrive at the University of Maine.
During his first two years of study, Docos, of Harrison, would wake up at 5 a.m., lift weights at 6 a.m., attend several hours of class, push through football practice and tackle homework with his teammates until about 10 p.m. every weekday.
Long days filled with various tasks taught the now UMaine senior how to best manage his time, and encouraged him to avoid procrastination, he says. Learning both also helped him preserve through remote learning prompted by COVID-19.
"I wanted to get everything I could out of school and everything I could out of football," Docos says. "If I put in the work now, it puts me somewhere further down the line."
Docos has been a lifelong lover of football and a Black Bears fan since he was in elementary school. Watching UMaine football players dominate the field on television with his father, Bill Docos, imbued him with a love for the team.
Being a spectator, however, wasn't enough for Docos, so he picked up the pigskin. The UMaine senior has been playing as an offensive lineman since fifth grade. Oxford Hills High School, South Paris, recruited him to its team, and he worked his way toward becoming a college athlete. Docos, always dedicated to hard work, achieved his goal when UMaine offered him preferred walk-on for the team, meaning the coaching staff recruited him with no tryout.
He says he bonded with the other UMaine offensive lineman, referring to the group as "the guys in the trenches" fighting back against their opponents outside of the spotlight so their teammates can make the touchdown.
"There's like a brotherhood between the guys up front," Docos says.
The standout moment of Docos's football career was his first game Aug. 30, 2018, when the Black Bears competed against the University of New Hampshire Wildcats. UMaine defeated its rival 35–7.
"It was a pretty exciting game," Docos says. "It was a cool experience I got to share with my team, my dad and my family."
An interest for engineering sparked in Docos while he worked on electrical wiring in vehicles during his high school automotive technology class. While the university's renown for football first hooked Docos, its accolades in engineering education also attracted him.
The College of Engineering is the only institution in the state to offer 11 ABET accredited engineering and engineering technology degree programs, and 99% of graduates either secure employment or pursue a graduate education.
Troubleshooting wiring while Docos and his classmates have been building an audio amplifier for their capstone course taught him that engineers face problems on a regular basis, and have to figure out solutions as they occur.
Juggling academia with a college football career prompted Docos to take several advanced courses early before their prerequisites. While the UMaine athlete felt lost at times, he says classmates and faculty, particularly Jude Pearse, a professor of electrical engineering technology, provided guidance. Professors encourage diligence, and help students who exhibit it, Docos says.
"(Hard work has) always been a thing I try to be good at. I might not be the smartest, strongest or fastest as a student or athlete, but I always work as hard as I can," he says. "When something's hard, keep pushing."
Whether he secures an engineering career or a position in professional football, Docos will never give up the game. The UMaine athlete returns to Oxford Hills High School during winter breaks and teaches players techniques he learned training and competing at the university level.
Wherever he goes, Docos will take the lessons he learned at UMaine with him.
"I think I've grown as a person," he says. "Football and everything teaches you how to grow up. You have to realize your priorities and what's important."
Contact: Marcus Wolf, 207.581.3721; marcus.wolf@maine.edu