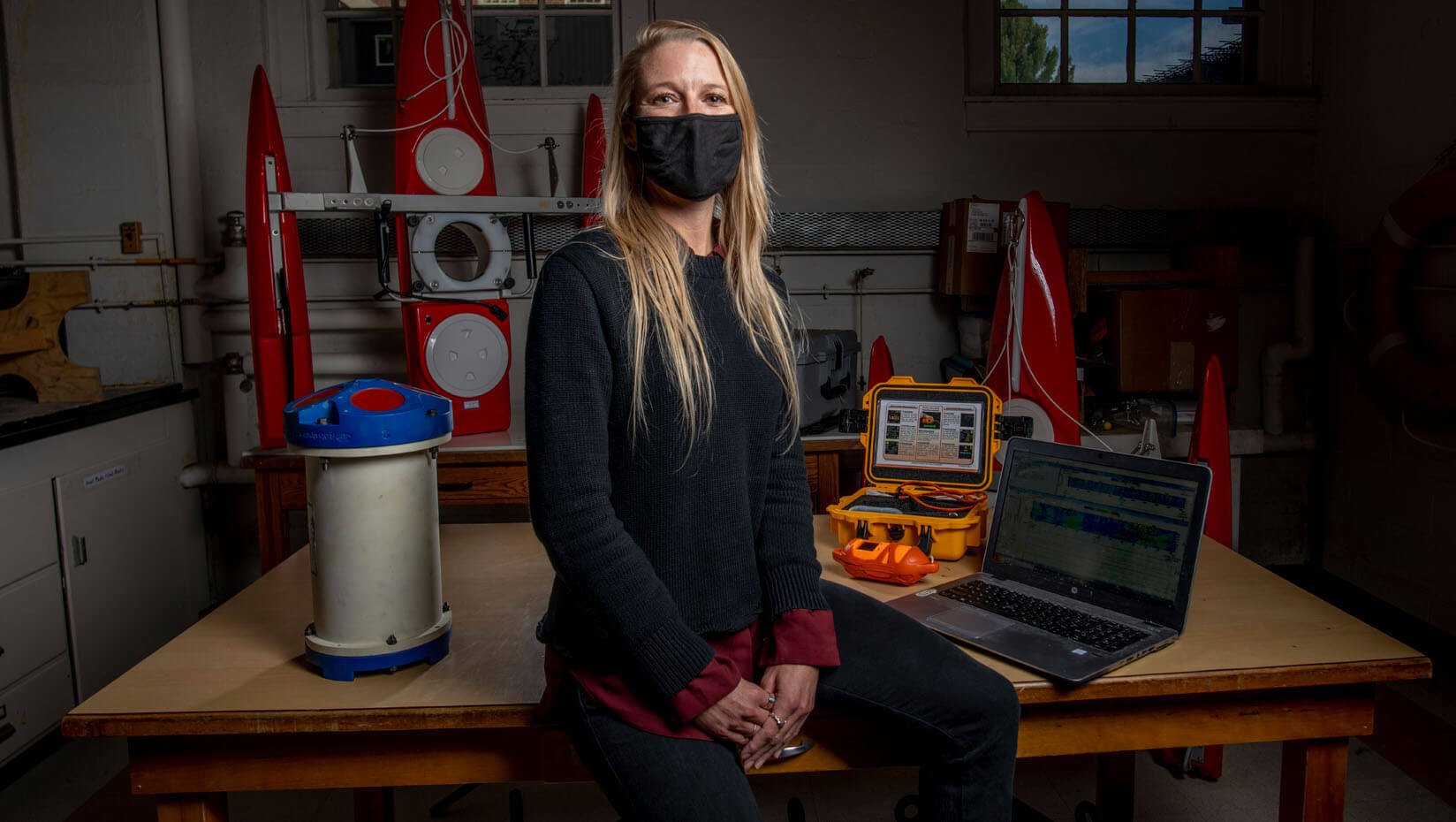 UMaine researchers develop models to forecast lethal ASP toxin movement in waterways 
University of Maine researchers will develop a tool for predicting how biotoxins released by algal blooms that can cause public health issues travel through estuarine and coastal waters.
The focus of the UMaine-led effort pertains to marine harmful algal blooms of the diatom Pseudo-nitzschia that causes medical problems through the production of the toxin domoic acid. The illness it causes is called Amnesic Shellfish Poisoning (ASP), which can lead to deadly neurological and gastrointestinal symptoms in people. When the Maine Department of Marine Resources (MEDMR) finds signs of the toxin in shellfish, it closes the regional area where they were found, forbidding any harvesting. MEDMR reopens the area after conducting additional tests, which can last a couple of days or longer and, if extensive, adversely affect the livelihoods of fishermen and aquaculture farmers.
Lauren Ross from the Department of Civil and Environmental Engineering, Sean Smith from the School of Earth and Climate Sciences, and Sean Birkel from the Climate Change Institute at UMaine will collaborate with scientists from the Maine Department of Marine Resources, U.S. Geological Survey and the Florida Fish and Wildlife Conservation Commission, to quantify and simulate conditions associated with Pseudo-nitzschia blooms. The study area includes eight connected estuaries and their watersheds flowing into Frenchman and Blue Hill bays surrounding Mount Desert Island.
The research is designed with stakeholder input to provide better predictions for the blooms and management responses based on better knowledge of factors related to the watersheds and the estuaries they drain into. Science communication will be a major component of their three-year project, with the intention of adapting outcomes from their research into management decision tools to guide coastal monitoring activities, pinpoint public health risks pertaining to ASP, and prompt shorter closures to shellfish harvesting with smaller, more precise boundaries.
Another prominent component of their research will be the development of a numerical model to evaluate conditions that influence ASP events. By the end of the project in 2023, the team plans to have publically accessible coastal pollution prediction and management decision support tools available on the internet.
"The results of this project will provide a blueprint for other municipalities, states and regions to better understand bloom development in estuarine environments," says Ross, the principal investigator for the project.
The team's project, funded by a $250,000 grant from the USGS, builds off of previous research by Ross and Smith in the Watershed Process and Estuary Sustainability (WPES) research group that they collaboratively lead to predict bacterial pollution problems affecting shellfishing industries along Maine's coast.
The research project, called "Safe Beaches and Shellfish Project," was initiated by an EPSCOR (Established Program to Stimulate Competitive Research) grant led by the Senator George J. Mitchell Center for Sustainability Solutions. It included extensive work to measure, model and map conditions related to coastal bacteria pollution in Maine.
The current WPES research group includes graduate researchers Sohaib Alahmed, a Ph.D. student in civil and environmental engineering, and Bea Van Dam, a Ph.D. student in the School of Earth and Climate Sciences. Their research has focused on land-sea connections to advance the scientific basis for shellfish closures in response to coastal precipitation runoff with focused attention on Frenchman Bay, the Medomak River, and Wells Harbor areas.
This new project will be an important next step in the work by WPES collaborators with expanded partnerships to build new sustainability solutions for Maine seafood industries and coastal communities, Smith said.
The USGS allocated the funding for the project as part of the national Water Resources Research Institute (WRRI) Grant Program. The Mitchell center houses Maine's congressionally-authorized water institute and receives the base funding from the national- and state-level WRRI grant funding programs.
Contact: Marcus Wolf, 207.581.3721; marcus.wolf@maine.edu