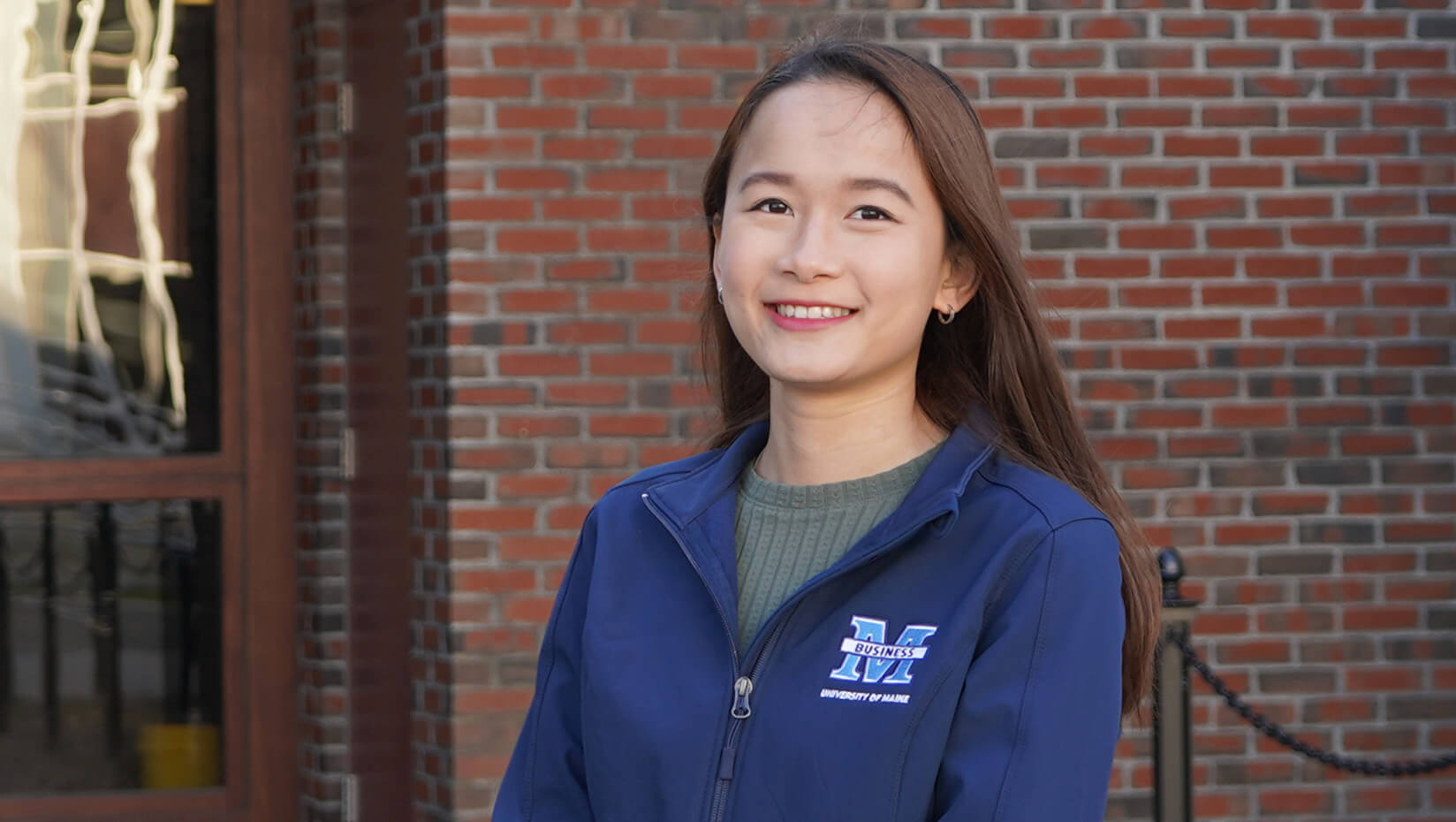 Linh Phan: UMaine experience shapes Vietnamese student into campus leader, enthusiast for accounting and finance
Studying at the University of Maine became a journey of self-discovery for Linh Phan. Hard work and active involvement in the campus community shaped the UMaine alumna from Vinh city, Nghe An province, Vietnam, into a student leader focused on a career in accounting and finance.
"From the experience I had in UMaine, I learned that I want to be a leader. I love and understand the power of teamwork, the importance of education, of self-confidence," Phan says.
When she began her college career, Phan, who graduated from UMaine in May, says she struggled with her coursework, and dealt with an uncertain future. With assistance from Jean Henri Akono Ada, assistant professor of accounting; Lizao Zhang, assistant professor of operations management, and other faculty, Phan was able to shift her study methods and foster connections that enabled her to excel.
The Maine Business School faculty members are friendly and caring, Phan says. "They have been so helpful to me along the way for my education, and my career."
Phan honed her talents for leadership and collaboration in UMaine student organizations. She served as treasurer and president of the Asian Student Association, was a University of Maine Student Government senator, treasurer for the Institute of Management, a student ambassador for the Maine Business School and a member of its Dean's Leadership Council.
"UMaine has given me various opportunities to figure myself out and to learn what I'm capable of doing, to have the ambition of being better and better every day," Phan says.
Watching her father work as an accountant inspired Phan to study the field at UMaine. She decided to double major in finance after interning with Wipfli CPAs and Consultants.
Phan first came to UMaine when she was in high school to attend a campus tour and interview with the Office of International Programs.
"UMaine has been the second home for me," she says. "Things I have learned from here have taught me to be my better self."
Phan will pursue a master's degree in business analytics from Northeastern University.
"I hope to work at a place where I can utilize my knowledge that I learn from my degrees and from my on-campus involvements," she says, "a place where I can practice my accounting, finance and business analytics knowledge and be able to take on leadership positions in projects and be able to work with a team that share the same level of ambition and interest for the job as I do."
Contact: Marcus Wolf, marcus.wolf@maine.edu