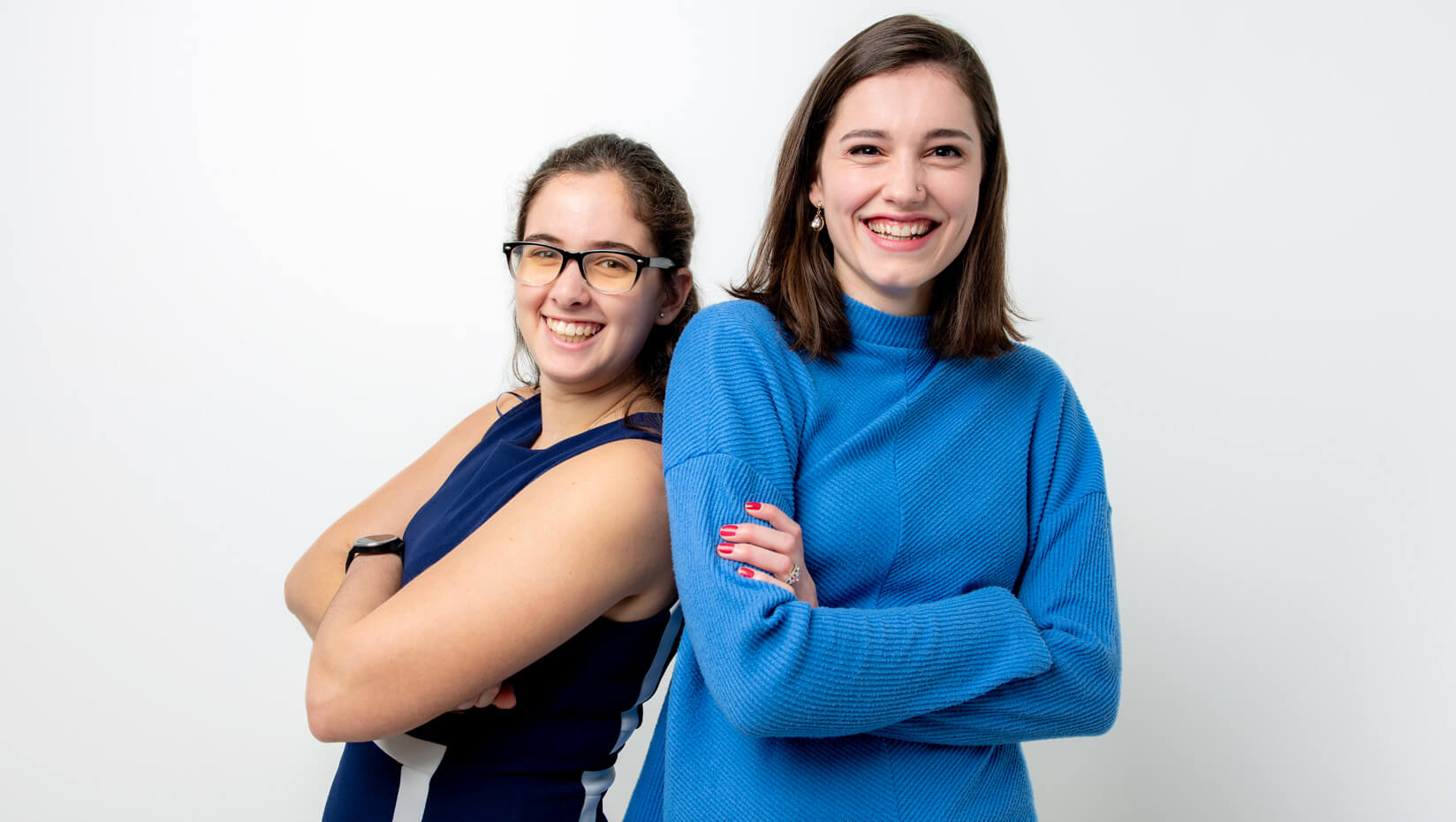 UMaine names 2020 valedictorian and salutatorian
Chemical engineering major Sierra Yost of Windham is the 2020 University of Maine valedictorian, and Grace Smith of Holden, a molecular and cellular biology major, is this year's salutatorian. Both are students in the Honors College.
"We congratulate Sierra and Grace on the strength, breadth and rigor of their academic achievements and overall University of Maine experience," says UMaine President Joan Ferrini-Mundy. "Their engagement in all that the state's public research university has to offer is an inspiration."
Yost is a member of the UMaine cross-country, and track and field teams. Her honors thesis focuses on the application of cellulose nanofibers as an alternative to plastics in disposable utensils. As part of her UMaine experience, she completed a two-term co-op with Onyx Specialty Papers in South Lee, Massachusetts — an opportunity that she credits with sparking her love of research, which has inspired her to pursue a Ph.D. in chemical engineering.
Yost is a Mitchell Scholar, and Pulp and Paper Scholar. She is a member of All Maine Women and the UMaine chapter of Engineers Without Borders, and was named to the America East All-Academic Team 2018. Yost has been a peer tutor in science and mathematics, and a volunteer with the Maine Youth Fish and Game Association.
"UMaine has offered me more opportunities than I could have ever imagined," Yost says. "I chose UMaine because both of my parents came here and because of the Pulp & Paper Foundation. I immediately felt at home in the community. The professors and my team have been nothing but supportive of everything I have ever tried to accomplish."
Smith is the Outstanding Graduating Student in the College of Natural Sciences, Forestry, and Agriculture. She received a 2019 Goldwater Scholarship and an Undergraduate Research in Comparative Functional Genomics Senior Fellowship. Smith is a member of All Maine Women and UMaine Club Track, and served as a peer tutor in organic chemistry, biochemistry and microbiology. She also was a teaching assistant and Maine Learning Assistant. Her honors thesis research focuses on identifying novel regulatory genes that modulate phenotypic severity in muscular dystrophy.
As a high school junior, Smith participated in the Maine EPSCoR summer research program, studying the potential of green crabs as dietary supplements, and effects of solarization — a sustainable weed management system — on soil quality and microbial populations. She also was selected for the Novartis Institutes for BioMedical Research Scientific Summer Scholars Program in Cambridge, Massachusetts and the Amgen Research Scholars Program at Washington University in St. Louis.
"The University of Maine has given me an immense support system of peers and faculty that have helped me develop as an independent researcher," says Smith. "Of the schools I was interested in attending, UMaine had the best to offer in terms of research without having to pay exuberant tuition.
"UMaine really believes in its students and wants them to succeed. Whether you are interested in research or music or education, the faculty will devote themselves to making your dreams happen."
After she receives her degree, Smith will enter a two-year post-baccalaureate program at the National Institutes of Health. She then plans to pursue a dual M.D./Ph.D. and become a principal investigator in a private or academic research laboratory, exploring the role of regulatory genes in cardiac regeneration and disease.
Contact: Margaret Nagle, 207.581.3745