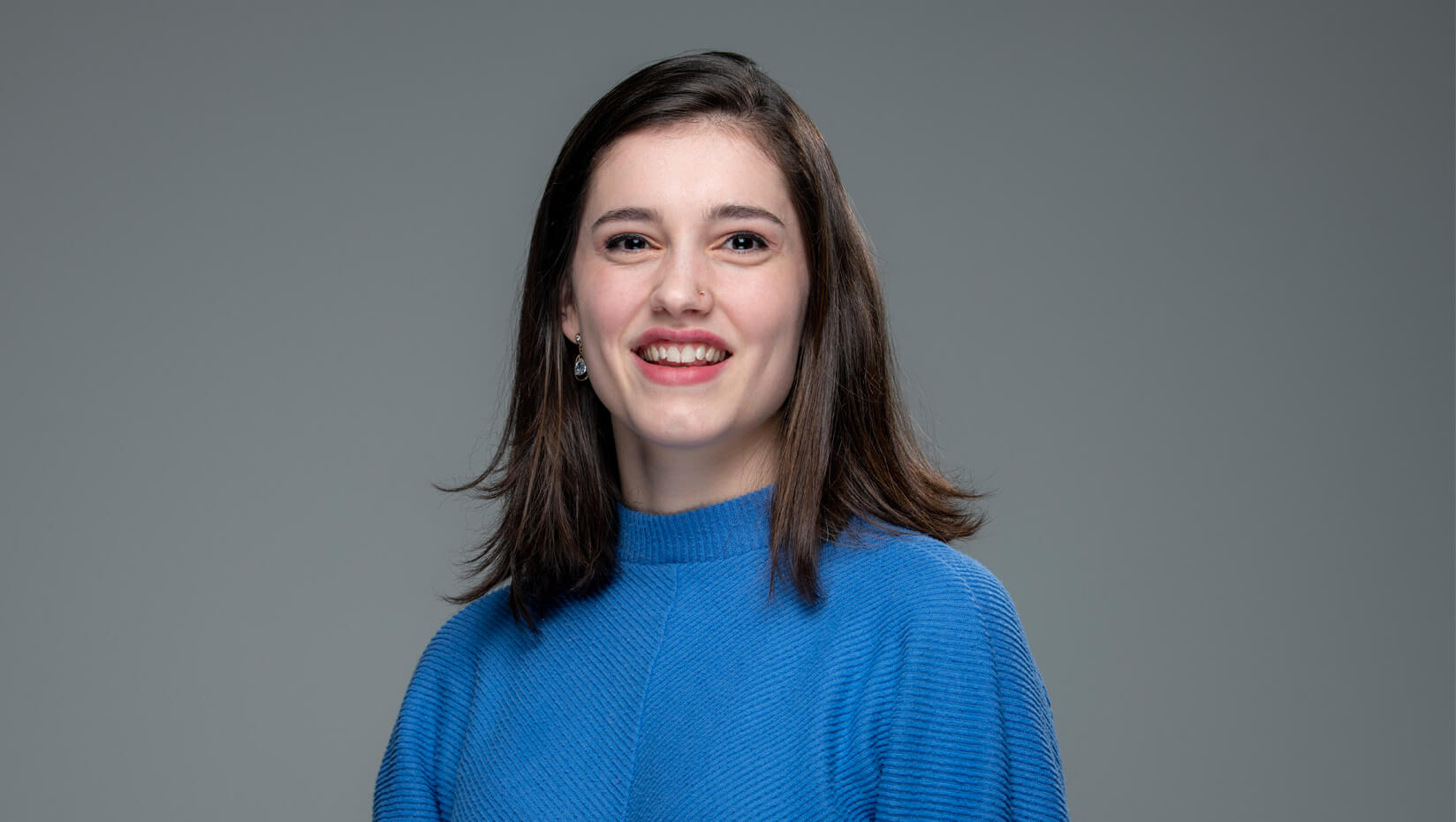 Grace Smith: Molecular and cellular biology major, Outstanding Graduating Student and salutatorian
Grace Smith of Holden, Maine, a molecular and cellular biology major and Honors College student, is the 2020 University of Maine salutatorian and the Outstanding Graduating Student in the College of Natural Sciences, Forestry, and Agriculture.
Smith received a 2019 Goldwater Scholarship and an Undergraduate Research in Comparative Functional Genomics Senior Fellowship. She is a member of All Maine Women and UMaine Club Track, and served as a peer tutor in organic chemistry, biochemistry and microbiology. She also was a teaching assistant and Maine Learning Assistant. Her honors thesis research focuses on identifying novel regulatory genes that modulate phenotypic severity in muscular dystrophy.
As a high school junior, Smith participated in the Maine EPSCoR summer research program, studying the potential of green crabs as dietary supplements, and effects of solarization — a sustainable weed management system — on soil quality and microbial populations. She also was selected for the Novartis Institutes for BioMedical Research Scientific Summer Scholars Program in Cambridge, Massachusetts and the Amgen Research Scholars Program at Washington University in St. Louis.
After she receives her degree, Smith will enter a two-year post-baccalaureate program at the National Institutes of Health. She then plans to pursue a dual M.D./Ph.D. degree and become a principal investigator in a private or academic research laboratory, exploring the role of regulatory genes in cardiac regeneration and disease.
Tell us about the research, internships or scholarly pursuits you were involved in as a student.
I was lucky to participate in my first research experience the summer after my junior year of high school through the EPSCoR program at the University of Maine. That summer I researched green crabs, an invasive species to the coast of Maine that harms local marine ecosystems. The next summer, I went back to look at the effect of an organic method of weed management called solarization on microbial communities in the soil. I was lucky enough to continue this research into the next summer of my freshman year of college when I joined the King Laboratory. In the King Lab, I have been fortunate to work on a couple different projects. My research looks at the role of long non-coding RNAs (lncRNAs) and microRNAs — two types of regulatory genes.
In the first project, my research aimed to understand how regulatory RNAs like long non-coding RNAs and microRNAs can coordinate gene expression to promote regeneration. If we are able to understand how zebrafish restore their hearts, we may be able to design treatments that improve regenerative capacity in humans who have suffered from heart attacks.
In the second project, we worked with a novel zebrafish model of dystroglycanopathy, a form of muscular dystrophy characterized by high variability in both severity of symptoms and time of onset. We identified regulatory genes like long non-coding RNAs and microRNAs that were turned on or off in the zebrafish with severe symptoms and identified the gene targets of these regulatory genes. We hope this work may lead to a better understanding of the molecular basis of the disease and identify potential therapeutic targets.
The summer after my sophomore year, I participated in the Novartis Summer Scholar Program at Novartis Institute for Biomedical Research in Cambridge, Massachusetts. I worked on implementing a protocol that would allow for quicker and more precise identification of the protein targets of candidate drugs. This could catalyze identification of safer drugs with less side effects.
Last summer, I participated in the AMGEN Scholars program at the University of Washington School of Medicine in St. Louis, Missouri. There, I worked on a project to identify prostate cancer patients who were at high risk of metastasis using circulating tumor DNA sequencing.
Beyond academics, what extracurricular activities occupied your time?
Maine Learning Assistant for Organic Chemistry, Biochemistry, Genetics, and Microbiology; Club Track; Maine Society for Microbiology; treasurer of Maine Society for Microbiology; vice president of Maine Society for Microbiology; Girls on the Run coach; All Maine Women; volunteer in the Clinical Research Department at Northern Lights; TRIO Tutor for organic chemistry, biochemistry and microbiology

What difference has UMaine made in your life and in helping you reach your goals?
The University of Maine has given me an immense support system of peers and faculty that has helped me develop as an independent researcher.
Why UMaine?
Of the schools I was interested in attending, UMaine had the best to offer in terms of research, without having to pay exuberant tuition.
How would you define the opportunities for student success at UMaine? Is there any particular initiative, program or set of resources that helped you succeed?
UMaine really believes in its students and wants them to succeed. Whether you are interested in research or music or education, the faculty will devote themselves to making your dreams happen. Additionally, a resource that really changed my life was the Office of Major Scholarships.This is an initiative to help undergraduates apply for and achieve more national scholarships and I would highly recommend it to anyone interested.
Have you worked closely with a professor or mentor who made your UMaine experience better?
I have been incredibly fortunate to have one of the best professors at the University of Maine as my academic and research mentor. Dr. Benjamin King has been an integral factor in any and all successes I've had during my undergraduate. I think everyone needs someone who truly believes in them and pushes them to always try, no matter how unachievable your goals are, and Dr. King has been that for me.
What advice do you have for incoming students to help them get off to the best start academically?
If you are struggling in anything, don't struggle alone. Ask for help.
Contact: Margaret Nagle, 207.581.3745