Theriault and Jackson: Honors College students pitch must-see social justice TV
Maddy Jackson's Saturday morning routine as a young girl included Cap'n Crunch and "Foster's Home for Imaginary Friends."
"As an only child, I had lots of imaginary friends," says the University of Maine senior from Hermon, Maine. "It's such a silly cartoon. But it inspired my imagination and creativity. It sticks with me."
Elizabeth "Liz" Theraiult's must-see kid TV included "Teen Titans" and "Scooby Doo." The senior from Madawaska, Maine still enjoys all things superhero.
As youth, Jackson and Theriault realized that shows, including their favorites, had flaws. Theriault, for instance, recognized on "Scooby Doo" that Velma was portrayed as too brainy to be desired. And on "Teen Titans," Starfire was scantily clad. At the same time, Starfire was a fully developed and independent character. And sometimes, the girls on the show saved the boys.
In fall 2018, Theriault and Jackson charted social, cultural and political change in TV programs from the 1950s to present day in Jennie Woodard's "Must-See TV: Television as a site for social justice" Honors College course.
Some shows were popular well before, or around the time, Theriault and Jackson were born. They included "I Love Lucy" (1953), "As the World Turns" (1961) "Star Trek," (1968), "All in the Family," (1971), "Charlie's Angels" (1976) and "The Fresh Prince of Bel Air" (1990).
An important takeaway, says Jackson, was that the shows aired on major networks at the same time every week. "So a whole society was coming together to form collective identities and ideas about these shows. If 'I Love Lucy' was transforming ideas about marriage, then a whole society's reaction to marriage expanded."
More recent and current shows they charted included "Buffy the Vampire Slayer," "Parks and Recreation," "Orange is the New Black," "Brooklyn Nine-Nine" and "The Handmaid's Tale."
While a show on Hulu, for instance, may reach a smaller audience, "Hulu and Netflix have more creative license, so they are allowed to traverse more controversial and subversive topics," says Jackson. "The conversations we had around 'The Handmaid's Tale' were some of the toughest conversations we had all semester, but they are very much reflective of reality and still important to discuss in the context of how they inform a society. Especially since so much of our media is consumed through streaming services now."
Theriault and Jackson imagined the future of social justice on television with the goal of creating a "show that depicts key social justice issues," especially those not currently addressed.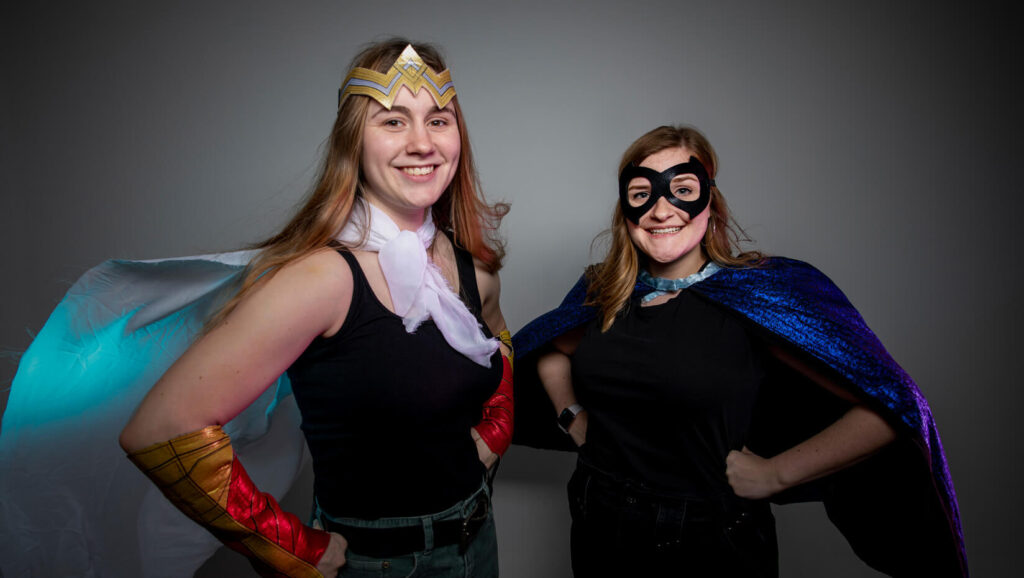 Theriault, a political science and journalism double major, based her program on an idea for a book she developed as a student at Madawaska High School. "Sincom," she says, has a bit of the same feel as the "The Hunger Games" and "1984."
In "Sincom," walls and moral beliefs separate two worlds. For those inside the walls of Virtue, equality has become an oppressive force. Embedded computer chips feed people's brains with government propaganda. Individual identity does not exist; everyone is treated equally and allocated the exact same resources, regardless of need. When a chip breaks or malfunctions, people "act out" and are expelled to Sin Communities, based on the seven deadly sins. Once outside, people, sans the chips, are free to be who they want. And they're angry and assembling.
"Equality isn't enough," Theriault says.
Jackson, who majors in English and women's, gender, and sexuality studies, developed a pitch for a comedy series titled "A Work in Progress." The show centers around five women in Atlanta who manage adversity, careers, city life and friendships. The women share a strong bond of sisterhood; they help each other achieve goals and provide support in times of need. Including a transgender character was important, says Jackson.
In November, Jackson and Theriault presented their pitches to judges in New Orleans at the 54th annual National Collegiate Honors Council conference. Its theme: "Disrupting Education: Creativity and Innovation in Honors."
They connected with Honors College students and faculty from around the United States, and returned with ideas to consider implementing at UMaine, including how to manage stress culture. In the Big Easy, they also ate beignets, listened to jazz music on Bourbon Street and visited the National World War II Museum and RuPaul's Drag Race World Tour.
For Jackson, head copy editor of the Maine Campus and a tutor at the Writing Center, the newspaper office is her favorite UMaine spot. "I found a community at the Maine Campus," she says.
Jackson credits her mother, who initially majored in journalism when she first attended college, with being her rock. "She made education important to me and has encouraged me and supported me."
Family also is important to Theriault, opinion editor of the Maine Campus and avowed Black Bear ice hockey fan. She grew up discussing news and issues around the dinner table with her father, a librarian, and her mother, a kindergarten teacher. "They're two of the kindest people I've ever met," she says.
Theriault also got a taste of politics walking door-to-door with her grandfather when he campaigned for the Maine House of Representatives. He was elected four times.
This spring, Jackson and Theriault will finish their Honors College theses.
Theraiult is examining the language of #MeToo, including its descriptions as a movement (ongoing) or era (has an end). She's comparing language in tweets and articles about Christine Blasey Ford's testimony in Brett Kavanaugh's Supreme Court nomination hearings with language in articles about Anita Hill's testimony in nomination hearings for then-Supreme Court nominee Clarence Thomas.
Jackson is applying feminist and queer narrative theory to contemporary short stories, including short fiction. Her thesis adopts the understanding that to read a narrative through a queer lens is to reject the act of classifying something as one thing or another, and promotes, even celebrates, the ambiguity between the lines.
After commencement, Theriault wants to gain additional work experience before attending graduate school. Serving as a communication director at a national park, nature conservancy, nonprofit or for a political party would be ideal, she says. "I love writing with a specific purpose."
Jackson has applied to Emerson College in Boston, with a goal of pursuing a career in publishing. Dream careers include being a literary scout or working at a food magazine. "I've been in Maine for 21 years, I want to see somewhere else, go somewhere else," she says.
Both young women say they've had incredible experiences — many of them together — at UMaine.
"Liz was my first college friend," says Jackson. "We met on the fourth floor of Penobscot. And in CMJ 111 [Introduction to Journalism], we bonded through the collective trauma of covering the election. We've worked together side by side. Look how far we've come."
Contact: Beth Staples, 207.581.3777, beth.staples@maine.edu