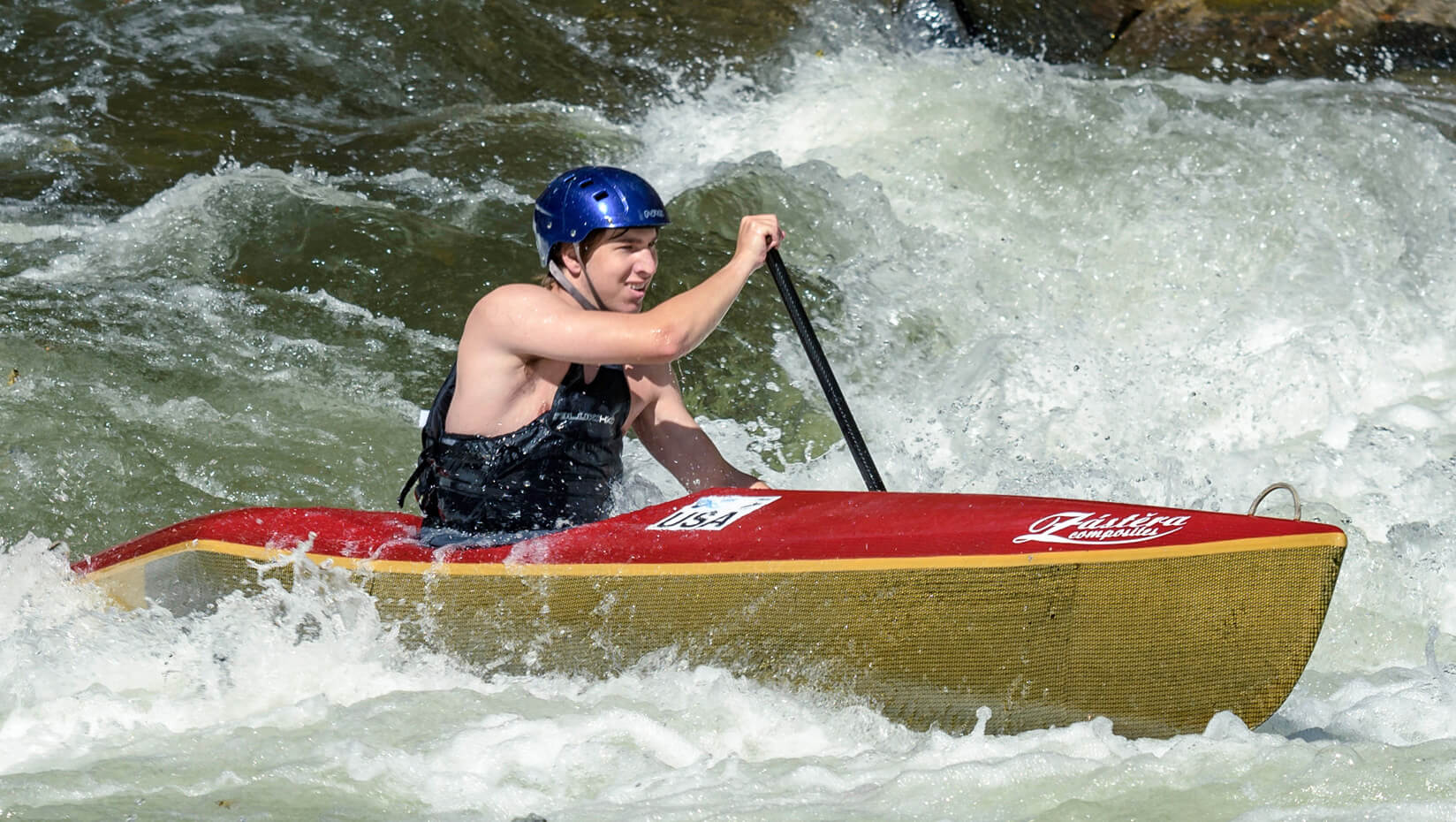 Fremouw to compete at international level in wildwater canoeing
Some students spend their time outside of class on the basketball court, the hockey rink or the baseball diamond. Kell Fremouw traverses whitewater rapids in a canoe.
The first-year engineering physics student from Orono competes in wildwater canoeing, a timed event in Class II to Class IV whitewater with both classic and sprint forms of racing.
"I just love being on the water. It is cool to see all the wildlife that comes to the river," says Fremouw, who also has a mechanical engineering concentration and is in the Honors College. "Kayaking and canoeing both involve your whole body, even your legs, so you can feel how every muscle is pushing you along the river. It is also incredibly fun to go through whitewater. It's kind of like a roller coaster, because you have to go around, through and over gigantic waves."
And he recently qualified for the 2020 International Canoe Federation (ICF) Wildwater Canoeing World Championships and World Cup. The World Championships will be held in Nantahala, North Carolina in April, and the World Cup will be held in Albright, West Virginia in May.
Fremouw joined the canoeing team, led by coach Jeff Owen, as a freshman at Orono High School. After a few weeks, Owen encouraged him to start wildwater, which Fremouw loved because it's a faster sport.
He practiced five days a week, and every weekend competed in races around the state run by the Maine Canoe and Kayak Racing Organization (MaCKRO) — the two standard races are a 60-second sprint and an 18-minute classic.
"We did some flatwater sprint training but we spent most of our time on the Penobscot River in rapids. We would do sprints down the rapids, and then the hardest part was paddling back upstream," Fremouw says.
During his sophomore year, Fremouw practiced six days a week and qualified for the USA Junior Wildwater Team, going on to compete in the ICF Wildwater Junior World Championship in Austria in the summer of 2017.
And he qualified again for the team during his senior year, and competed in the same championship, held in Bosnia in summer 2019.
Fremouw says that while he had to work to make the cutoff time to qualify, he wasn't competing for spots against others because the sport is not very popular in the United States.
"It was an incredible experience to be part of a group with so many amazing paddlers my age from around the world," says Fremouw. "The Europeans have a lot more interest in wildwater (canoeing) than the U.S. does. They start training very young, whereas most paddlers in the U.S didn't know about the sport until age 20 or 30. Everyone was very friendly and it was incredible to be on the water with everyone."
For the 2017 competition, Fremouw says he mainly went for the experience since he had never competed at that level before. Then this past summer, with more experience under his belt, he placed higher and also was recruited last-minute to fill a seat in the team canoe race.
And now he's moving up in ranks after qualifying for the senior team on Oct. 20 in North Carolina, an accomplishment he says was much more challenging.
"I had a lot more competition because it was any age range, so I went up against people who had been paddling for much longer than me," he says.
"I am much more nervous about this upcoming competition because I am on the senior team now," he says. "I think especially for the U.S., the junior team is a way to get experience at these competitions and practice in bigger whitewater. I also viewed it as a great way to explore new countries. I think more pressure is put on the senior team, so I feel the responsibility to represent my country well."
To prepare for his next competition, Fremouw plans to join the UMaine Nordic Ski Club — he says the sport is good training for canoeing because it's an effective total body workout that helps improve cardiovascular endurance, a key component of canoeing. And when the weather is warmer, he'll practice on the water as often as possible.
Fremouw also enjoys soccer, hockey, swimming and tennis, and he's part of the Tennis Club.
"I really like how there is so much stuff to do (at UMaine)," he says. "There are many different pathways I can take if I ever want to switch my major, and there are so many clubs, sports teams and other organizations all over campus."
He plans to continue paddling throughout college, with plans to try creek boats (short boats that can handle bigger whitewater) and slalom canoeing in the future.
Fremouw says he is "incredibly grateful" that he had the opportunity to start wildwater canoeing. He credits Owen, his coach, for introducing him to the sport and providing encouragement, as well as for his support in applying to college. "I just want to take this opportunity to thank him," says Fremouw.
Contact: Cleo Barker, 207.581.3721