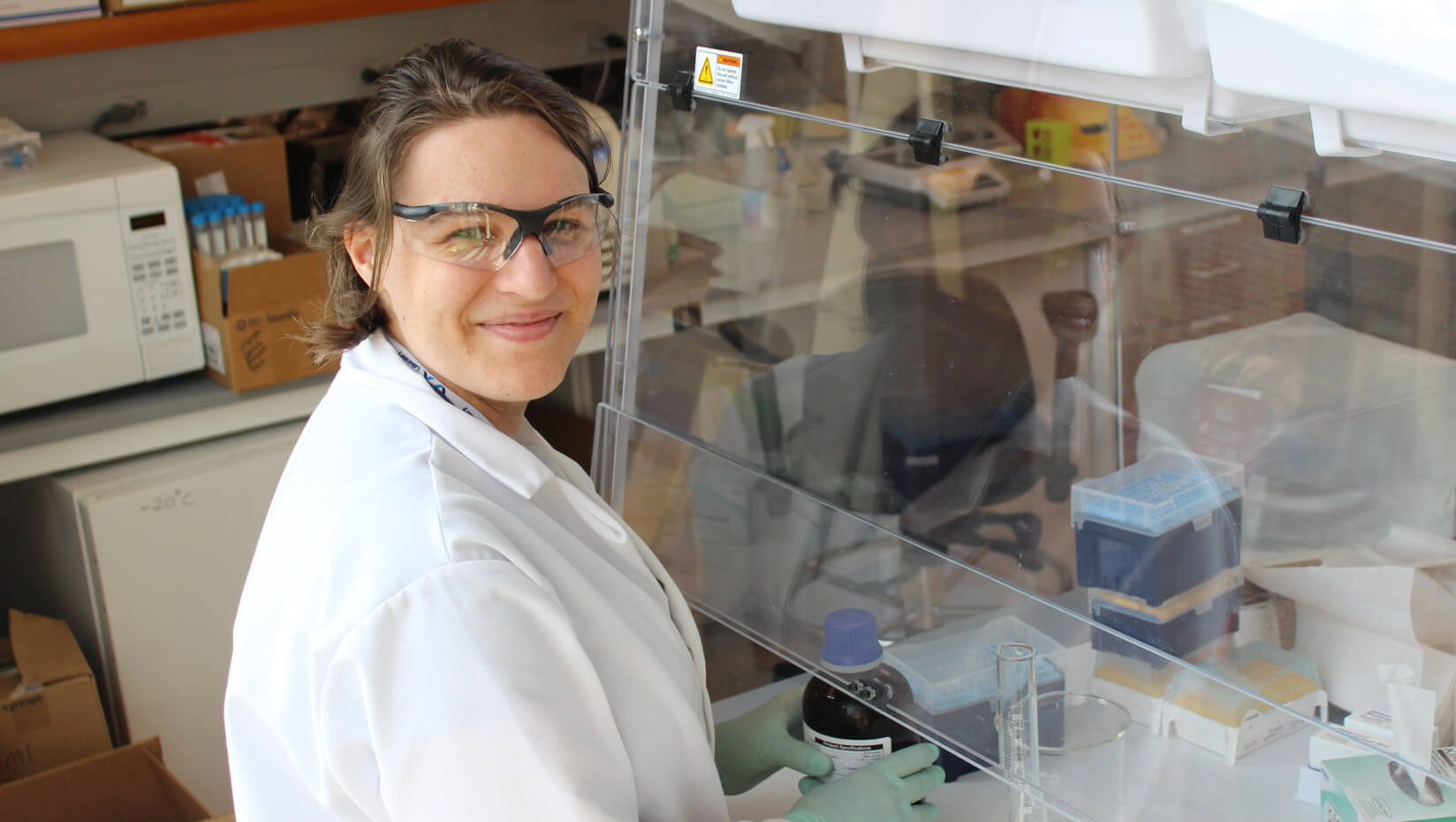 Caleigh Charlebois: Zoology student researches DNA inheritance through internship at The Jackson Laboratory
Caleigh Charlebois of South China, Maine spent her summer at The Jackson Laboratory in Bar Harbor, researching variation in mechanisms of DNA inheritance.
"I am fascinated by the way that the tiny machineries of life lead to bigger machineries, and the implications of that on an organismal level," says Charlebois, a zoology major who also plans to declare a technical writing minor. "I think technical writing will prepare me to read and write about big ideas in my field in the future," she says.
The rising junior was an intern in the Summer Student Program working full time on an independent project at the lab. Using the programming language R, she identified repetitive DNA sequences that vary between different species and strains of mice, and then confirmed the presence of repetitive elements in samples of mouse DNA using wet lab techniques. She and the other interns also participated in group activities in the evenings and on weekends.
"I have had the rare chance to experience a high level of independence and trust in this professional environment and also enjoy the beautiful hikes and views of Mount Desert Island," Charlebois says. "And I am really looking forward to the final poster presentation, because it will give me the chance to reflect on and share my work and become a resource for my portfolio in the future."
Outside of the classroom, Charlebois is a musician — she plays ukulele, ukelin, piano and guitar, and dabbles in composition and digital music production. She also enjoys visual arts and crafts, like sewing and knitting.
"I really appreciate all of the interesting people and opportunities you can find at UMaine if you make an effort," says Charlebois.
Contact: Cleo Barker, 207.581.3729