Montana Benning and Melissa Britsch: Scientific diving takes marine studies to new depths
Montana Benning and Melissa Britsch are spending their summer learning how to dive — for science.
Benning, of Waterloo, Wisconsin, is a second-year marine sciences major with a concentration in marine biology, and minors in zoology and ecology and environmental sciences.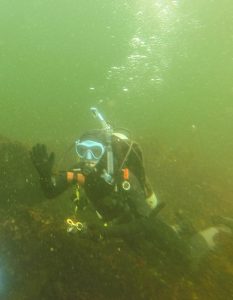 Britsch, of Klamath Falls, Oregon, is a marine biology and marine policy dual master's student who earned her bachelor's degree in biology from Oregon State University in 2017.
Both have taken the Basic Scuba certification course at UMaine and now are in the Intro to Research Diving class at the Darling Marine Center.
"Marine science is one of my greatest passions," says Benning. "We receive so many different resources and aids from the sea — regulation of our global climate, food to eat, water to drink, air to breathe, and even energy to utilize. Today, due to pollution and global warming, many of these incredible features are changing for the worse. I believe that because the ocean provides us with so much, it is absolutely paramount that we do likewise."
Benning describes her experience taking the Basic Scuba certification course as "incredible" — and being able to take skills learned in an on-campus pool to the ocean was unforgettable.
"After taking the basic scuba class I knew I had fallen in love with diving as a whole and that is why I decided to jump right into scientific diving," she says. "My favorite part of scientific diving so far is definitely being able to see the variety of organisms at each dive site, as there are always so many!"
She hopes to eventually become a Divemaster. Benning also is very involved on campus — she is a biology tutor for the Tutor Program, a lifeguard at the Student Recreation Center, a 4-H STEM Ambassador, and a member of the Coral Club, Marine Sciences Club and Crew Club. She also enjoys running.
"I am so thankful for all of these opportunities that UMaine has given me and I can't wait to see what else is in store!" she says.
"I'm fascinated by the ocean and always have been. I grew up several hours from the coast and loved going to the beach," says Britsch. "I'm interested in studying the ocean because I think it is really cool and it also needs protection. I want my research to contribute to understanding how we use the ocean and to help conserve it, now and in the future."
Britsch says the Basic Scuba course was very fun and the class learned a lot, progressing from the beginner level to being certified divers in just a few months. Now she's moved on to the next level to keep learning and improving her diving skills.
"Getting to see underwater organisms in their natural habitat has been an amazing experience, but I think that one of the most interesting parts has been learning how to apply science to diving," she says of the second course. "I like expanding my diving skills, but I love science and I really enjoy seeing how I can dive and do science at the same time."
Outside the classroom, Britsch enjoys hiking, rock climbing and playing viola.
"Maine is a beautiful state and I'm very glad that I came here," she says. "I love the community at the university and the many opportunities to grow, both academically and in the diverse extracurricular activities that the university offers. I'm also grateful for the opportunity to go to graduate school here and to take classes like science diving, where I am learning skills that I will use after I graduate."
Contact: Cleo Barker, 207.581.3729