Emmeline Willey interns at DOE through Margaret Chase Smith Policy Center program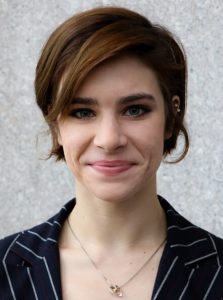 University of Maine junior Emmeline Willey is one of six student interns assisting with summer daily operations at the Maine Department of Education in Augusta.
The Margaret Chase Smith Policy Center at the University of Maine administers the Maine Government Summer Internship Program.
"We are delighted to welcome these precocious leaders to our Department of Education team," says Pender Makin, DOE commissioner. "We are excited to have their energy and voices as a part of our work, and look forward to wonderful things from each of them, for the summer and beyond."
Willey, from Monmouth, Maine, is a media studies major with psychology and education minors. Since high school, she's been inspired to improve the quality of student life in public schools. In spring 2019, she was a senator in the General Student Senate. She acts in an improv comedy club and likes to play ragtime on public pianos. In the Commissioner's Office, Willey publicizes events, gathers information and streamlines communications.
Katherine Gunther, Simon Handelman, Ariel Lam, Katherine Sawyer and Griffin Tibbitts also are summer interns at the DOE.
Gunther, of Farmington, Maine, is a senior majoring in graphic design and architecture at Roger Williams University in Bristol, Rhode Island. Gunther enjoys photography, illustration and videography, and plans to pursue a career in publication design. She's creating videos and generating educational materials about school budgets.
Handelman, of Freeport, Maine, is a junior studying political science, history and English at George Washington University in Washington, D.C. He likes to hike, go to the Portland Museum of Art, and take road trips with friends to explore Maine communities. Handelman's from a family of educators and is eager to gain a deeper understanding of local government and politics. He works on communications between the DOE and citizens.
Lam, from New Jersey, is a senior at Bates College in Lewiston, Maine, majoring in sociology and mathematics and minoring in education. At the DOE, Lam works on financial accounting for local school systems and researches program funding.
Sawyer, of Minot, Maine, is a second-year student at the University of Maine School of Law in Portland, Maine. She enjoys CrossFit, snowboarding and tennis. School enrollment is her focus at the DOE.
Tibbitts, from Bath, Maine, majors in history and minors in biology at McGill University in Montreal. He plans to specialize in the ethics and the legality of emerging biotechnologies in law school. At the DOE, Tibbitts is a data analyst and instruction assistant, and makes training videos for school staff.