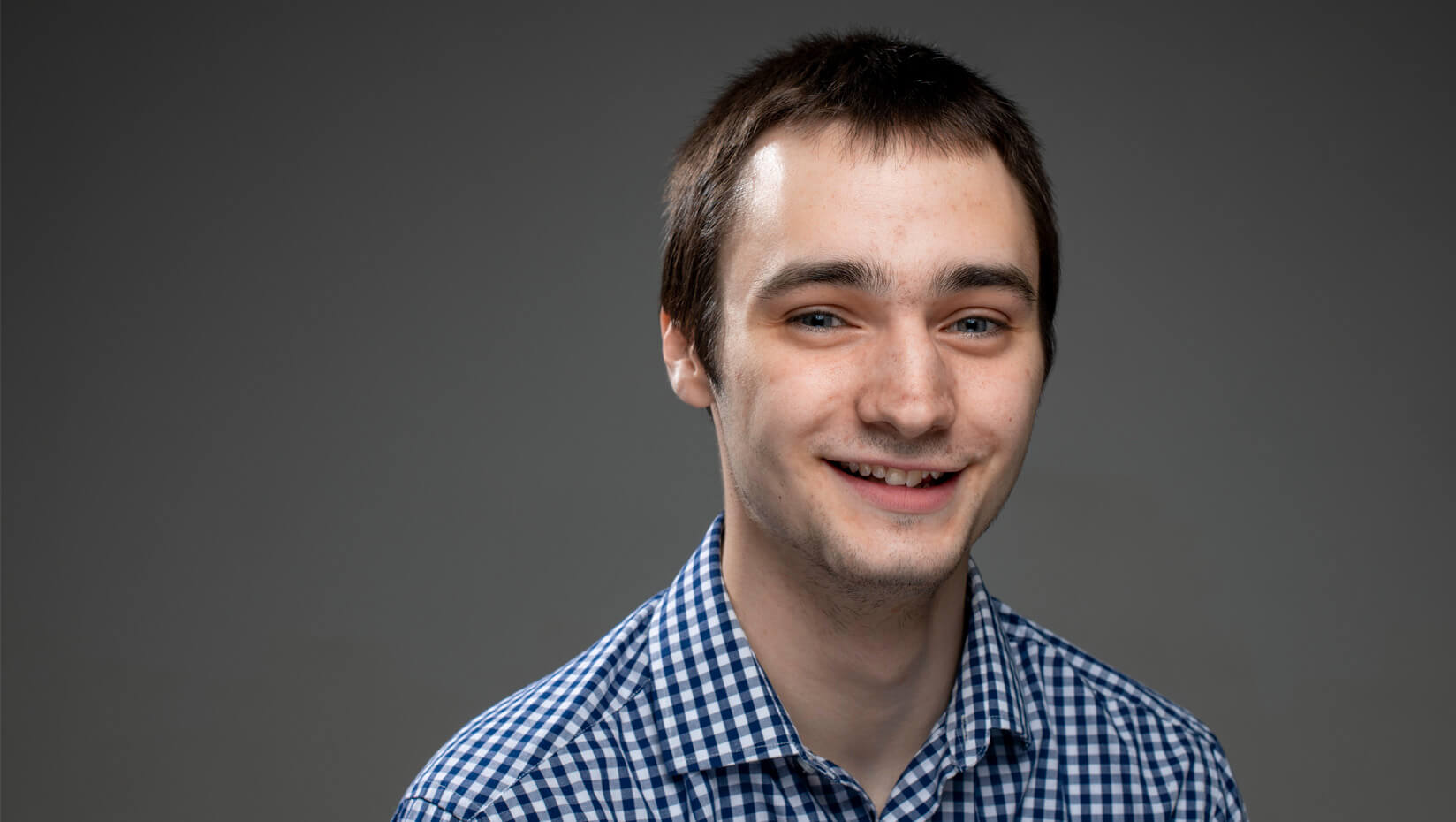 Dominic Guimond: Outstanding Graduating Student
Dominic Guimond, of Portland, Maine, has been named the Outstanding Graduating Student in the Maine Business School.
Guimond is majoring in management, with a concentration in management information systems and a minor in computer science. In 2019, he was named the Outstanding Management Student of the Year in the Maine Business School.
He has been an IT help desk intern with Tyler Technologies in Yarmouth and an IT tech support intern with Northern Light Health in Bangor. Guimond also has been involved in research, including a study of the United States and Canadian film industries.
He is vice president of the UMaine Super Smash Bros. Melee Club, and has participated in other clubs, including CyberSecurity, Fencing and Game Development.
Following graduation Guimond will be working at Tyler Technologies, focusing on disaster recovery services.
What difference has UMaine made in your life and in helping you reach your goals?
I really learned how to study and dedicate myself here. In high school I never truly studied or really applied myself to my schoolwork. Once I got here, however, I really had to teach myself how to study and how to learn. I think this skill is something that I will be able to bring anywhere.
Have you had an experience at UMaine that has changed or shaped the way you see the world?
My whole experience here has certainly changed how I view the world. I think the greatest thing the school has done for me is that it really brought me out of my shell. In high school I was very reserved and introverted, but being around so many people and being forced to live with them really made me change who I was. I now love talking to people, trying new activities, and putting myself into situations that I normally wouldn't, and getting outside my comfort zone.
How would you define the opportunities for student success at UMaine? Is there any particular initiative, program or set of resources that helped you succeed?
Certainly floor 1B of the library. I believe the reason I did so well was because I had a pretty rigorous study schedule. If I studied in my room I tended to get distracted. When I went to the library I had a certain mindset so I was always able to get on task. I always went to the same spot and got my work done.
Have you worked closely with a professor or mentor who made your UMaine experience better?
I would definitely say (assistant professor of management information systems) Matt Graham would be the professor who made my experience here better. I took every available class of his, he taught me all I know about IT, and he helped me get my position at Tyler. He is really passionate about his profession and he always showed it in class. Overall he is certainly the one here who has helped me the most.
What advice do you have for incoming students to help them get off to the best start academically?
Go and visit your professors. If you need help, ask them. They are more than willing to help you. By going to them, you show them that you are taking initiative rather than waiting to fall behind. It also helps them put a name to a face and makes the class feel much more personal.