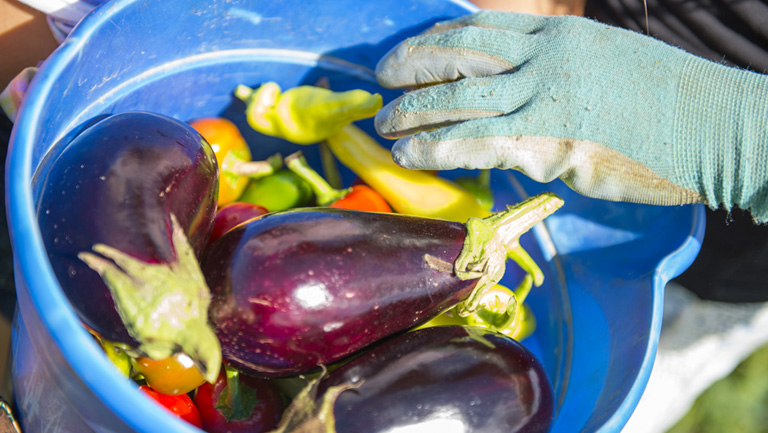 More than 230,000 pounds of produce donated through Maine Harvest for Hunger in 2018
In 2018, volunteers statewide in the University of Maine Cooperative Extension's Maine Harvest for Hunger program donated 231,752 pounds of produce directly to neighbors in need and to 187 sites, including food pantries, soup kitchens and low-income senior centers. The monetary value of the produce donated is estimated at almost $400,000.
More than 500 volunteers, including UMaine Extension's Master Gardener Volunteers, collectively logged 2,664 hours to grow, glean and/or transport donated food to distribution sites. Because it is not always economical for farmers to harvest everything they grow, more than 100 farmers worked with Maine Harvest for Hunger to ensure that their produce, which would have otherwise been wasted in the field, went to food-insecure Mainers who often lack access to fresh, high-quality and nutritious fruits and vegetables.
Since Maine Harvest for Hunger's inception in 2000, volunteers have distributed nearly 2.9 million pounds of fresh produce to Maine residents grappling with hunger.
UMaine Extension's statewide program has mobilized gardeners, farmers, businesses, schools and civic groups to grow, glean and donate high-quality produce to distribution sites and neighbors in need with the objective of mitigating hunger, improving nutrition and health, and helping recipients develop lifelong positive nutritional habits.
In the past year, Maine Harvest for Hunger also focused on educational programs that engage food pantry recipients, seniors and community gardeners in growing more of their own produce and learning practical methods of cooking and using fresh produce.
According to the USDA Economic Research Service, Maine has the highest rate of food insecurity in New England and the ninth highest rate of food insecurity in the United States. Furthermore, USDA-ERS indicates that Maine has the third highest rate of "very low food security" in the nation. According to Feeding America, about one in five (21.4 percent) Maine children experience food insecurity. It is challenging for food-insecure individuals to afford high-quality, fresh, nutritious food, and Maine's emergency food system has seen donations of fresh produce decline significantly in recent years.
To connect with the Maine Harvest for Hunger program, contact a local program coordinator. More information about how to support the program is online.
Contact: Frank Wertheim, 207.324.2814, frank.wertheim@maine.edu