McGreavy-edited book wins environmental communication award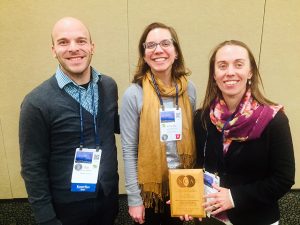 Bridie McGreavy was honored for co-editing a book that addresses significant questions about the relationship between communication and the environment, and has potential to influence research in the field.
The University of Maine assistant professor of environmental communication received the National Communication Association's Tarla Rai Peterson Book Award in Environmental Communication in November in Salt Lake City, Utah.
Peterson is a leader in environmental communication and has advanced the field's commitments to sustainability and interdisciplinary collaborations.
Steve Depoe, professor of communication at the University of Cincinnati, called the book "the best edited volume in environmental communication scholarship that has been produced in the past decade."
McGreavy co-edited the book "Tracing Rhetoric and Material Life: Ecological Approaches" with Justine Wells, George McHendry Jr. and Samantha Senda-Cook.
The purpose of the 13-chapter volume, says McGreavy, is to "advance an ecological approach to care" by widening and enriching "a conversation that has been going on in three separate fields: rhetoric, composition studies, and environmental communication that focuses on how the material world creates and shapes capacities for communication."
In addition to editing, McGreavy wrote a chapter that takes a poetic approach to describe how Maine clammers use metaphors, especially metaphors about the body, to identify and respond to changes in intertidal ecosystems. This approach helps her understand intertidal change and how to communicate with clammers and others as she researches coastal resilience.
"In these daily habits that, for many, stretch across a lifetime, a clammer 'thinks with [the] body, not in the abstract but in lived temporality' where s/he 'observes and retains smells as traces that mark out rhythms,'" she wrote.
She quoted Tom, a clammer in Frenchman Bay, after he learned the pH of ocean surface waters had fallen 0.1 units, from approximately 8.2 to 8.1 (which represents about a 30 percent increase in acidity) since the Industrial Revolution.
"This is why my clams—Thomas Bay out here right behind us—went dead. I pulled clams there all my life, pulling the clams one at a time in the mud; soupy, best mud around. Just dropped dead," he said. "[Our bodies] can run at 98.6. That's where it should be, but you rise up to 99 for a full year, you're gonna get sick. It's that sensitive. People who aren't out there, they don't observe like that. It's so sensitive."
McGreavy's UMaine colleague Nathan Stormer, a professor of rhetoric, wrote the book's afterword titled "Working in an Ecotone."
The National Communication Association also honored McGreavy in 2016, presenting her with the Christine Oravec Research Award in Environmental Communication for her journal article "Resilience as Discourse."