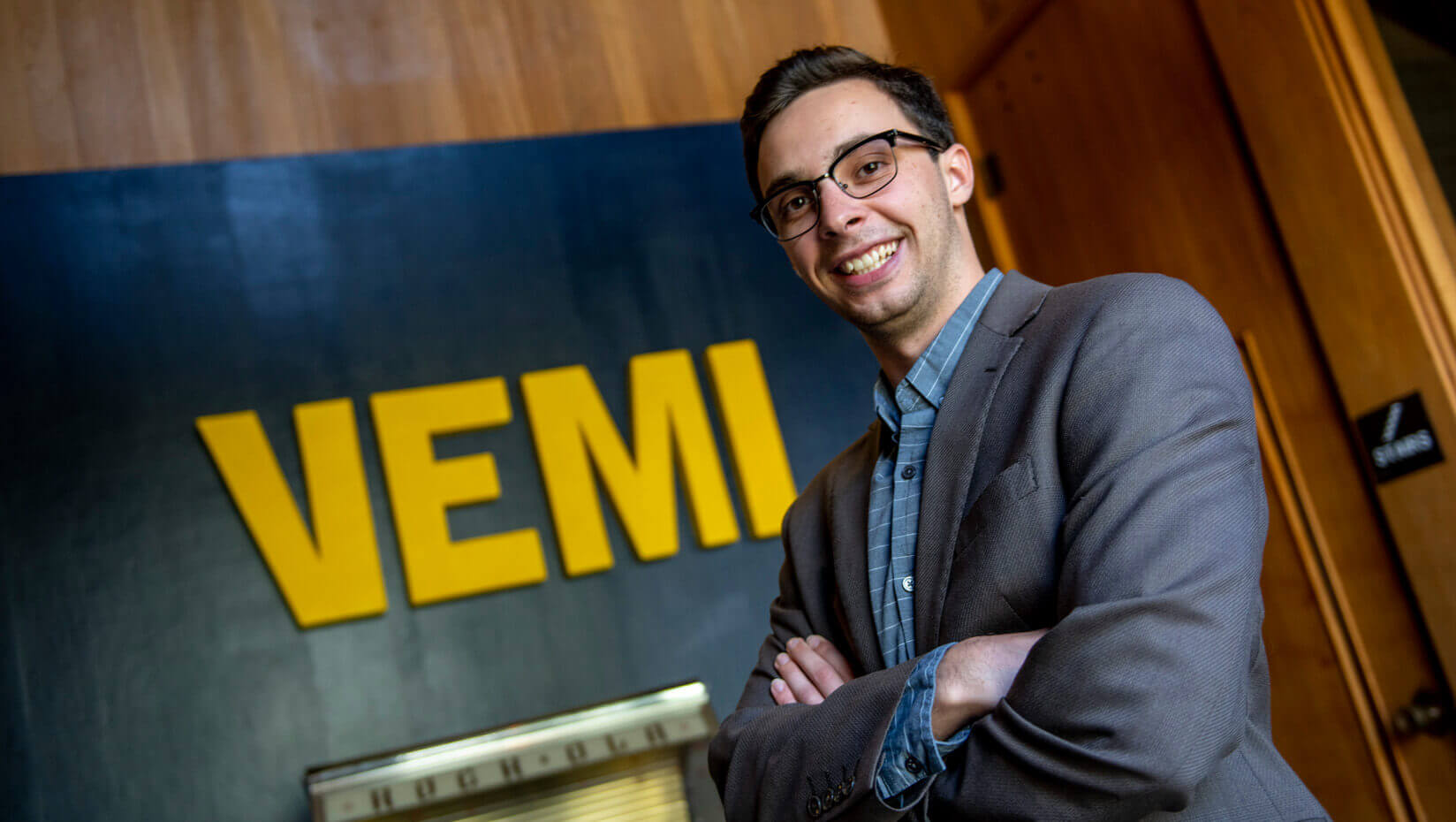 Social media spotlight: Justin Hafner
Hometown: Queensbury, New York.
Justin Hafner, a senior kinesiology and physical education major, psychology minor and member of UMaine's swim team is working at the VEMI Lab where he conceived the idea for the Lento Viewer, new technology that shows people's muscles move in real time as they exercise. The invention has applications for sports, medicine and education.
"The software is called the Lento Viewer — the word 'lento' is the Latin word for 'flex.' When you look at me with the VR goggles, you'd see my entire musculature surrounding my body. It's almost like X-ray vision. You'll see all my muscles firing, and it'll show the different contractions in different colors. It's ideally going to change the way people recognize anatomy, learn anatomy and train efficiently. I've started a company called KinoTek, and there's a patent pending on this piece of technology and the process. We hope to eventually put this on a mobile app so anyone can use it. I've had so much positive feedback. The DoD (Department of Defense) is talking to me about possibly using this for their training and I've talked to physical therapists and chiropractors who want to use this in their practices. I pursued kinesiology to help me with swimming, with understanding what was going on physiologically and biomechanically to become faster and improve my performance. My psychology minor allows me to understand how to run a human subject study and what statistical processes to use to understand my data. I'm graduating this winter, then will begin pursuing my Ph.D. in the spring in a kinesiology master's program here at UMaine. I'm going to continue to grow my company, and if the corporate route doesn't work out, I hope to become a certified sports psychologist, ideally for a college or professional team. I am also a two-time school record holder in swimming at UMaine. I chose UMaine because when I was being recruited by the swim team I instantly fell in love with the atmosphere. I realized how much of a close-knit community we have and how many resources are available for students to succeed. Outside of the classroom, I spend much of my time on the water. My true passion is fishing and whenever I get the time I take my fly rod down to the river or a stream and cast a few lines."
See posts featuring Hafner on UMaine's Facebook and Twitter pages.