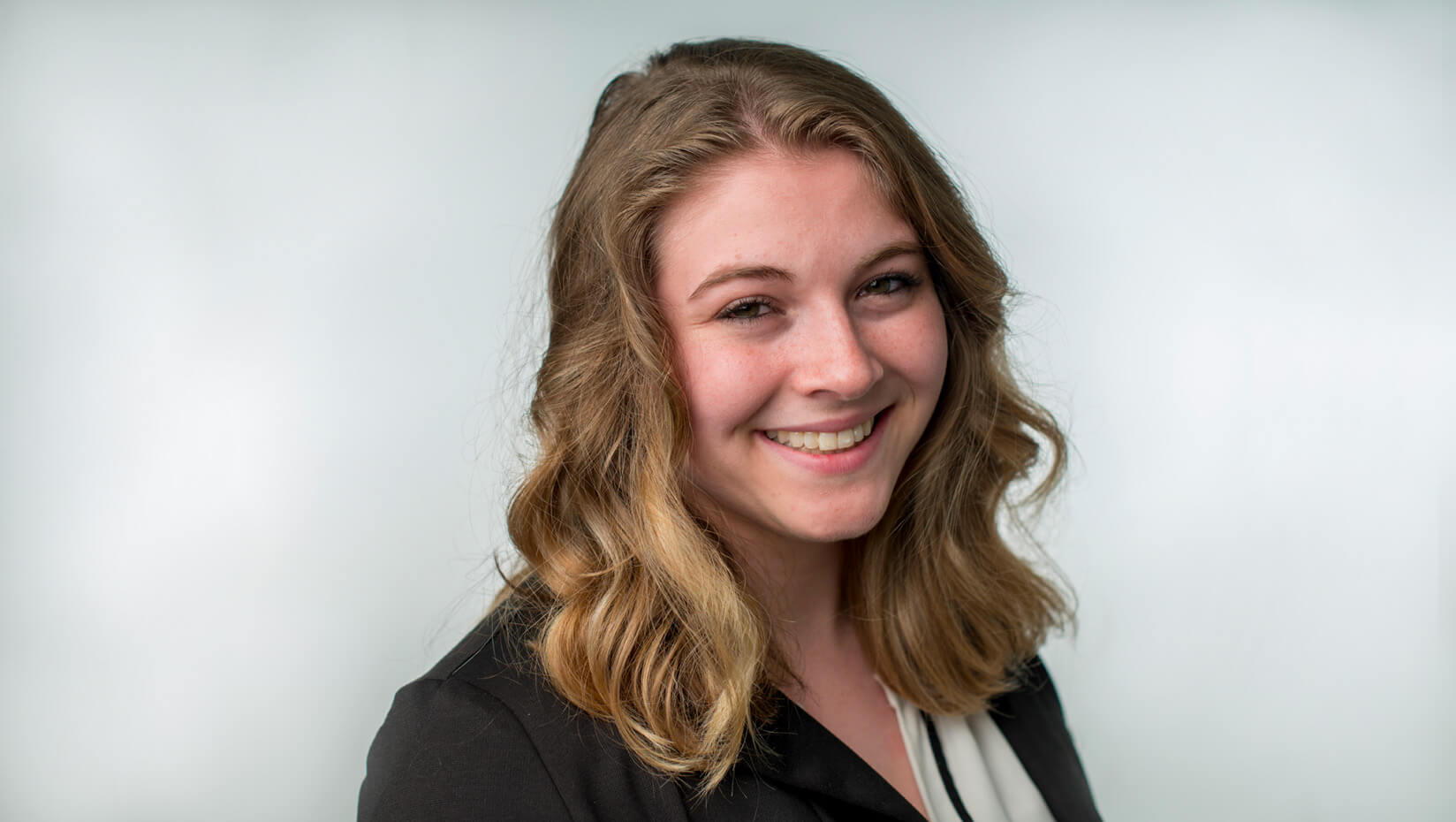 Katelyn Manzo: Outstanding Graduating Student
What difference has UMaine made in your life and in helping you reach your goals?
The support and opportunities I received at UMaine — especially in my department — provided essential experience and guidance which led to an internship (as a software development intern with Tyler Technologies in Falmouth, Maine) and job offers.
Have you had an experience at UMaine that has changed or shaped the way you see the world?
My experiences at UMaine have helped me see that I am capable of doing what I set out to do and that the issues I face I'm never alone in. Because of this, I have set out to help others so they do not have to overcome the same hurdles as me and to help them see that there is always support available.
Why UMaine?
UMaine was closer to home and offered me a great scholarship.
How would you define the opportunities for student success at UMaine?  What set of resources helped you succeed?
I have always had amazing support from my department, peers and especially my adviser Silvia Nittel. My junior year, Stacy Doore founded ACM-W on campus (the UMaine chapter of the Association of Computing Machinery — Women in Computing) which enabled me to learn more about various opportunities for women in computing as well as gain more support. This led me to be able to attend the Grace Hopper Celebration of Women in Computing Conference, through sponsorship from my department, and I received numerous job offers because of the experience.
The Maine Learning Assistant program through the RiSE Center (Maine Center for Research in STEM Education) has been immensely helpful. I was able to get extra help in classes because of the MLAs' help, and I was able to get funding through the program when I became an MLA myself, which helped with living expenses.
Project Login on campus has worked hard to connect students with internship and job opportunities across Maine and is part of the reason I got my internship. They make sure students have as many opportunities as possible.
The UMaine Career Fairs — specifically the Engineering Job Fair for me — were also very helpful in me gaining experience. I was able to speak with many companies, get a few interviews, and eventually landed an internship. The job fair is an awesome resource for students and is great practice for when students graduate and are applying for jobs.
Have you worked closely with a professor or mentor who made your UMaine experience better?
I have worked very closely with Silvia Nittel for most of my undergraduate career. She has encouraged and supported me throughout my time at UMaine and has provided me a multitude of opportunities. When I first started the computer science program, I was unsure if it was for me. She helped me see that there were many applications of computing and that I was capable of succeeding in the program.
I also have worked closely with Stacy Doore who has been a mentor to me for the past couple of years. She has given me countless advice and support and has helped shape me to who I am today.
I would not have had nearly as much support, guidance, or opportunities without these two amazing women.
What advice do you have for incoming students to help them get off to the best start academically?
Reach out and connect with your classmates. The hardest thing in college is feeling isolated. Putting yourself out there is extremely hard, but worthwhile in the end. Creating study groups and bouncing ideas off your peers is essential in many classes and was crucial to my experience. Without such a supportive friend group, it would have been nearly impossible for me to make it to this point in my academic career.