UMaine graduates explore marine policy in Washington, D.C.
The National Sea Grant College Program has awarded prestigious Dean John A. Knauss Marine Policy Fellowships to three University of Maine graduates.
Skylar Bayer, Kevin Staples and Mattie Rodrigue join 54 fellow graduates nationwide who will spend a year working on marine policy in Washington, D.C. The fellowships provide the opportunity for recent graduates to apply their scientific background to marine and coastal policymaking at the national level.
Bayer received a Ph.D. from UMaine in spring 2017. Prior to that, she received her master's degree from the Massachusetts Institute of Technology and Woods Hole Oceanographic Institution's joint oceanography program, and her bachelor's degree at Brown University. Bayer's doctoral research focused on scallop reproduction, including development of an environmental DNA (e-DNA) procedure that can detect scallop spawning.
"I'm excited to learn the language of policy and how it is made on Capitol Hill," Bayer said of her upcoming work with the Senate Environment and Public Works Committee (minority). She said she is looking forward to helping solve issues related to the Endangered Species Act, Clean Water Act, Clean Air Act and other landmark environmental laws.
Staples and Rodrigue earned dual master's degrees in marine science and policy at UMaine. Staples investigated the impact of climate change on growth of the American lobster.
"I feel proud to be a part of this impressive 2018 class and proud to join those classes who have come before us, many of whom continue to do great work within our government," said Staples said, who is placed with NOAA's Coral Reef Conservation Program.
Between completing her degrees and beginning her Knauss Fellowship, Rodrigue worked as a graduate assistant and served as the assistant to the executive director at Maine Center for Coastal Fisheries.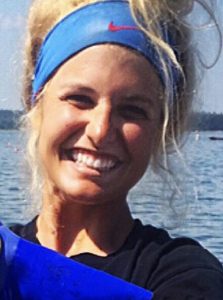 "I am most looking forward to the furious dose of learning I'm about to receive, as well as taking part in the behind-the-scenes policy work happening within and between several federal agencies," Rodrigue said. She is placed in the office of the assistant administrator for the NOAA Office of Oceanic and Atmospheric Research.
The Knauss fellowship was established in 1979 for students interested in ocean, coastal and Great Lakes resources and the national policy decisions that affect those resources. Since the program's inception, more than 1,200 fellows have worked in the legislative and executive branches of government, transferring science to policy. The program is named in honor of one of the founders of the National Sea Grant College Program, former NOAA Administrator John A. Knauss.