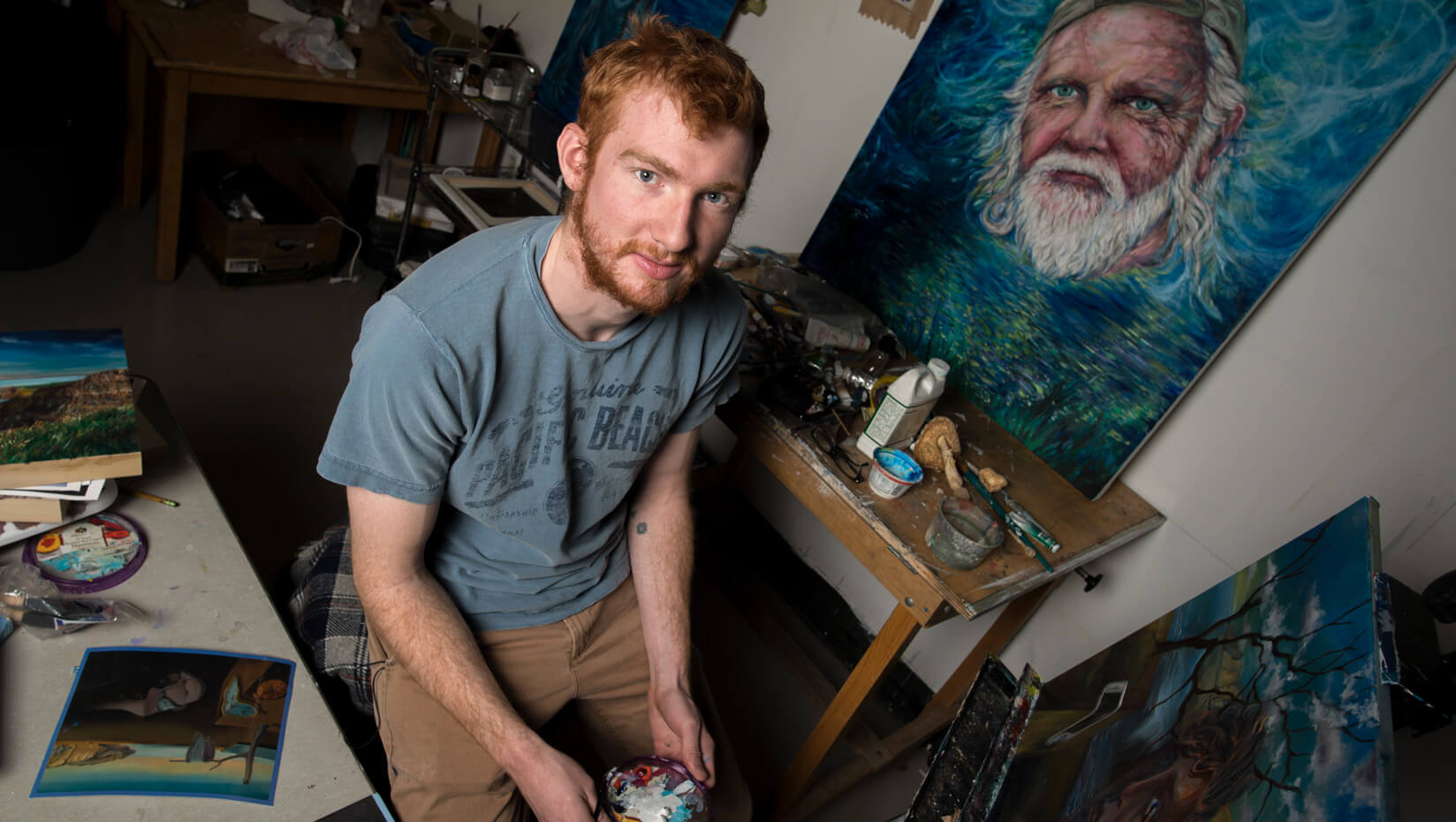 Liam Reading: studio art major from Bangor finds inspiration in home state
For his first year of college, Liam Reading of Bangor, Maine attended a school outside northern New England. He soon realized he preferred his home state and discovered he had access to even more resources at the University of Maine.
Now Reading is pursuing a major in studio art and minor in art history at UMaine. He also is a student in the Honors College, member of the UMaine Water Polo Club, and a science illustrator at ASAP Media Services on campus.
At ASAP Media Services, a student-operated new media research and development organization, Reading works for new media lecturer Mike Scott to develop science illustrations, digital renderings and animations of climate science being conducted at Acadia National Park.
When he's not working at ASAP, Reading spends a lot of his time at the Wyeth Family Studio Art Center where he designs and creates laser-cut stencils that he then uses to spray paint murals.
Reading has painted several large murals in the Bangor area. Next he plans to create a space-themed mural at the Orono Trampoline Park and another mural in downtown Bangor as a tribute to some well-known Maine figures, such as Stephen King or Andrew Wyeth.
In his spare time, Reading also likes to compose music and write lyrics, as well as complete freelance projects such as designing album covers and tattoos, and painting portraits and landscapes.
"My heart resides in the realm of philosophy and metaphorical allegorical art that tells stories that can change the way people look at the world," says Reading, who expects to graduate in 2019. "The world is like a guitar and each string is like a passion; there are an infinite amount of patterns to be made, but it helps if each note rings out clearly one at a time so we don't descend into chaos."
Why did you choose to study art?
I chose to study art because my dad is an architect/carpenter and amazing ink and graphite draftsman, and my sister is an incredible eco landscape painter and teacher. My family never deterred me from the arts. In our family, starving artist syndrome never existed.
I grew up entranced by watercolor paintings, and in high school began to draw figurative surrealism pen illustrations. I picked art over engineering because of an experience I had when I was 17 in Colorado where I drew and painted landscapes en plein air every day for two weeks. I was hooked.
Trying to capture the changing light with Earth-toned Conte chalk as the descending sunlight danced upon the sheer rock cliffs at the Garden of the Gods public park made me realize how timeless and limitlessly invigorating it can be to capture experience with art.
Is there a piece of art you have created while at UMaine that you are most proud of?
I've been working on a 36-by-48-inch oil on linen painting of an old man I met in the woods surrounding Jordan Pond (in Acadia National Park).
I had just gone through a difficult breakup, and this big burly man comes hobbling out of the woods holding a wooden carved cane. He was sporting a backward hat and had an incredible scruffy white beard.
The man said he could see auras, and he told me that I had a rare aura consisting of streaks of indigo. Apparently this aura he saw signified a pureness of heart and intuition.
This encounter prompted me to make my latest painting titled "The Aura Reader," and it's my most inspired piece yet because of how much it correlates to a pivotal experience in my life which impassioned my soul to believe much deeper in cosmic alignment.
Any advice for incoming college students who are considering a major in art?
Some advice I'd give students interested in the arts is that UMaine truly is  an incredible option. I went to the Rhode Island School of Design for my first year of college, and I have access to way more resources at UMaine.
Life is all about the connections we make, and art exemplifies that. I always keep thinking, sketching ideas, and developing them. It takes time, and technique will come with time, but the power of art lies in its message.
Why UMaine?
I chose UMaine because I genuinely like it here; being surrounded by rivers, lakes, ocean and forests, there is never a shortage of inspiration. I like Maine better than Providence, Rhode Island because it is less developed. I find that the connections I am making here are deeper rooted and more genuine. The facilities here are great with the Wyeth Center right across from the New Balance Student Recreation Center (where I teach swim lessons). But mostly I just love the people who run through this beautiful state.
What are your plans for after graduation?
After I graduate, I hope to work as a muralist and freelance artist creating portraits, landscapes, and surrealist paintings and illustrations. I also aim to get my writing published, accompanied by my illustrations; creating allegories of these precarious modern times. Eventually I hope to open an art gallery/performance space/bar perhaps in the Portland area and truly immerse myself in the artist community.
Contact: Elyse Catalina, 581.3747