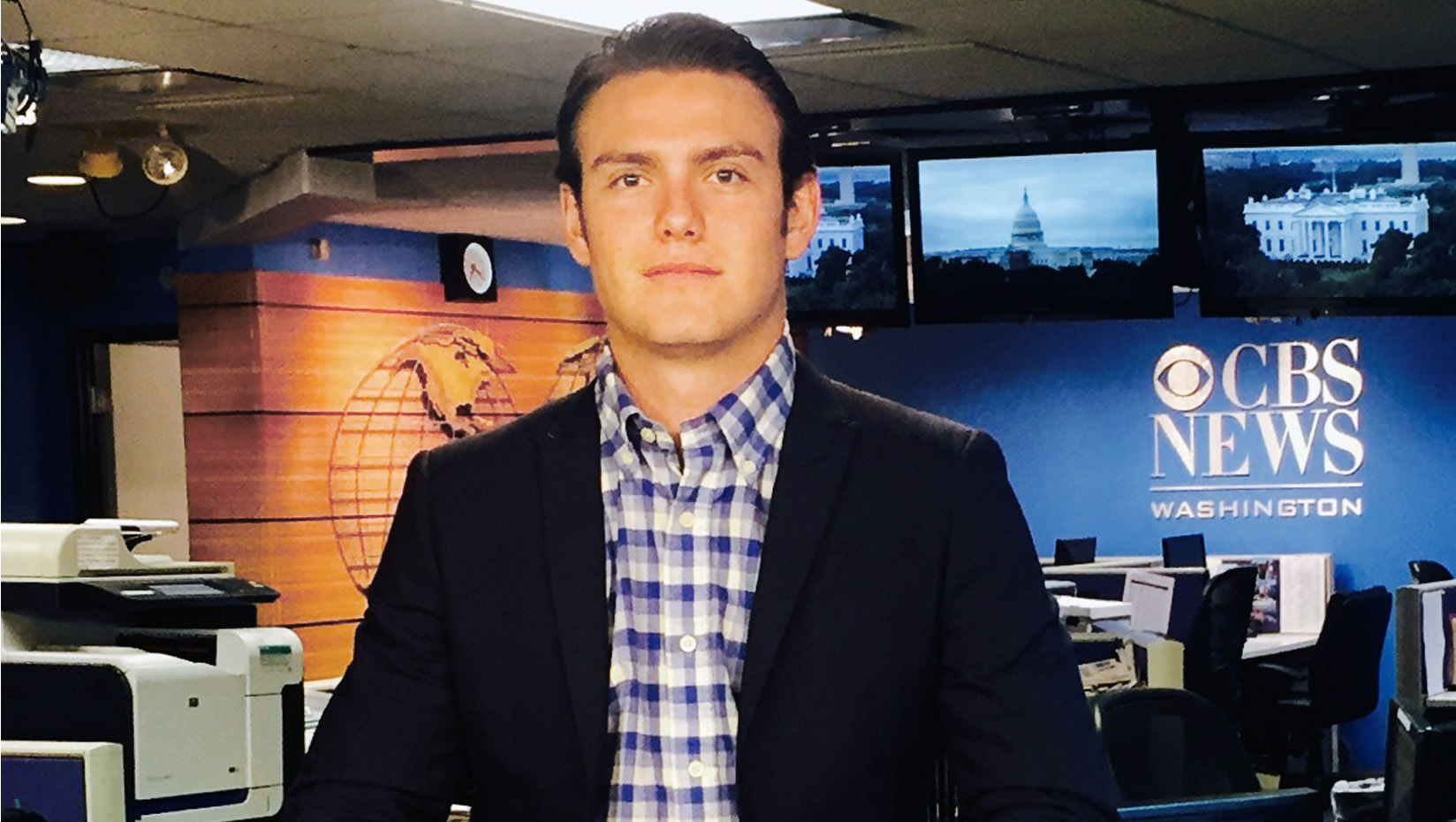 Finn McMahon-Allwine: Pursuing broadcast journalism at CBS News internship
Finn McMahon-Allwine grew up in Blue Hill, Maine and knew he wanted to stay close to home for college.
"My college counselor recommended UMaine because of its wide range of options," says McMahon-Allwine, who then fell in love with the campus during a spring tour his senior year of high school.
Three years later, McMahon-Allwine is a rising senior at UMaine working toward a major in journalism with a minor in English.
His passion for journalism, and broadcast journalism specifically, has led McMahon-Allwine to a summer internship with CBS News in Washington, D.C.
Why are you interested in broadcast journalism?
I'm interested in broadcasting/journalism because I believe that the news media has a responsibility to the general public to give them the information that will help them live their lives. It is also the media's responsibility to hold a government accountable and make sure the public is aware of the happenings within the government.
What is a normal day at your internship?
While there is no normal day in news business, an average day would look like this: I arrive at the bureau in the morning and go over the shooting schedule for that day; I help however I can at the bureau, whether that is answering phones for the news desk to contacting sources for potential stories; sometimes I'll sit in on editing sessions with producers or the control room; usually at some point during the day I'll be sent to a shoot to help the crew or field producer — shoots range from a stakeout, which is a potential shot of something or someone, to a news presser, at which a person or persons of importance will be making a speech or press release.
What has been the most surprising thing about interning at CBS News?
The most surprising thing about this internship is how much I'm able to attend important events that usually go on national news. I've been to vice president events, met the head of the Drug Enforcement Agency, covered the shooting of Rep. Steve Scalise and the Supreme Court decision on President Trump's travel ban, and I've been to the Senate.
What is your favorite thing about interning at CBS News?
My favorite thing about this internship has been that I never know what I'll be doing each day. Going into work knowing that I won't be sitting at a desk doing the same thing day in, day out really made this experience refreshing and worthwhile.
What has it been like living in Washington, D.C., during the current political environment?
Living in Washington, D.C., during these rocky and often contentious political times has been a challenge just in terms of staying informed on everything going on within our government. Whether you support our current administration or not, one can agree that it has given us no shortage of unprecedented and entertaining headlines.
What experiences and/or courses at UMaine have most prepared you for this internship?
Ever since my first semester freshman year I made it a point to take at least one English/writing intensive class. I would suggest this to anyone of any major, especially aspiring broadcasters or journalists. The more adept you can be with your writing skills will only help you in this field of work.
Why do you think it's important for students to get experience in professional settings, especially in journalism?
It very important that students interested in journalism get professional experience through some program like an internship because it allows them to see what the job is really like. No class can prepare you for the everyday challenges and responsibilities that this job entails at a professional level.
What are you looking forward to this fall at UMaine?
I'm looking forward to continuing my classes and working toward my degree. I'm also looking forward to seeing all my brothers of Lambda Chi Alpha and playing club baseball.
What are your career/education plans after you graduate?
My hope is that my degree and this wonderful opportunity at CBS News will allow me to have a successful career in broadcast journalism.
Contact: Alan Berry, 207.581.1955