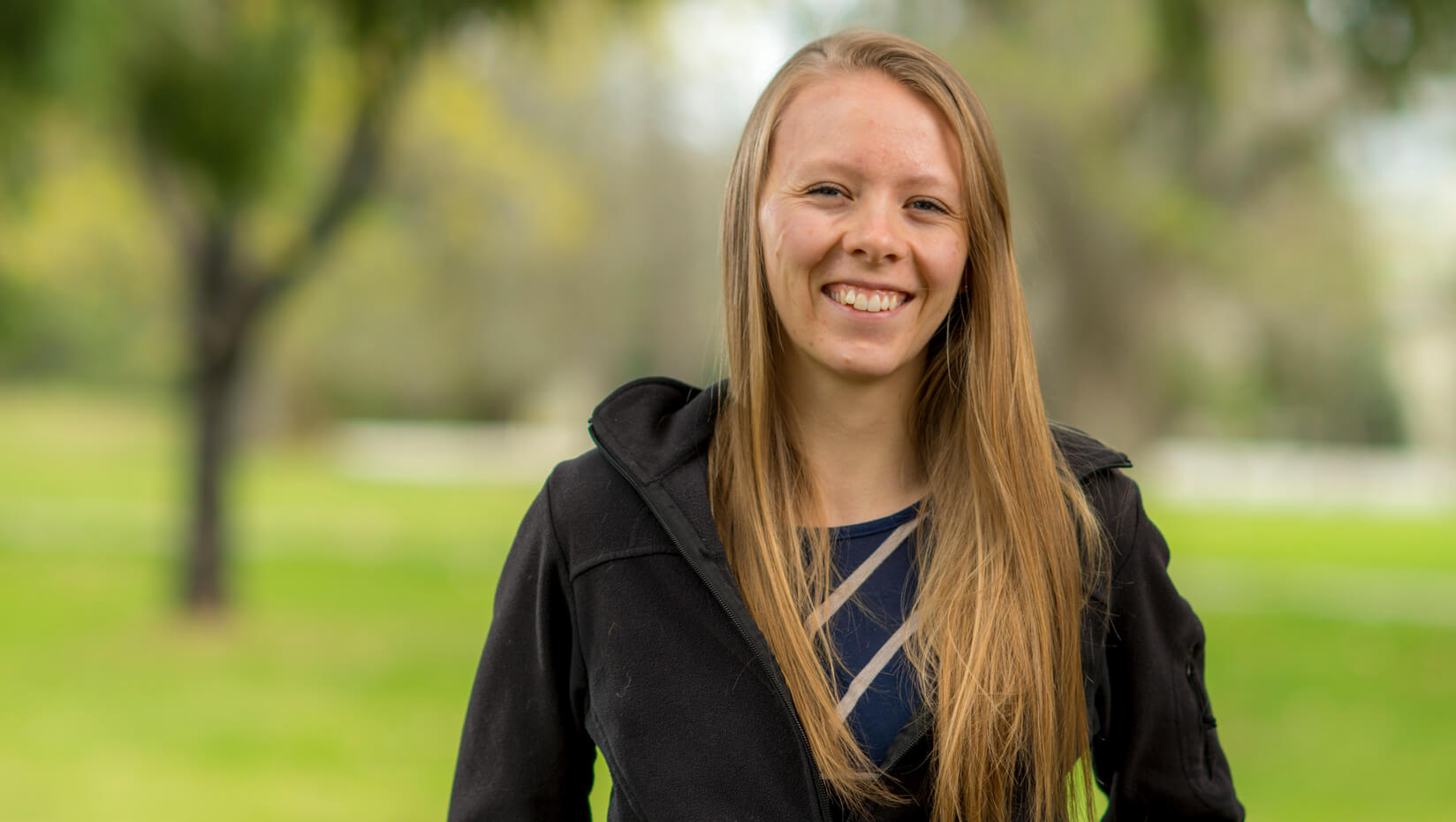 Elizabeth Trenckmann: Seeking to inspire high schoolers
Elizabeth "Betsy" Trenckmann wants to inspire science students similar to how Rita Kasper motivated her at La Veta Junior-Senior High School in Colorado.
Trenckmann soon will have that chance.
In August, the highly decorated 2017 University of Maine Master of Science in Teaching (MST) graduate will begin her career at Hermon High School instructing students in conceptual biology, Earth systems and Maine ecology.
Trenckmann describes Kasper as knowledgeable, caring, organized and disciplined — many of the same adjectives that Michelle Smith, UMaine associate professor of biological sciences and Trenckmann's adviser, uses to describe her.
Smith adds that Trenckmann also listens, eagerly accepts feedback, embraces learning and continually strives to get better.
Those qualities have served her well.
In April, Trenckmann earned the Presidential Research Impact Award at the Student Symposium for her presentation titled "Collaborating Across the University of Maine System to Improve Student Understanding of the Role of Energy and Matter in Photosynthesis."
The award, and $1,000, was presented to Trenckmann and to Smith in recognition of their research that could positively impact people in Maine, and that exemplifies the university's three-part mission of teaching, research and public service.
Trenckmann also won the best presentation award in the education category for the same University of Maine System Research Reinvestment Fund project.
"It's nice to honor future teachers," says Smith, adding that it's satisfying to see the university support education and include it in the research symposium.
For the project, Trenckmann, along with life science faculty from six of the system campuses and Hurricane Island Center for Science and Leadership, developed assessment questions and a student-centered, in-class activity for introductory college biology classes systemwide.
The active-learning exercise was designed to help students learn about matter and energy — primarily photosynthesis — and to explore how and why increased carbon dioxide could impact Maine-based industries involving timber, kelp and potatoes.
Trenckmann's co-authors included Erin Vinson, Karen Pelletreau, Kimberly Borges-Therien, Farahad Dastoor, Jason Johnston, Eric Jones, Peter Nelson, Jenn Page, Nancy Prentiss, Judith Roe, Joseph Staples and Smith.
A paper containing data and details about the project will be written and published in the public domain.
Trenckmann also has been chosen as the Outstanding MST Student Award in the RiSE (Research in STEM Education) Center and has earned a Noyce Fellowship from the National Science Foundation that provides for professional development.
While Trenckmann's rural hometown of La Veta is surrounded by national forests and is about 1,000 miles to the ocean, she became interested in the sea when her family regularly vacationed in Galveston, Texas. Her interest was piqued, she says, on a family trip to Hawaii.
Trenckmann, who wanted to study marine biology and play collegiate volleyball, attended Maine Maritime Academy in Castine.
After a stellar undergraduate career there — she was named a Scheel Scholar for best exemplifying intellectual curiosity and achievement, and set a single-season volleyball record for assists with 774 — Trenckmann chose UMaine for her graduate studies.
"I've grown a lot," says Trenckmann, especially in terms of pedagogy, research and developing professional contacts. She says her research and readings touted the benefits of active learning and she's witnessed firsthand the benefits of clicker-based class exercises and peer discussion.
Since January, Trenckmann has been student teaching at Orono High School.
This summer, she'll be a marine biology educator at the Smithsonian Marine Station at Fort Pierce, Florida. Scientists and students from around the world investigate plants, animals and physical processes in the ocean and Indian River Lagoon. Their findings inform public policy, conservation efforts and resource management.
And in August, Trenckmann will welcome student scientists to her classes in Hermon.
"I'm really excited about having my own classroom," says Trenckmann. "I want to become involved in the community and I'd love to coach or lead a club or activity."
Contact: Beth Staples, 207.581.3777