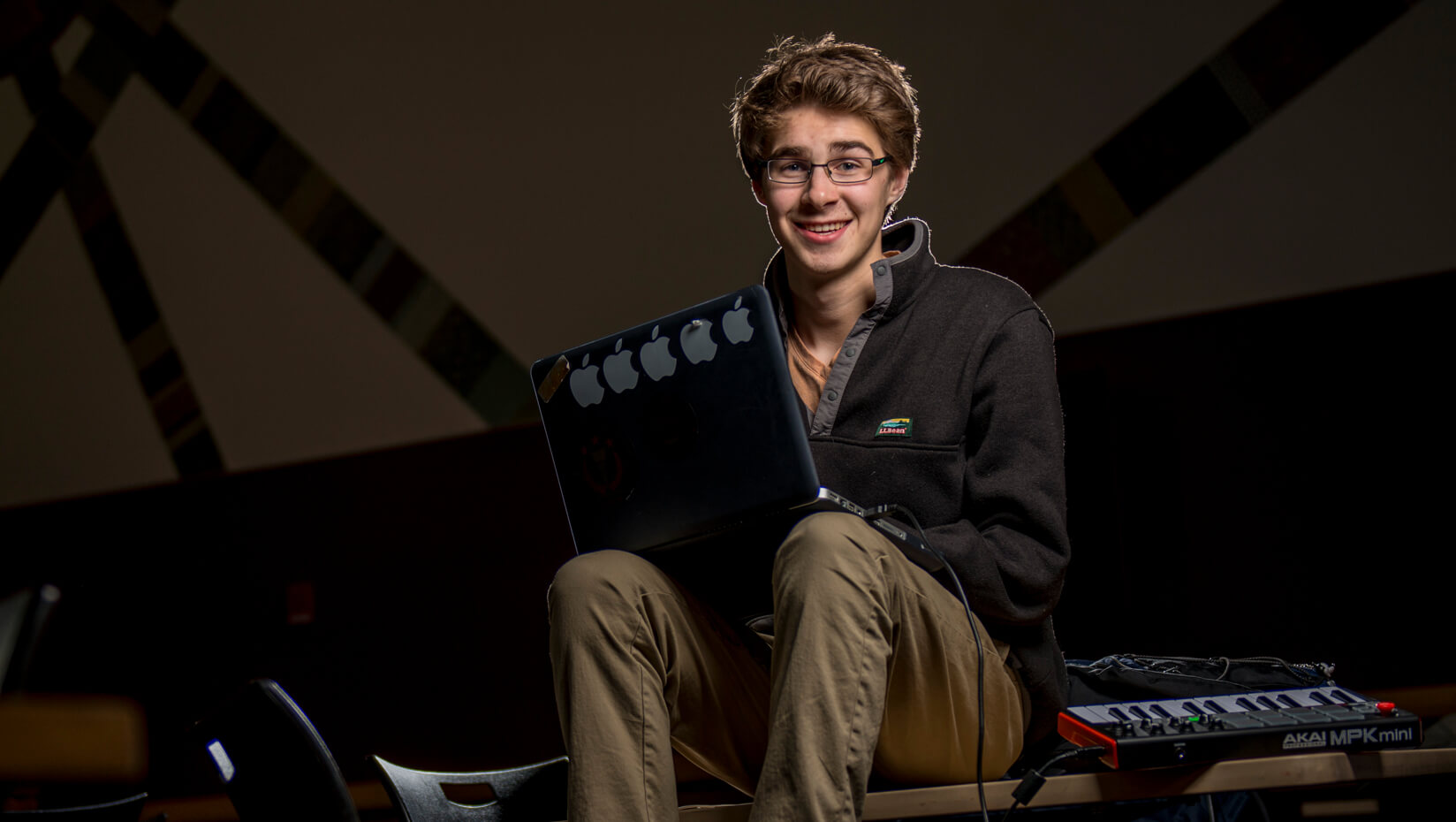 Dante Baskett: Creating music in the community
On Dante Baskett's first day of classes in the University of Maine School of Performing Arts, he attended a recital lab overseen by Beth Wiemann.
During the lab, Wiemann mentioned a local woman, Pat Steward, who writes country songs and was looking for help putting her lyrics to music. Baskett, who has mostly made music independently, decided to reach out to Steward to gain experience and knowledge.
"To be able to create with somebody who can offer different attributes that I can't to music is invaluable to me," says Baskett, a first-year music major and student in the Honors College.
Two weeks after Baskett's initial call to Steward, the pair began holding regular Saturday meetings at her house in Bradley. While there, Baskett helps Steward put her words to a melody and creates the instrumental for her songs. The pair sometimes co-write songs, and have even recorded in a studio.
"Creating art is sometimes not always hard, but displaying it is never easy," says Baskett of Brunswick. "To be able to express who I am in this project is extremely scary but also liberating."
Describe how you and Pat Steward work together and the type of music you create:
Most of the time Pat has a song that she has written which she would like to put to a melody. When we first started working together, Pat couldn't plunk out a melody, so she would have to wait for me to put the words to music. Now she has a piano and can play her own melodies. There have been some times where we have collaborated writing songs together; some that I have initially started and she has helped me finish.
At first, Pat wanted to make country music and I mostly worked in pop, so it was a little strange to try and create songs that seemed "country." However, as we've continued to work together, we have started to deviate from country and create our own music.
Our subject matter has mostly focused on themes of old-fashioned love and family, but we are starting to move to other subjects like politics and grief. We mainly use a lot of guitar and piano. Many of the other instruments I choose come from the music software I use, but one day I hope to use more live instruments because they have a better quality of sound.
What have you accomplished and learned from the project so far?
I have learned a better understanding of the creative process outside of myself. Working with Pat, I have discovered that obviously we have different creative processes, and we don't always agree on what we want to make. I've learned to compromise, especially in how we portray the messages of songs and how they work.
I think I've accomplished content with vulnerability. Some songs I have written really dig to the core of who I am. They contemplate personal issues that I can't wrap around in my head, so I unwrap them onto paper.
Do you have any other goals, such as more recording sessions or performances, for this music?
I plan to continue this project as long as I can. We haven't made a full compilation of songs yet, but my goal is to perform one of the songs at a show or to get them all professionally recorded.
Is this your first time composing and producing music?
No, I've been composing and producing music since I was 10. The first song I wrote was either a birthday song to my mom or an apology song to my sister when we got into a fight.
I started producing music on my middle school laptop. I would put together different samples of songs that were available in the program and I'd build from there. As the years progressed, I made full covers of my favorite songs and then I switched to making my own stuff. In high school, I worked with another student to help produce her songs.
Why UMaine?
I choose UMaine due to the low tuition cost and the wide variety of majors it offers. I knew I probably wasn't going to change my major, but if I did, there would be plenty of options.
What difference has UMaine made in your life and in helping you reach your goals?
UMaine really caused me to confront myself on what I want in life. I was very unsure about myself at the beginning of the year. Being here has forced me to overcome my shyness, denial and uncertainty, and put myself first.
Any advice for incoming college students who are considering a major in music?
Focus on your craft and determine what you want. You will be dissuaded many times due to the unstable nature of the job and most of the dissuading will come from yourself, but you have to trudge through. If you have an inkling of hope, or just know you want to pursue music as a career, you should do it.
Contact: Elyse Catalina, 207.581.3747