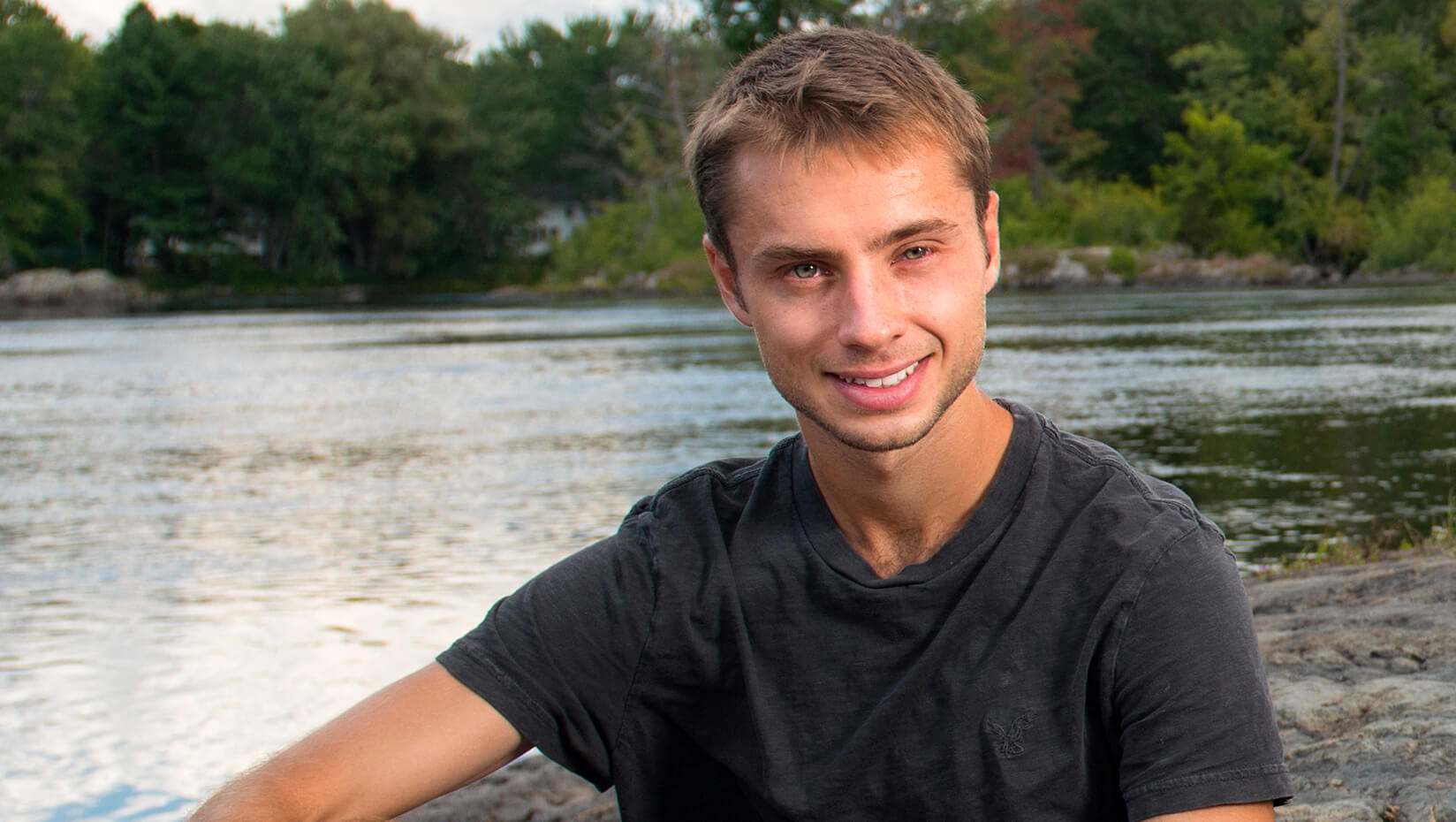 Jesse Orach: Outstanding at optimizing performance
When Jesse Orach starts his job as a process engineer at Verso's Androscoggin Mill in Jay later this spring, he'll strive to optimize the paper machines' performance.
Maximize output and minimize energy use and waste.
Orach excels at achieving results. During his five years at the University of Maine, the Gorham native has demonstrated productivity and industriousness. When Commencement is celebrated May 13, Orach will have earned an MBA, a bachelor's degree in chemical engineering and a minor in mathematics.
He also will have the distinction of being one of two people ever to be named a two-time recipient of the "M" Club Dean Smith Award.
Since 1993, the prestigious award has been given annually to the top UMaine male and female student-athletes who exemplify outstanding academic and athletic achievement, citizenship and community service.
Women's basketball captain Sigi Koizar, a biology major with a pre-med concentration and chemistry minor, is the other two-time recipient. The native of Austria will graduate this spring with a 3.97 GPA.
Dean Smith, the award's namesake, graduated from UMaine in 1990. The electrical engineering major and basketball captain set a standard for academic and athletic excellence, earning the NCAA Walter Byers Award as the nation's best male scholar-athlete. Smith notched a 3.89 GPA, was a First Team Academic All-American and a New England Basketball Coaches Association Division I All-Star.
While Orach has been earning a perfect 4.0 GPA in pursuit of an MBA during his fifth year at UMaine, he's simultaneously been excelling in cross-country and track.
In fall 2016, he excelled on cross-country courses from Maryland to Maine. He won five America East Performer of the Week honors and capped the season by capturing the individual America East Cross Country Championship in 24:35.3 at University of Maryland, Baltimore County.
"That was the longest 15 minutes of my life," says Orach, referring to the latter portion of the 8K race. That's when he surged to the lead and bolted the remainder of the way with no other runners in sight. The second-place runner crossed the finish line a full 9 seconds behind him.
Orach says UMaine coach Mark Lech remarked that for the first time in his college career, Orach took his performance to the next level. For that feat and numerous others, he was named the America East Fall Scholar-Athlete.
It's particularly impressive considering that when Orach enrolled at UMaine, he hadn't run cross-country. In high school, Orach played outside midfielder for the Gorham boys' soccer team.
In fall 2016, Orach had eligibility remaining in cross-country because he had red-shirted due to injuries his first fall on campus. And he had eligibility remaining in spring 2017 because the second semester his junior year, Orach didn't compete while taking part in a co-op education program at the Verso mill.
Orach says his MBA experience has broadened his outlook. During capstone projects with Professor of Management John Mahon, the self-described data and numbers guy says he's learned a lot from classmates with varied academic and life experiences who utilize different problem-solving approaches.
And the former Pulp & Paper Foundation scholarship recipient says analyzing case studies of strategies employed by struggling companies has given him valuable perspective and ideas.
As an undergraduate, Orach earned a 3.95 GPA while majoring in chemical engineering and minoring in mathematics. Among his many undergraduate honors, Orach was a named a Presidential Scholar and the Outstanding Graduating Chemical Engineering Student.
With about a month of graduate school and track meets remaining, Orach still is striving to optimize his performance.
He wants to finish a 5,000-meter run in 14:05 or faster to qualify for the NCAA regional championships in May in Kentucky. Two remaining meets — the Princeton Invitational and the Penn Relays — will have incredible competition and be ideal for accomplishing that feat, he says.
Orach says if he doesn't attain his goal in either of those races, he'll try again at the IC4A Championships — which are being held Commencement Day — in Princeton, New Jersey.
When his college career is complete, Orach says running will remain an integral part of his life. In some ways, he's still hitting his stride. Last August, for instance, in his first-ever Beach to Beacon 10K in Portland, he won the Maine men's division in 31:32.
Next year, Orach also is likely to visit Orono to cheer on the Black Bears. In addition to his long-time teammates, the 2017–18 men's track and field roster will include another runner named Orach.
Orach says his brother, Ethan has decided to attend UMaine. During Ethan's recruiting trip, Orach showed him around campus and introduced him to friends.
"It was a weird experience, says Orach. "But coach (Mark Lech) was excited."
Ethan, like his older brother, played fall soccer at Gorham High School and will focus on running track in college.
Contact: Beth Staples, 207.581.3777