UMaine helps bring 'Transformer Tales' to the stage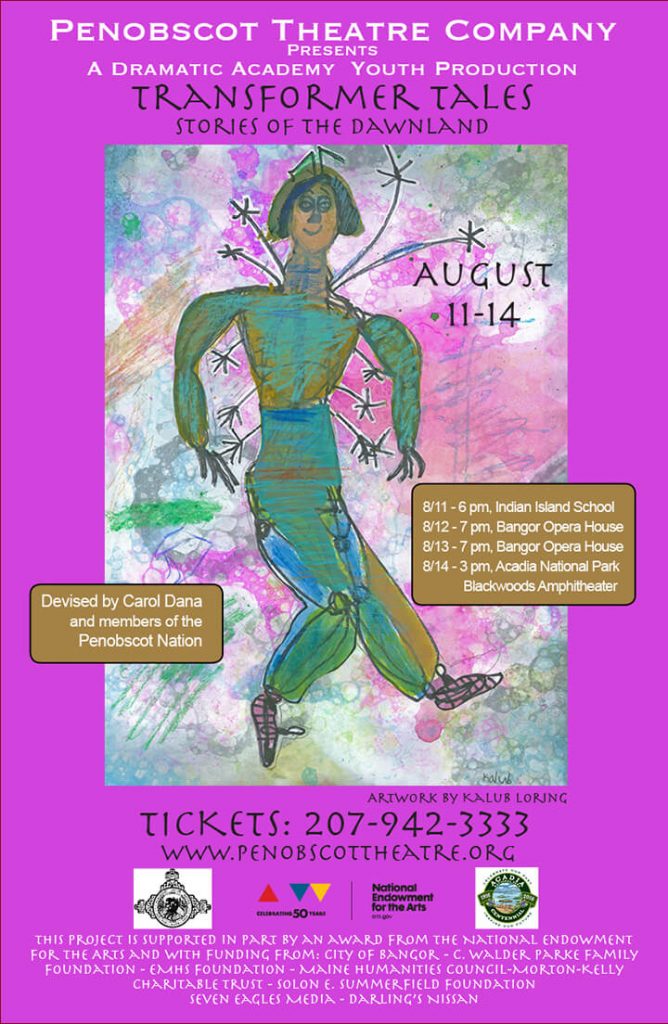 For the past year, Professor of English Margo Lukens has collaborated with Carol Dana and other members of the Penobscot Nation to research and bring to the stage turn-of-the-century Wabanaki stories. Those stories have been compiled into a script for dramatic performance including poems, music and Penobscot language, presented by Penobscot Theatre Company, Aug. 11–14.
"Transformer Tales: Stories of the Dawnland," conceived by local Penobscot artists, will be performed at 6 p.m. Aug. 11 at Indian Island School; 7 p.m. Aug. 12–13 at Bangor Opera House; and 3 p.m. performance Aug. 14 at Blackwoods Amphitheater, Acadia National Park. Ticket information is online.
The performances, part of the National Park Service's Centennial Celebration, are supported by an award from the National Endowment for the Arts and local sponsors, including the University of Maine Humanities Center.
Lukens' research interests include Wabanaki literary and storytelling history, and Native American and First Nations plays and playwrights. She teaches Native American literature, and has produced and directed Native plays.
In conjunction with "Transformer Tales," Lukens led a July 18 forum at Penobscot Theatre to promote community conversation around Native stories of the past, present and future. Joining her in the discussion were Assiniboine playwright William S. Yellow Robe Jr., UMaine's fall 2016 Visiting Libra Professor in English and Theatre; and Carol Dana and Donna Loring of the Penobscot Nation.