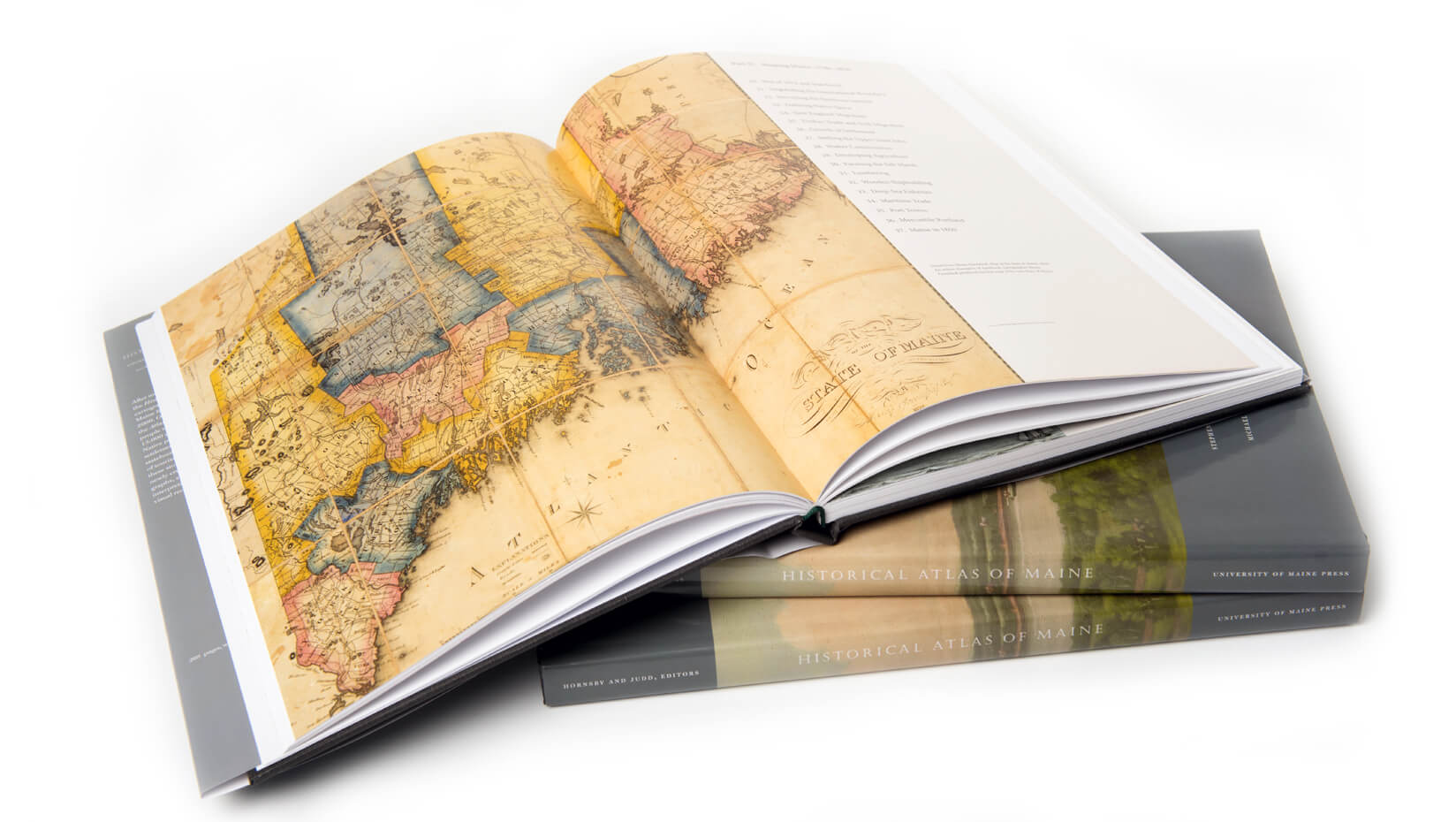 Historical Atlas of Maine receives three new awards
The Historical Atlas of Maine has received three new awards, bringing to four the number of honors presented to the folio, its editors, cartographer and publisher this spring.
The atlas won the best Book/Atlas category and was named Best of Show by the international Cartography and Geographical Information Society, and received the Excellence in Publishing Award from the Maine Writers & Publishers Alliance.
In February, Historical Atlas of Maine received the 2016 American Association of Geographers Globe Book Award for Public Understanding of Geography — one of the two most distinguished book prizes available in American geography.
The atlas, the result of a 15-year scholarly project led by University of Maine researchers, offers a new geographical and historical interpretation of Maine, from the end of the last ice age to the year 2000. The volume was published in 2015 by University of Maine Press, a division of UMaine's Raymond H. Fogler Library.
The folio-size Historical Atlas of Maine is edited by UMaine historian Richard Judd and UMaine geographer Stephen Hornsby, with cartography by Michael Hermann. It tells the principal stories of the many people who have lived in Maine over the past 13,000 years — the history of Native peoples, European exploration and settlement, the American Revolution, Maine statehood, agricultural and industrial development, and the rise of tourism and environmental awareness.
The 208-page atlas features 76 two-page plates with a rich array of 367 original maps, 112 original charts and 248 other images — historical maps, paintings and photos — in addition to its text. The result is a unique interpretation of Maine, a rich visual record of the state's history, and a major achievement in humanities research.
In 1997, UMaine Professor of English Burton Hatlen had the idea to compile an historical atlas of Maine that would showcase the mission of a land grant institution and the strength of humanities scholarship. Primary funding for the atlas project included $160,000 in seed money from the Maine Legislature in 1999 and a $293,500 National Endowment for the Humanities grant in 2003. With Hatlen's death in 2008, Hornsby and Judd led the final years of the scholarship.
More information about the Historical Atlas of Maine is online:
umaine.edu/news/blog/2014/11/24/discovering-maine
umaine.edu/umpress/recently-published/historical-atlas-of-maine

Contact: Margaret Nagle, 207.581.3745