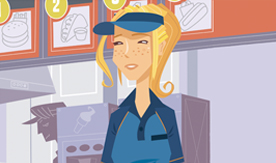 UMaine Sociologist Says Age, Maturity and Experience Influence Perceptions of Workplace Interactions
When it comes to recognizing instances of sexual harassment in the workplace, age is a fundamental factor in shaping individuals' perceptions of interactions, according to a University of Maine sociologist.
Amy Blackstone, an associate professor of sociology and chairwoman of UMaine's Sociology Department, found age is important because how perceptions shift over time links to several age-related processes such as maturity and historical context.
"When it comes to how we understand harassment and how we respond to it, age, maturity and experience matter," Blackstone says. "Our study suggests that employers should consider tailoring harassment training and interventions to the specific needs and experiences of workers at different life course stages."
Blackstone worked with Jason Houle, a UMaine alumnus who is now an assistant professor of sociology at Dartmouth College, and Christopher Uggen, a Distinguished McKnight Professor of Sociology at the University of Minnesota, to examine how perceptions of sexual harassment at work are linked to an individual's age, experience and historical backdrop.
The findings were documented in the article, "'I didn't recognize it as a bad experience until I was much older': Age, experience, and workers' perceptions of sexual harassment," which was published in June in the Mid-South Sociological Association's journal "Sociological Spectrum."
As many as 70 percent of women and 1 in 7 men experience sexual harassment at work, according to previous findings cited in the article. To study changes in perceptions of related experiences, the researchers analyzed data from 33 women and men who were surveyed over the course of 14 years and interviewed in 2002 about their workplace experiences from adolescence into their late 20s.
Three themes emerged among participants: As adolescents, respondents perceived some of the sexualized interactions they experienced at work as fun; while participants did not define some of their early experiences as sexual harassment at the time, they do now; and participants suggested prior work experiences changed their ideas about workplace interactions and themselves as workers.
The researchers used data from interviews with 33 participants in the Youth Development Study (YDS), a longitudinal survey of 1,010 adolescents in Minnesota that began in 1988, when respondents were 14–15 years old and in ninth grade, the article states. In the 2000 administration of the survey, when respondents were 26–27 years old, they were asked if they experienced sexual harassment in jobs held during and since high school. In 2002, when respondents were 28–29 years old, the researchers interviewed 14 men and 19 women of varying races.
Looking back at jobs held during adolescence, the majority of interviewees recast some of their early workplace experiences as sexual harassment, but said flirting and other sexually charged behaviors were considered normal interactions because they were at a point in life when sociability was believed to be an important aspect of the work experience. The participants also viewed some interactions as acceptable for adolescents but inappropriate for adults, the researchers found.
While some respondents attributed their shift in perceptions to role or status changes — growing older, marriage or parenthood — others cited the importance of historical context and landmark sexual harassment cases that altered workplace policies and garnered national attention, according to the article.
Public consciousness about sexual harassment may have heightened during the time participants were in high school, the researchers suggest, as a result of high-profile events such as the 1991 televised hearings of Supreme Court nominee Clarence Thomas and the Civil Rights Act of 1991 that included amendments to Title VII that allowed for compensatory damages in cases of sex discrimination.
Interviewees reported that at least some of the sexualized interactions they experienced at work were not perceived as problematic because the interactions occurred among peers. Several participants said they enjoyed some of the workplace flirting and joking.
One participant said she and her co-workers at an an ice cream shop talked about sex because most of the workers were ''at the age where people are starting to become sexually active so that's a big deal.''
Upon reflection, some respondents said they have redefined some experiences during adolescence as sexual harassment, and some participants — both men and women — felt they may have offended co-workers in the past, according to the researchers.
Based on the findings, the researchers suggest sexual harassment training and policies would be most effective if they were better tailored to workers at particular life stages, and further research should be considered.
Contact: Elyse Kahl, 207.581.3747