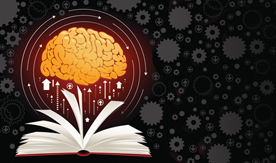 UMaine's Clinical Psychology Program Cited Among Nation's Best
The University of Maine's Clinical Psychology Doctoral Training Program was recently ranked as one of the best clinical psychology programs nationwide in a journal article based on a University of North Texas study.
The program was identified as performing exceptionally well in the article "Hidden gems among clinical psychology training programs" describing a recently published study in the American Psychological Association (APA) journal Training and Education in Professional Psychology.
The purpose of the study was to use public data sources to identify programs that excel at graduate training in professional psychology as evidenced by two emerging professional benchmarks — internship matching rate and Examination for Professional Practice in Psychology (EPPP) pass rate.
UMaine's program was ranked ninth out of 233 accredited clinical psychology doctoral programs in the category that combined both benchmarks.
The aim of the study was to identify programs that provide exceptional training by determining which programs are doing better than would be predicted based on the incoming characteristics of the students who are typically admitted. Those characteristics include the average Graduate Record Examination (GRE) and undergraduate grade point average (GPA) of the programs' incoming students.
UMaine's Clinical Psychology Doctoral Training Program prepares students for a doctorate in psychology and for careers that combine research and practice.
Since 1990, the clinical program has graduated 85 Ph.D. students. Twenty-one of those graduates now have careers in Maine and "have had clear impacts on the state's mental health policies and direct care provision," according to Douglas Nangle, a professor and director of the clinical training program at UMaine.
As just a few examples, program alumni have brought state-of-the art neuropsychological services to the Bangor area and innovative behavioral health consultation services for patients treated at Eastern Maine Medical Center in Bangor. They have also affected the way juveniles are treated in the state corrections system and helped bring evidence-based treatments to sexual offenders across the state.
The president-elect of the Maine Psychological Association is also a graduate of the program and has consulted on related issues for the legislature.
There are currently 22 students in the program.
The journal article was published Oct. 14, 2013 and was written by Jennifer L. Callahan, an associate professor and a director of clinical training at the University of North Texas; Camilo J. Ruggero, an assistant professor at the University of North Texas; and Mike C. Parent, a doctoral candidate in counseling psychology at the University of Florida.
Contact: Elyse Kahl, 207.581.3777